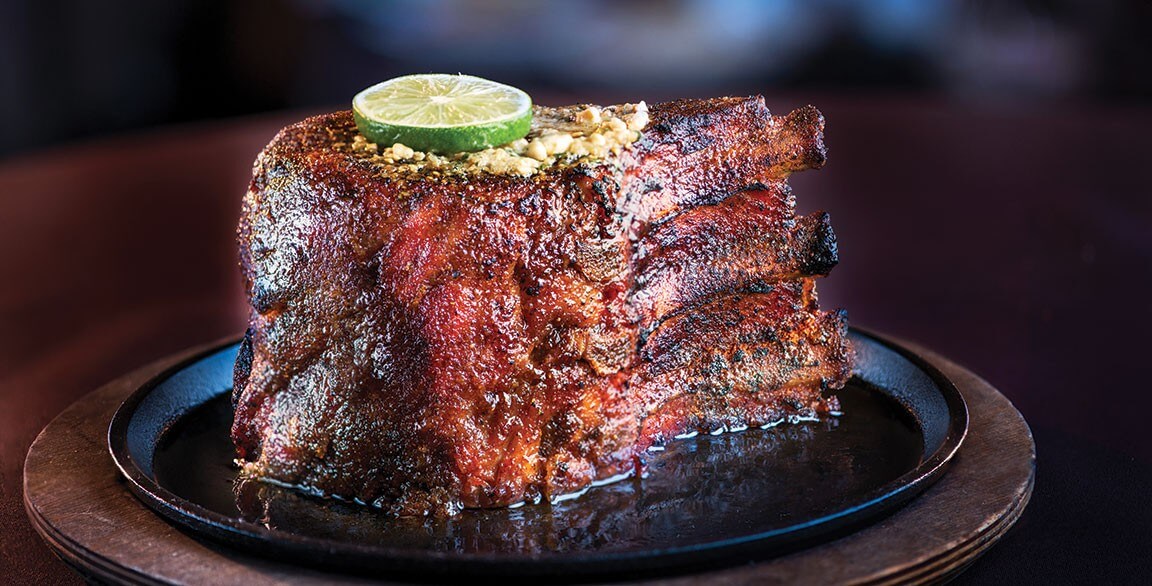 The plant-based movement has, rightfully, garnered massive attention and gained prominence across menus. While the positioning of meats may have shifted with this rise, its influence surely has not. The plant-based movement has actually inspired chefs to up their game and assess how to bring even greater value to meat-centric dishes, introducing new strategies and techniques that expand the appeal.
This renewed energy brings menu opportunity. Operators should not lose sight of the value of beef, pork, lamb, poultry and game—and the impact these have on the menu.
Meat-centric dishes speak to the modern evolution of "center of the plate." They can take the central role in a traditional sense or encompass an array of burgeoning entrée categories—both healthful and indulgent—where meat is the star component.
Slow-cooking methods that deepen flavor, artisan techniques that cultivate authenticity, and memorable applications that surprise and delight—all resonate strongly with consumers. They also open the door for operators to incorporate points of differentiation onto their menus. The key is developing premium meat experiences within the context of simplicity and affordability.
What follows is a path toward exploration, charting current and future meat-centric flavor builders.
Reimagining Barbecue
The Barbecue Plate at The Inn on Biltmore Estate in Asheville, N.C., offers a great example of a modern Southern dish that features flavor complexity.
Sean Eckman, lodging executive chef, pairs Berkshire pork cheeks with cornbread tortellini, crisp cabbage and vinegar mayonnaise. "This dish is a play on a barbecue plate," he says. "Given that 'barbecue' is an ambiguous term, we took liberty here with Berkshire pork cheeks braised in a traditional style with the expected spices, onions and ketchup—then borrowed flavors and ingredients from international barbecue styles, like soy sauce, ginger, rice wine vinegar and mirin."
Once the cheeks are braised and tender, the jus is reduced and glazed over them. "The accompaniments are cornbread, in the form of sweet-corn tortellini, and coleslaw as crispy fried cabbage and vinegar mayo," says Eckman.
"We removed the liquid vinegar component and substituted vinegar powder to render a thick and hearty mayo sauce." The result is a meat-centric dish that has familiar flavors and ingredients, but presented in an original, memorable way.
1

Thick is In

Piled-high slices, hand-torn chunks and thick-carved meats speak to authenticity and engage consumers with a primal feel. Applying striking visuals amps up the first impression and drives purchase intent.

Our Famous Pastrami Sandwich: Slabs of smoked brisket deckles, buttermilk-fermented cucumber, caraway, cracked rye berry, anchovy mustard and dill on a white long bun.
—Harry & Ida's, New York
Pulled Chicken Sandwich: Tasty and tender, piled high.
—Mission BBQ, based in Glen Burnie, Md.

Try This
Carnivore Taco: Thick slices of roasted tri-tip + white cheddar queso + flour tortilla
Sunrise Chicken Congee: Hand-pulled rotisserie chicken + gingered brown-rice porridge + chopped peanuts + sesame oil and hot chile oil drizzle
2

Meat-ertainment

Move over small plates. Interactive shareables feel tailor-made for meat. Create tableside entertainment that provides guests a way to indulge in a social and communal experience. Look to signature, simple garnishes to augment your meat offerings.

Perry's Famous Pork Chop: Prime chop is cured, roasted, slow-smoked and caramelized, served with homemade applesauce; carved tableside
—Perry's Steakhouse & Grille, based in Houston
Pork Mojo "Taqueria Style": Crispy pork shank, garlic-citrus mojo, avocado purée, flour tortillas, refried black beans
—Shaquille's, Los Angeles

Try This
Groaning Board (for the table): Housemade charcuterie/carved meats + pickled vegetables + cheese/fruit/nuts
Global Meat Skewers Flight (2 of each): Chicken satay + steak chimichurri + Moroccan lamb + steamed rice
3

Game Play

Meat lovers are branching out and searching for exotic, nontraditional menu items. Wild game brings "new news" and grabs menu attention. Pair it with established comfort to ground it in the familiar and deliver affordable luxury.

Try This

Venison Sausage Philly: Sliced venison sausage sautéed in onions and peppers, covered with pepper Jack and Swiss cheese, served on a hoagie roll
—Caney Fork River Valley Grille, Nashville, Tenn.
Wild Boar Sloppy Joe with crispy onion and sage, jalapeño, fries
—Longman & Eagle, Chicago

Try This
Chicken-Fried Buffalo Steak: Chicken-fried buffalo cube steak + green peppercorn gravy + smashed sweet-potato tots + green beans
White Bean Elk Chili: Ground elk + white bean chili + pepper Jack cheese + tortilla crisps
4

Starring Chicken

Chicken is a comfort platform and blank culinary canvas primed for bold flavor implementation. Big flavor and texture notes will echo loudly with this perennial menu powerhouse. Better-for-you and indulgence can both be at play here.

Hainanese Chicken Rice: Poached chicken, chicken broth rice balls; three dipping sauces (ginger scallion, chicken-fat soy sauce, chile sauce)
—Kopitiam, New York
Chicken Over Charcoal Coals with choice of sauce (gravy, chimichurri, peri peri, matcha)
—Chook Charcoal Chicken, Denver

Try This
Chicken "Salad" Stack: Crispy chicken paillard + lemon aïoli + frisée salad + mustard chicken jus drizzle
Crispy Chicken Thigh BLT: Fried buttermilk-brined chicken thigh + smoked bacon + baby spinach leaves + heirloom tomato + peppercorn aïoli + toasted brioche bun
5

Luscious Lamb

The perceived richness of lamb becomes more approachable when introduced in new formats. One strategy is to lean on conventional ingredients to help balance that perception. Another is to accentuate via global flavor introductions, creating unique points of interest.

Spicy Lamb Meatballs: Spicy lamb, red quinoa, Parmesan, fresh herbs
—Roti Modern Mediterranean, based in Chicago
Smoked Lamb Ribs with fish-sauce caramel, candied coconut, nuoc cham, cilantro
—Dusek's Board & Beer, Chicago

Try This
Greek Lasagna: Roasted garlic lamb Bolognese + feta/ricotta/mozzarella + lasagna noodles
Shepherd's Bowl: Seared herb-coated lamb loin slices + oyster-mushroom and sweet-pea risotto + frizzled leeks
6

Mainstream Duck

Satisfy modern palates by pairing a mainstream format with the special qualities of duck. It immediately adds premium positioning and differentiates what would otherwise be a value menu item.

Duck Meatballs: Charcoal grilled meatballs with tomato compote and sesame
—Môt Hai Ba, based in Dallas
Duck Confit Huevos: Duck confit, Chimayo red chile, black beans, crispy potatoes, corn tortillas, lettuce, tomato, onion, Cotija, sunny-side-up eggs
—Punch Bowl Social, based in Denver

Try This
Breakfast Duck Hash: Duck confit + sweet potatoes + butternut squash + peppers/onions + apple
Glazed Duck Wings: Crispy duck wings + harissa barbecue sauce + minced scallion
7

Pork Power Combos

Satiate appetites with pork succulence, doubling down on pork-centric combinations. Think of pork not only as a featured ingredient, but also as an integral flavoring agent. Pairing different pork techniques and applications will heighten the overall experience.

3 Little Pigs: Country ham, porcini-dusted "porkcorn" and "trottertots"
—Jackrabbit, Portland, Ore.
Piggy Bank: Beer-brined bacon, Black Forest ham, andouille, large elbow noodles, Gorgonzola, Gruyère, cheddar, Parmesan breadcrumb topping
—Karl Strauss Brewing Company, based in San Diego

Try This
Vader Taco: Dark cocoa/coffee-dusted carnitas + salsa roja + queso fresco crumbles + lime-laced pork cracklings + white-corn tortillas
Ham-Burger: Beef/pork blend burger (with maple-barbecue spice dry rub) + bacon marmalade + cheddar Jack + toasted potato-bread bun
8

Brilliant Bird

Turkey is lean, flavorful and versatile, and innovation here can work seamlessly in a wide array of exciting menu applications. It's a year-round favorite that grounds both regional and global flavors in comforting familiarity.

The Trotter: Wood-fired turkey, cheese, sofrito, "cheesesteak-style" on a challah sub roll
—Call Your Mother, Washington, D.C.
Baked Turkey Wings and Gravy with three sides
—Nigel's Good Food, Charleston, S.C.

Try This
Early Bird Benedict: English muffin + turkey sausage patties + poached turmeric eggs + arugula + sun-dried tomato hollandaise
Cherry-Brie Turkey Roll: Thick-sliced smoked/roasted turkey breast + melted Brie + cherry mostarda + soft salted-pretzel roll
9

Premium Beef

Match premium beef cuts and/or blends with beloved menu favorites as a way to elevate expectations. A premium-casual culinary positioning resonates with a diverse base of consumers, yielding an approachable, yet sophisticated experience for contemporary palates.

Cowboy Taco: Dry-rubbed beef tenderloin, grilled corn, caramelized onion, roasted pepper, guacamole, queso fresco
—Tacodeli, based in Austin, Texas
BBQ Meatloaf: Blend of smoked beef brisket and ground beef with a hint of sweet barbecue sauce
—BB's Lawnside Blues & BBQ, Kansas City, Mo.

Try This
Short Rib Flatbread: Shredded red-wine braised beef short ribs + Boursin cheese spread + crispy onion straws + grated fresh horseradish + naan flatbread
Steak & Egg Slider: Marinated and grilled bavette steak slices + fried egg + Havarti cheese + soft roll mustard + toasted brioche bun
10

Refreshingly Unusual

Introducing your guests to unexpected food experiences that stretch their "foodie cred" within their social circuits will be appreciated. Introducing a menu feature with a high-quality, lesser known meat ingredient helps pique interest.

Mama's Breakfast Pie: Korean barbecue oxtail, creamy potatoes, baked eggs
—Red Rooster, Harlem, New York
Fusilli Fiorelli: Roast garlic, Parmesan and marrow scraped into housemade pasta tableside, with parsley; marrow bone-whiskey shot or extra bone available
—Jovanina's, Denver

Try This
O.G. Dinner Fries: Chicken schmaltz fries + shaved porchetta + ahogada sauce + chopped red onions + panela cheese
'Nduja Arancini: 'Ndjua-stuffed arancini + roasted red-pepper purée + tapenade