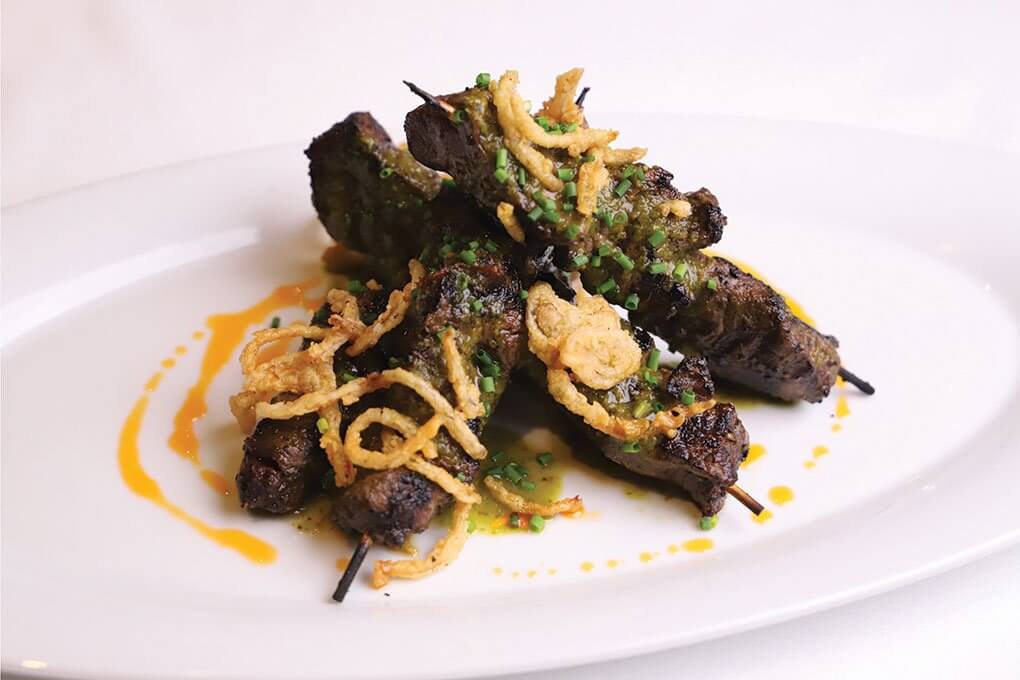 By Flavor & The Menu
April 19, 2019
The Grilled Beef Tenderloin Skewers at Council Oak Steaks & Seafood are a menu standout, pointing to an emerging trend in "toothpick meat," which has been showing up on trend-forward menus. Chef de Cuisine Francisco "Cisco" Pomalaza serves the filet mignon in the fun format of skewers—perfect for happy hour—and marinating the beef in a bright, garlicky chimichurri vinaigrette. After marinating, the meat is grilled, seasoned with salt and pepper, skewered and then garnished with shallots.
The offering is a part of the fine-dining hotspot's newly unveiled Social Hour menu, alongside other upscale bites like: BBQ Kurobuta Pork Belly with sweet kimchi glaze and parsnip chips; Grilled Brioche & Mushroom Toast topped with crème fraîche and Manchego; and Fried Green Tomato Caprese Stack layered with burrata crème.
"It's rare to see filet mignon on a happy hour menu," says Cisco. "This is the dish on the Social Hour menu that represents us the best, since we're a steakhouse." But to lean into the seafood side of the fine-dining concept, Cisco is developing a surf-and-turf version that adds chunks of king crab, embracing chimichurri's versatility on seafood and steak applications. "Chimichurri goes great on seafood and steak," he says.