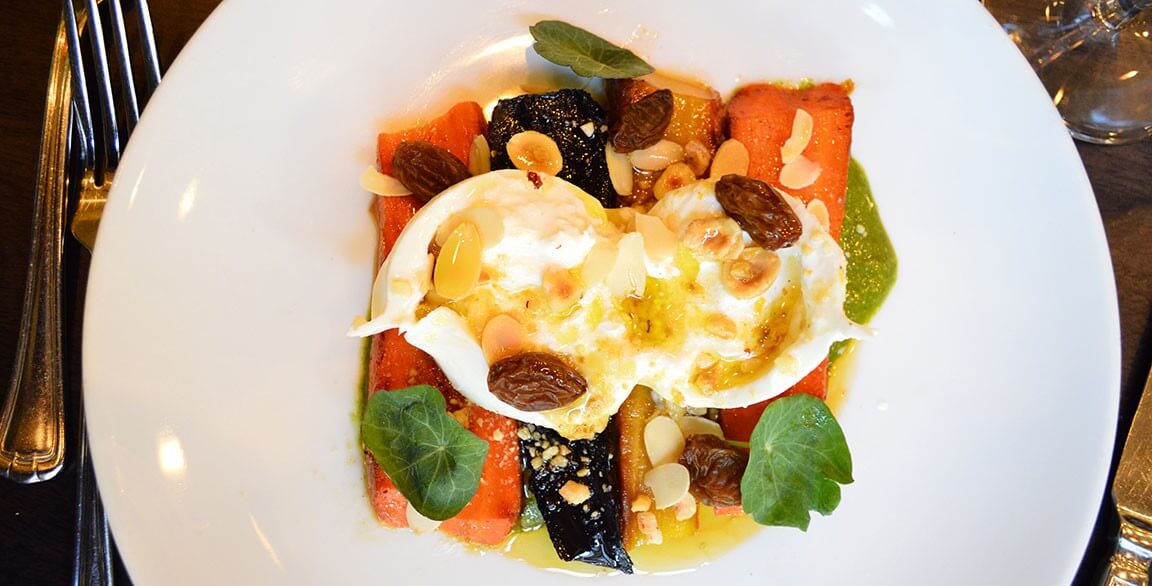 By Jarrett A. Rogers
November 25, 2019
Burrata is typically featured in a simple presentation with perhaps a drizzle of olive oil. And although that is a wonderful thing, some chefs are moving burrata into different menu builds, capitalizing on its rich creaminess to help take a dish to the next level.
Francesco DiCaudo, executive chef of Ferraro's Italian Restaurant & Wine Bar in Las Vegas, for example, uses burrata to add a soft, rich component to a veg-centric fall dish of roasted carrots, dehydrated pickled grapes, sorrel pesto and a hazelnut-citrus vinaigrette.
The inspiration for the dish came about at home during lunch. "I made myself a glass of carrot juice and on the kitchen countertop, I was resting burrata. After drinking my juice, I took a bite of the burrata and I loved the combination," he says. "The woodsy aroma and the earthy and citrus notes from the carrots make a great pairing." He ordered a few varieties of carrots and started working on something simple that would deliver the flavor of fall in a unique and craveable way.
Dicaudo's Flavor Composition
1

CARROTS

DiCaudo tosses carrots in olive oil, salt and pepper, then roasts them for 25 minutes.
2

DEHYDRATED PICKLED GRAPES

Grapes are dehydrated for 24 hours at 125 degrees F, then sealed in a vacuum-tight bag with a white balsamic pickling liquid.
3

SORREL PESTO

Sorrel leaves, which have a sour, tangy taste, are blended with olive oil, almonds,
roasted garlic and chile oil.
4

HAZELNUT VINAIGRETTE

Dressing is made with pan-toasted hazelnuts, olive oil and white balsamic vinegar.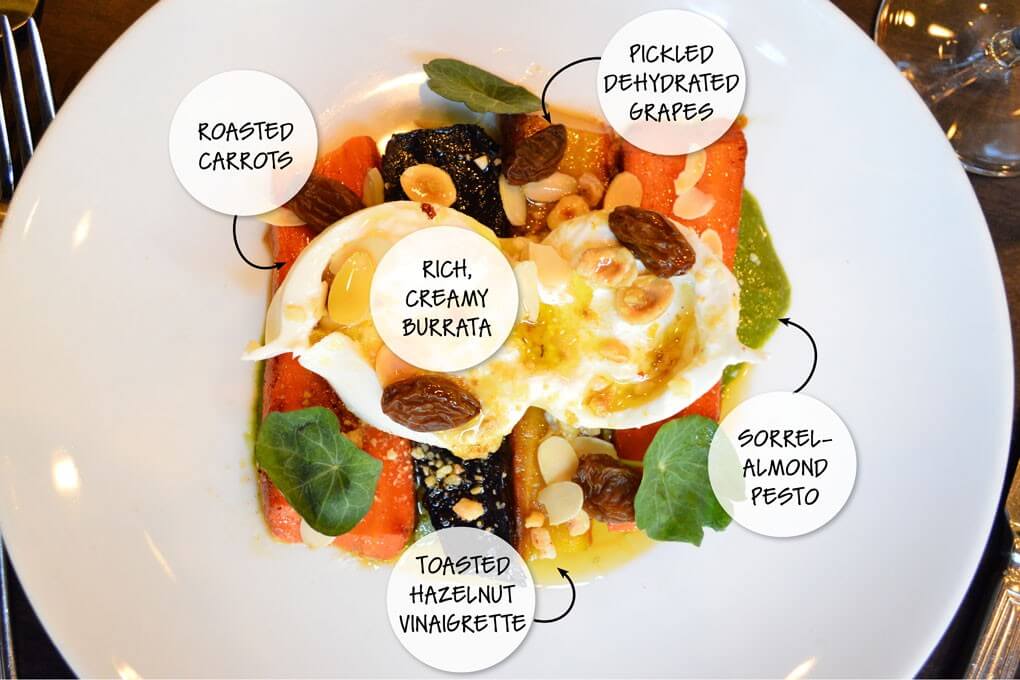 In considering how this dish might change for a spring or summer menu offering, DiCaudo suggests peaches, basil and lemongrass. "I love peaches for their citrus, floral and almond aroma," he says. The dish is a seasonal favorite at Ferraro's, and also demonstrates burrata's adaptability to flavors and seasonality.