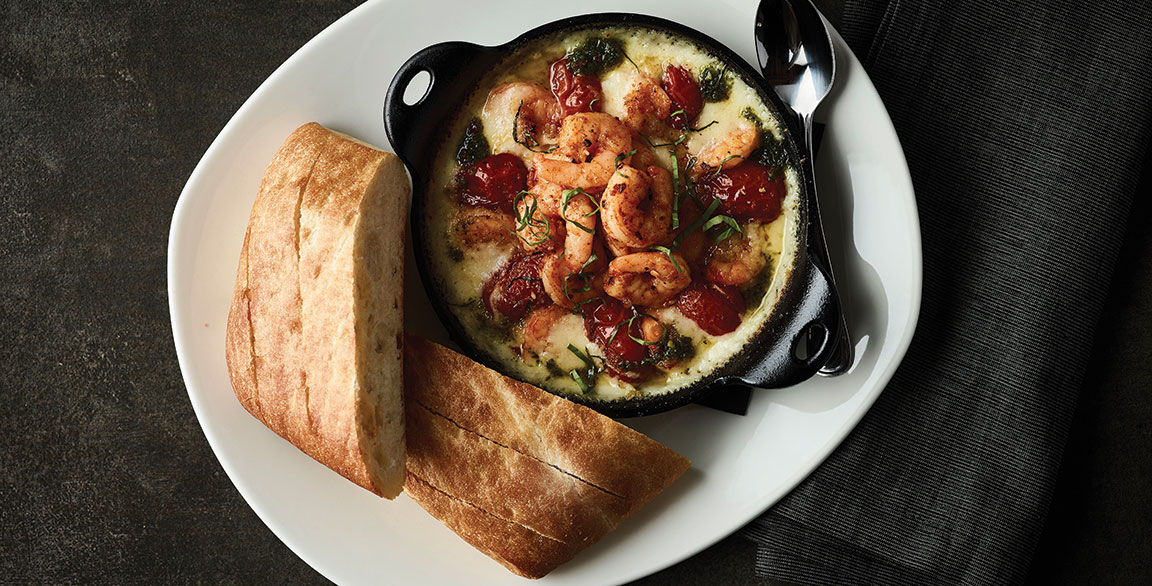 By Laura Brienza
November 24, 2019
Lent provides an ideal time for operators to give diners a wider variety of trend-forward seafood dishes. With a large swath of consumers—mostly Catholics and other Christians committed to eating seafood on Fridays during that six-week period between Ash Wednesday and Easter—flavorful choices help net a lot of interest.
But the opportunity isn't limited to Lenten observers. Thanks to Lent, secular consumers now seek out seafood specials every year around March and April. "People have learned over the years to expect seafood innovation at that time of the year," says Katie Sutton, consulting chef at Katie Sutton Consulting in Orange County, Calif. Developing a limited-time only (LTO) seafood offering that runs during Lent will appeal to both sets of consumers.
"The key to strategically leveraging any seafood or fish specials during Lent is to not angle it specifically for Lent, but rather focus it on flavor-forward innovation," says Maeve Webster, president of Menu Matters, a foodservice consultancy based in Arlington, Vt.
"Operators typically concentrate on LTOs during this period, but it's an excellent time to introduce new menu items that will stick around. These may be appropriate for Lenten observances to get the maximum bang for the buck in the introduction," she says. The key is to develop on-point strategies to make Lenten LTOs and seafood on menus a long-term success.
The Right Seafood Fit
Seafood innovation is steered by a handful of factors, including flavor/texture preference, price, availability, brand fit and sustainability. A number of chefs rely on a fish's star power to reel in orders. "Let the fish naturally stand out on its own," says Kelly Armetta, executive chef and food & beverage director at Hyatt Regency Boston.
His menu features 50 percent seafood, and most of that is sustainable or locally caught. The fish is the star of the plate, in items like his Salmon Sandwich, which features both grilled and pastrami-smoked salmon with herb aïoli, as well as the Crispy Seared Haddock in a soy broth with braised gingered vegetables and a crunchy slaw.
Armetta also likes working with barramundi, which has seen a 43 percent growth on menus over the last four years, according to Datassential. "It has a clean taste and yields an absolutely crispy skin, which really takes it over the top." As a Lenten promotion, he menued it a number of ways, including roasting it with a pomegranate-infused balsamic vinegar, as well as searing it with togarashi and serving it in a soy-ginger broth. The promotion accounted for an impressive 10 to 15 percent of sales on the days it was offered. Success here points to the importance in a Lent-and-beyond strategy of tethering seafood to bold and creative flavor combinations.
Armetta appreciates that barramundi is supplied individually quick-frozen (IQF), eliminating waste and allowing him optimal efficiency. "Because it comes in IQF, it really works well for my operation when I have those peaks and valleys of business," he says.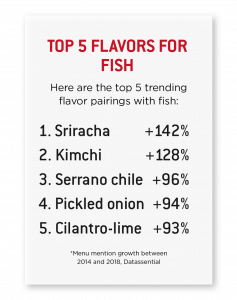 Dan Churchill, chef/owner of bowl and toast café Charley St in New York, opts for whole fish when going for high drama.
"Whole fish is one of the best ways to really get the best out of that animal, in terms of both nutrient density and flavor," says Churchill. For a private event, he prepared whole wild Alaska pollock two ways. His first dish combined roasted pollock with a Chardonnay-ginger lemon zest. "You're touching the salt, the savory, the sweet, the bitterness and a little bit of sour as well," he says.
For the second application, he skillet-seared the fish in an onion-caper butter sauce. "The meatiness of the fish combined with the sweet, savory nature of the caper sauce is just absolutely delicious," explains Churchill.
Fast casual Rapid Fired Pizza follows a common-sense model of choosing fish and shellfish that work well for the brand's format, which promises pies in 180 seconds or less. When first developing a Lenten LTO strategy in 2016, shrimp made the most sense for the Kettering, Ohio-based chain. "Shrimp was easy to portion and had a short cook time, which is critical when you are cooking pizzas in about 180 seconds," says Peter Wiley, co-founder and director of marketing. "Other seafood we looked at didn't meet those criteria."
The result was the Shrimp Alfredo Pizza, which begins with an Alfredo sauce and mozzarella/provolone blend followed by shrimp, sun-dried tomatoes and a pesto drizzle. Rapid Fired has run the promotion for the last four Lenten seasons. The brand is now considering a new surf-and-turf pizza with crab, lobster and steak for Lent 2020 that may offer menu differentiation—Wiley has not seen these toppings in the offerings at the brand's competitive set. "I believe having crab or lobster would help set us apart in a very crowded space," he says.
Fun Portable Formats
Katie Sutton suggests operators look beyond fish sandwiches, burgers and tacos for next-level portable formats. "Everybody loves a sandwich, but go a step further," she says. From arepas and tostadas to kabobs and waffle cones, a fresh tactile format can make an LTO pop. Of course, brand fit plays a role in adaptation.
Take inspiration from Crave Fishbar, with two Manhattan locations, which menus the Salmon Sashimi Tostadas year-round.
Or look to Savannah Seafood Shack in Savannah, Ga., and its fried seafood served in housemade waffle cones. The cones are filled with a creamy slaw and topped with a choice of fried fish, oysters, shrimp or calamari, then a finish of house sauce.
For ideas that live further out on the leading—or inspirational—edge of the trends cycle, look to fun formats like sushi burritos and seafood jerky.
Flavors and Preps
For an audience that increasingly understands preparation methods, highlighting process and preparation delivers seafood in a captivating way. According to Datassential, high-impact preparations, including glazed and grilled on cedar planks, are on the rise in Lenten seafood LTOs, as are roasted applications. Successful Lenten offerings from a few restaurant concepts last year demonstrate the staying power of these techniques.
Casual dining concept Bonefish Grill, based in Miami, highlighted roasted shrimp in its Shrimp Caprese Dip. Served warm with bread, the indulgent appetizer spread combines mozzarella and Parmesan cheeses with roasted shrimp and blistered tomatoes. The promotion was so successful that it is now available on the specials menu.
Barbecue chain Famous Dave's of America, based in Minnetonka, Minn., menued the Cedar Plank Salmon, presenting the salmon grilled, glazed and caramelized on a smoldering cedar plank, introducing evocative flavor cues, along with tableside drama for a lasting impression.
It's no surprise that traditional flavors that partner well with seafood, like lemon, pepper, garlic, tartar, butter and mayonnaise, appeared on the most seafood menus in 2018, according to Datassential. Bhttps://www.le-bernardin.com/
ut chefs are also leveraging more aggressive flavors when developing innovative seafood dishes. Sriracha, kimchi, Serrano chile, pickled onion, cilantro-lime and chimichurri all posted growth of more than 90 percent on seafood menus in the last four years.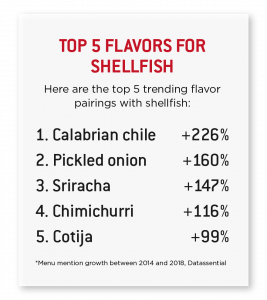 Global mash-ups and modern American treatments are helping to make waves in seafood menu development. Draw inspiration from Le Bernardin in New York, and its red snapper in kimchi emulsion, or from Borough in Minneapolis, which pairs its Salmon Crudo with beet yogurt, granita and togarashi.
Look to quick-serve concept Seasalt Fish Grill, with three locations in California, for a roadmap to flavorful cross-utilization. There, chimichurri appears across the menu in dishes like Chimichurri Garlic Shrimp and Chimichurri Octopus Tacos. The concept also dips into the Indian mash-up trend with its Spicy Tikka Salmon Tacos, featuring tikka masala sauce, pickled onion, avocado-citrus slaw and cucumber crema.
As modern diners increasingly embrace seafood, Lent provides a sturdy platform for innovation that can absolutely ride the wave into serious menu differentiation.