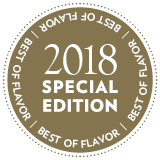 Innovation in the cocktail space continues to thrill the thirsty and the adventurous, wowing with intriguing flavor combinations and head-turning presentations. In our most recent "Best of Flavor" issue, where we showcase 125 outstanding menu items sent in by our readers, a number of entries came from the beverage side of foodservice. Although different in flavor combination, they weave a common thread—pulling together a clear picture of the type of exciting beverage development modern consumers are seeking out across markets. We serve up seven great cocktail builds.
Frederic Zemmour, Mixologist Master and Director of Operations at Riviera 31, the Sofitel's hotel bar, adorns a cocktail called Fighter Weapon School – AKA Top Gun with—you guessed it—a mini paper plane (photo above). Not only does it add a playful touch, it sets the tone for a signature take on a classic bourbon cocktail, the Paper Plane. The drink, a highlight on Riveria 31's spring and summer menus, features Bulleit bourbon, Aperol, Amaro Nonino, lemon juice and passionfruit juice—plus that snappy little paper airplane to catch the eye.
At Sunday in Brooklyn (in Brooklyn, N.Y.), the Green Goddess is a tequila-based drink featuring a juice blend of celery, lime and pineapple. "Green ingredients like celery read incredibly well when listed next to agave-based spirits, alluring more health-conscious drinkers," says Brian Evans, Head Bartender. Sunday in Brooklyn has found that the Green Goddess resonates because diners are looking for flavorful tequila options beyond the ever-popular margarita, and this drink delivers: Tequila blanco takes center stage, while Fever-Tree tonic, a housemade vanilla bean simple syrup and the juice blend create a rounded profile that boasts bitter notes mixed with sweet, sour and vegetal undertones.
A classic Italian digestif gets a sweet makeover at Italian deli and restaurant DiAnoia's Eatery, where Bar Manager Heather Perkins serves up the Hot Buttered Amaro Cocktail. She pairs bitter amaro with a sweet homemade batter of vanilla ice cream, brown sugar, butter and cinnamon. The cocktail combines both diners' rising enthusiasm for amaro and the boozy ice cream trend, giving consumers the best of both worlds. Pairing the amaro with dairy rounds out the drink's profile, balancing the sweet and bitter notes while also embodying the on-trend practice of fat-washing cocktails, boosting fatty flavors without taking on their greasiness. The amaro and batter mixture is steamed and then garnished with shaved nutmeg.
Taste Bar, a cocktail and small-plates concept from James Beard winner Gerard Craft, menus a matcha-based cocktail that capitalizes on the powdered green tea's all-star status in the world of tea and its rise behind the bar. The Matcha Picchu is a hit with patrons. "Our guests love it, and they joke that they get to drink and feel healthy, too," says Bar Manager Drew Lucido. The star of the Matcha Picchu is matcha-infused pisco. Allspice dram and Wray & Nephew Overproof Rum up the alcoholic ante, while lemon juice and coconut simple syrup add sweet and sour notes. The cocktail is served over crushed ice in an absinthe-coated double-rocks glass and speckled with matcha powder for a mountainous presentation that earns the drink its name.
The Golden Fleece cocktail at The Whistler, a cocktail lounge/music venue/art gallery showcases the big opportunity in low ABV drinks, riffing on a Japanese highball, created by Bar Manager Julieta Campos. "I combine Kikusui Funaguchi sake, honey, preserved Meyer lemon and lemon juice in a shaker tin, give it a short shake and top it with Topo Chico soda," says Campos. She says the lemon is preserved in a light vinegar brine, which plays well with the rich fattiness of the sake. "I pour this over five to six cubes in a Collins glass. There are only a few flavors here, but the preserved lemon lends a smooth complexity. The cocktail is akin to a shrub, however a touch lighter and brinier."
The San Jorge at the Red Rabbit, an Italian small-plates concept, is perfect for patio weather. Ian Lowther, Beverage Director, wanted to incorporate his favorite spirit, St. George Pear Brandy, into a cocktail, though he said it needs toning down a bit. "They take hundreds of whole, organic Bartlett pears and distill them in copper pot stills," he says. "It tastes just like a juicy, delicious bite of a perfectly ripened pear. I wanted to take that flavor and infuse it into a cocktail and then elevate it with even more layers of flavor—something that would bring out the pear flavor but balance it at the same time." He mixes in Lunazul Reposado tequila, Tattersall Grapefruit Crema and the juice of both grapefruit and lemon. "It has such a fresh, bright flavor. The citrus bite of the lemon and grapefruit are mellowed with the pear and tequila flavors," says Lowther.
The iconic movie-theater duo of popcorn and Coca-Cola inspires the Cinema Manhattan Cocktail at Ambar Clarendon and its basement bar Baba. At this restaurant, known for its modern twists on classic Balkan cuisine, the Cinema Manhattan goes beyond a traditional Manhattan with unique, flavorful infusions, hammered home with a side of sweet-and-spicy popcorn that makes ordering the drink a memorable experience. Beverage Director Danilo Simic infuses bourbon with caramel popcorn, a port-Coca-Cola reduction and housemade cherry bitters. Aromatic and complex, the cherry and caramel flavors give the beverage a bittersweet finish. The side of popcorn complements these flavors, creating a more robust experience that is shareable, upping its social appeal.