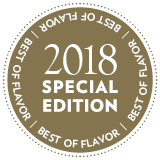 A classic Italian digestif gets a sweet makeover at Italian deli and restaurant DiAnoia's Eatery, where Bar Manager Heather Perkins serves up the Hot Buttered Amaro Cocktail. She pairs bitter amaro with a sweet homemade batter of vanilla ice cream, brown sugar, butter and cinnamon.
The cocktail combines both diners' rising enthusiasm for amaro and the boozy ice cream trend, giving consumers the best of both worlds.
Pairing the amaro with dairy rounds out the drink's profile, balancing the sweet and bitter notes while also embodying the on-trend practice of fat-washing cocktails, boosting fatty flavors without taking on their greasiness.
The amaro and batter mixture is steamed and then garnished with shaved nutmeg.
"The subtle invigorating flavor of candied, roasted fennel with the warm nutmeg spice is a perfect match," says Perkins.
Served warm, the drink is also a departure from amaro's typical presentation over ice. The temperature expands the drink's potential across dayparts, especially when DiAnoia's recommends pairing the drink with its zeppole—housemade lemon ricotta doughnuts.
Patrons are enjoying the Hot Buttered Amaro Cocktail morning, noon and night. With more than 20 different varieties of amari behind the bar, they can expect Perkins to whip up even more creative spins on the traditional Italian spirit.