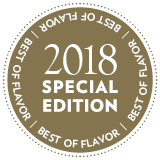 Lobster is one of those foods that is not to be confused with anything else: the distinctive orange color, the particular lobster-y flavor.
Chef de Cuisine Bill Montagne channels these qualities right into his Lobster Spaghetti. Seafood dishes and housemade pastas are both Montagne's specialties at Nico Osteria, an Italian restaurant in Chicago's Thompson Hotel.
The Lobster Spaghetti starts with a pasta dough starring puréed lobster roe, which is green when raw, folded into the dough "to really deliver that lobster flavor," explains Montagne. "As a result, when dropping the green pasta into boiling water, it turns orange right before your very eyes—just like lobster."
He uses meat from one whole lobster in each order, broken down and blanched in a court-bouillon. The lobster miso sauce is fortified with lobster shells as the base. Not surprisingly, "the flavor is very lobster-y and rich," says Montagne.
Crispy guanciale and spring onion add the finishing touch.