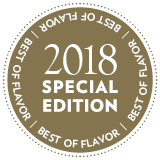 As chefs respond to the enthusiasm for global takes on fried chicken, such as Japanese karaage and Korean fried chicken, now is the time for the Filipino-inspired Sinigang Fried Chicken.
This dish from San Francisco beer hall Buffalo Theory, which infuses Filipino, Japanese and Spanish flavors into American fare, elevates fried chicken's appeal with flavors traditionally found in Filipino sinigang stew, a classic vinegar-based stew boasting tamarind and fish sauce.
Executive Chef Lawrence Lee says sinigang flavors are not something any Filipino would expect to find in fried chicken. "The feedback has been super positive, and those familiar with Filipino foods are excited to try it," he says.
"Those who are unfamiliar are able to appreciate the exotic flavor without being overwhelmed."
Developing the dish took months, but he and Consulting Chef Tim Luym landed on a technique that incorporated the distinctive flavors at multiple stages, including the brine, marinade and batter. Lee says this ensures "maximum flavor throughout the whole chicken and not just one layer, producing a more subtle, but unique taste."
By developing this take on fried chicken, Buffalo Theory now has a foundation to infuse other global flavors into chicken. "The sky's the limit," says Lee.
"Tapping into different cultures such as Indian curry, Korean kimchi or even Caribbean jerk, we can do a lot to expand."