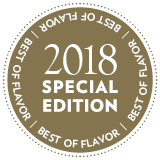 The iconic movie-theater duo of popcorn and Coca-Cola inspires the Cinema Manhattan Cocktail at Ambar Clarendon and its basement bar Baba.
At this restaurant, known for its modern twists on classic Balkan cuisine, the Cinema Manhattan goes beyond a traditional Manhattan with unique, flavorful infusions, hammered home with a side of sweet-and-spicy popcorn that makes ordering the drink a memorable experience.
"People have high expectations for the Manhattan, which are met with our creative version of this drink," says Beverage Director Danilo Simic.
To make the Cinema Manhattan, Simic infuses bourbon with caramel popcorn, a port-Coca-Cola reduction and housemade cherry bitters. Aromatic and complex, the cherry and caramel flavors give the beverage a bittersweet finish.
The side of popcorn complements these flavors, creating a more robust experience that is shareable, upping its social appeal. and in an age when many diners are also social documentarians, the Instagrammable appeal of the bright red drink and yellow popcorn cannot be underestimated.
The drink plays into the demand for playful cocktails that tell a story by resonating with movie lovers, while its creativity and craftsmanship make it a winner in the competitive cocktail segment.