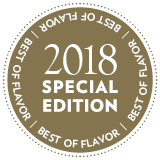 Oysters on the half-shell get a Cajun treatment in the Chargrilled Oysters at C&S Chowder House. The menu at this upscale, contemporary concept from co-owners Jon Schwenk and Rich Clark features classic seafood dishes boosted with creative flavor accents and formats.
Inspired by New Orleans cuisine, the Chargrilled Oysters appetizer features freshly shucked Gulf oysters with garlic butter, Parmesan, lemon and Cajun spices. Extra butter is added to the oysters while they're on the grill, caramelizing the Parmesan and making each oyster even more craveable.
"The browned Parmesan, along with the richness of the garlic butter, complement the mild Gulf oyster," says Chef/Co-owner Jon Schwenk. "Subtle amounts of spice and a grilled half lemon add acidity and round out the dish to perfection."
The Chargrilled Oysters are just one of several C&S appetizers that blend regional influences: The Crispy Cauliflower gets a dose of North African ras el hanout spice, and the Fried Oysters are paired with Korean pickles and Calabrian aïoli.
The Chargrilled Oysters have dazzled so many customers that Schwenk and Clark have added them to the menu at their two other concepts, C&S Seafood and Oyster Bar in Atlanta and Hugo's Oyster Bar in Roswell, Ga.
For locals dining at C&S Chowder House, Schwenk says the New Orleans heat and flavor "remind people of when they are on vacation, which most often strikes good memories."