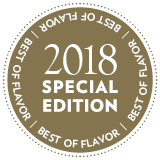 Global breakfast items continue to drive innovation in the morning daypart, with bolder flavor profiles being anchored by comforting traditional ingredients like eggs and potatoes. At Flying Biscuit Café, a Southern-inspired casual chain, this takes shape as a Chorizo Hash—a new menu item that has quickly become a hit.
The hash base is a mixture of the brand's oven-roasted "moon-dusted" potatoes, red and green peppers, onions, cheddar cheese and chicken chorizo, topped with two over-medium eggs, homemade tomatillo sauce and fresh cilantro.
"The dish has a Southwestern flavor profile with a Flying Biscuit twist, using chicken chorizo versus traditional pork chorizo," says Brent Fuller, Brand Leader for the concept. The chicken chorizo lends itself well to unique menu-expansion opportunities.
"We plan to use our chicken chorizo in the future with breakfast sandwiches, entrées and bowls," adds Fuller.