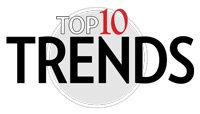 A movement requires a countermovement. The establishment calls for the anti-establishment. Each helps the other define itself—one sets the norms and guards standards. The other pushes boundaries, thumbing its nose at the way things have been done. Together, they create the rocket fuel that propels innovation, energizing each other and stimulating creativity.
Today, the classic cocktail culture is the establishment, refining recipes, honing its craft and setting high standards. Sometimes taking itself a little too seriously, it delights in flawless execution. Irreverent cocktails make up the counterculture—the rebellious teenagers playing loud music and getting yet another tattoo.
These fun drinks also offer huge opportunity for beverage development, enticing consumers with their playfulness and levity.
On the Menu
It's the Negroni slushie — the counterculture's answer to the classic Negroni, seen at a number of places last summer, including Sabbia, Eataly's rooftop pop-up in New York.
It's the Cotton Candy Mojito at Bazaar Meat in Las Vegas, with spun sugar in the glass that melts as the cocktail is poured over, tableside.
It's the Social menu at The Tuck Room, with four locations across the country, which offers 10 cocktails as singles, pints or punch bowls, from the Norma Jean (vodka, strawberry and lemonade) to the Sangria (Chardonnay, ginger, passionfruit, tangerine, spices).
"Consumers are loving these new cocktails because the bar scene has gotten too stuffy," says Katie Sutton, VP of culinary innovation at Food & Drink Resources. "Just trying to decide what type of the 15 housemade bitters you want in your Old Fashioned is tiresome at cocktail hour."
That's not to say that craft cocktails are passé. Not at all. Without the high standards set by craft cocktails, we couldn't have a successful counterpoint, a spirited uprising. Because although the frosé (frozen rosé) seems like a throwback to the frozen blue cocktail, it is actually constructed with more thoughtfulness and better ingredients.
While consumers might be looking for a little bit of lightheartedness back in their glass, they won't give up on the quality and craft that now sets the benchmark.
Cocktails for Brunch?
Blame this cheekiness in large part on the brunch boom. Brunch — home of the outlandish Bloody Mary bars, boozy punch bowls and hip "beermosas" — was the ideal incubator for fun cocktails. Its influence has pushed past weekend constraints, informing regular drink menus—from coffee cocktails like the Good Morning Vietnam! at Asian Box in San Francisco, with Vietnamese iced coffee, bourbon and vanilla-cardamom syrup, to the mimosa bottle service at Beatnik in Chicago, which features seasonal juice medleys served tableside.
And why not? At its heart, this trend taps into the Millennial spirit, where entertaining, social fare is the order of the day. That freewheeling playfulness continues to drive innovation on brunch menus, reinforcing the idea of pushing limits and thrilling with new flavor combinations.
At Halfsmoke in Washington D.C., the Breakfast of Shaw is a Bloody Mary "garnished" with tater tots, chicken wings, sliders and more.
And at Chicago gastropub Forbidden Root, the beermosa sees Hopstead Hopped Saison, fresh orange juice and Creole bitters.
Eatertainment and the Cocktail
Taking the baton from brunch and running with the fun cocktail theme is the modern eatertainment concept, where food, drinks and games converge in an energetic, lively space. Shareability and conviviality mark the trend — and set the expectation for consumers when they dine out in other foodservice segments.
Punch Bowl Social, a gastropub/entertainment complex with locations across the country, offers four punches, serving either one, four or eight guests. Builds are creative, flavor-forward and approachable. The Merman's World consists of bourbon, Teakoe's Pineapple Papaya Tea, cardamom syrup, aged rum and fresh lime juice.
Both eatertainment venues and brunch spots primarily target younger consumers. This cocktail trend speaks their language, giving them a beverage experience that is well executed, unique, playful and social.
Cocktails are Becoming a Shareable Experience
Breezy, laid-back, fanciful cocktails celebrate shared experiences. "Cocktails are becoming more of a communal experience, just like food has become," says James Bolet, director of culinary & beverage training at Front Burner Restaurants, a Dallas-based restaurant group with eight concepts.
"Our drinks program is sophisticated but not pretentious. We think that's really important. We want our guests to come in once or twice a week, not once every six months. So our drinks have to be approachable and affordable, while also delivering a unique experience."
At Ida Claire, Front Burner's Southern-inspired gastropub, the Punch Tower program offers shareable punches served in one-gallon Mason jars with a spout, adorned with chalkboard collars.
"We can change the message on there, customizing it for the table," he says. The Hurricane Punch is the most popular, with a trio of rums, passionfruit, cranberry, orange juice, grenadine, simple syrup and lime juice.
"It's a fun presentation that makes it more of an event and a shared experience. It gets suburban women drinking on a Tuesday night, having fun with their friends without anything too serious going on," says Bolet. "We're not alienating anyone and we're bringing back a lightheartedness that's missing in a lot of places today."
With its unique presentation, Ida Claire is also setting up an Instagram moment, something many younger consumers seek out today. In fact, Instragrammability cannot be understated.
Free-spirited cocktails throw off a challenging workweek and counter a serious world. They also practically demand social interaction, fulfilling a common need with many Millennial and Gen Z consumers—fun moments shared with wider social networks.
"Snap-worthy sips are all the rage, whether they're served in a kitschy vessel shaped like a cat or a giant punch bowl designed for the communal slurp," says Liz Moskow, culinary director at Sterling-Rice Group.
"What's Instagram-worthy is in."
Pop culture played out in cocktails is a smart form of social currency. At Bar Stellar, a modern American restaurant in Dallas, the Cereal Killer is served in a glass that looks like a milk carton. Guests can order a Black Russian topped with Lucky Charms, or the White Russian with Froot Loops. A photo of actor Ryan Gosling clipped to the rim finishes the look.
Barton G., with locations in Los Angeles and Miami, is known for theatrical presentations of both its food and beverage. The Sabrinatini is a martini made with orange vodka, watermelon liqueur and a nitrogenized Champagne popsicle, topped with a chocolate monkey dangling from its rim.
Morgan Zuch, corporate beverage director of Datz Restaurant Group, Tampa, Fla., taps into pop culture for her ever-changing cocktail list at Datz, an American gastropub. She looks to movies like Mean Girls and TV shows like "Stranger Things" for inspiration.
Her drinks are whimsical and Instagrammable. The Waffle Thief is a tribute to a waffle-obsessed character in the popular "Stranger Things" show: bourbon, spiced rum, cinammon- and vanilla-infused maple syrup, lemon juice, pomegranate and blueberries, garnished with Eggo Minis dusted in powdered sugar.
The Dark Side is a beer cocktail sporting dark rum, crème de cacao, coffee liqueur, chocolate stout, "black glitter" simple syrup, with mini lightsabers subbing in for swizzle sticks.
"I like paying attention to pop culture and media, and what everyone is raving about," she says. "Our customers are both older and younger Millennials, and our goal is to give them a fun, approachable experience. I want the drinks to deliver that 'Wow!' factor."
Cocktails are Bringing Attention to Ice
Serious cocktail culture helped bring attention to ice, thanks to the adulation given to the artisanal ice cubes in modern cocktails. The counterculture looks to the cube as an opportunity for differentiated fun.
At Whiskey Cake Kitchen & Bar, Front Burner's modern American concept, branded ice cubes have become part of its persona. The letters "WC" are embedded into the ice, featured in some drinks.
"We'll get people who don't normally drink whiskey or bourbon order it, just so they can take a picture of the ice," says Bolet. "It's another fun way for us to extend our brand and stand out."
Some mixologists are looking to ice cubes as an opportunity to impact both flavor and experience, changing it from a single tone to a nuanced one, with flavor intensifying as the ice melts.
At I|O Godfrey, a rooftop lounge at The Godfrey Hotel in Chicago, the Rainbow Sangria is a showstopper. The rainbow of ice cubes is made from fresh-squeezed fruit juices. Grey Goose vodka and Caposaldo Moscato top the ice, with large-format pitchers making the shareable experience a memorable one.
Meanwhile, at Tanta, a Peruvian restaurant in Chicago, El Chingon is made with jalapeño-infused tequila, mezcal, lime and cilantro. The rocoto pepper ice puts it over the top—as it melts, the drink becomes spicier.
The Frosé Effect
One of the greatest indicators that consumers are ready for frothy fun is the frosé craze. Refreshing and familiar, frozen rosé captures levity in a glass. It signals an embrace of whimsy and just a touch of rebellion against the serious business of swirling and sniffing wine in a glass.
Although frosé quickly became queen of summertime's frozen drinks, the boozy slushie is a big part of this cocktail trend, where anything goes — as long as the flavors make sense and a laid-back vibe are part of the package.
Chicago's Beatnik menus slushies with fun names, like The Grape Smuggler, with Cognac, green grapes, elderflower and lemon.
Tallulah's, a modern American restaurant in Seattle, serves a frozen rosé Paloma, with blanco tequila, rosé, blood-orange cordial, pamplemousse and lime.
Modern slushies are in the spotlight, too. Parson's Chicken & Fish in Chicago serves the Original Negroni Slushy, made in a slushie machine, with gin, Luxardo bitters, sweet vermouth and citrus.
And Superior Seafood & Oyster Bar in New Orleans features a Frozen French 75, with gin, Champagne and fresh lemon juice.
These cocktails remind grown-ups that adulting doesn't always have to be hard. It can be fun, too.
"Traditional cocktails certainly have their place, but a desire to add levity to any drinking or eating occasion is what is driving the fun cocktail trend," says Sterling-Rice's Moskow.
"Life is typically too serious. Fun cocktails are a great way to ease tension, have a laugh and sip your cares away — and, really, isn't that the point of drinking alcohol anyway?"