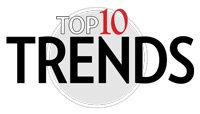 Biting into falafel is one of those experiences that makes eating such a pleasure—insanely crispy on the outside and fluffy and soft on the inside. It's that magical combination that makes it craveable, too.
This delightful fried ball of goodness hails from the Eastern Mediterranean. The most common version adopted in this country combines chickpeas, chickpea flour, garlic, spices and sometimes fresh herbs and scallions, blended together, rolled into balls, then deep-fried until golden and crunchy.
Falafel hits a lot of modern markers for success, giving it the momentum needed to move into mainstream adaptation. Buoyed by the chickpea boom and the growing interest in plant-based foods, this vegetarian item sets itself up nicely for signaturization and customization.
Often seen tucked into a pita with hummus, tahini and a vegetable garnish, falafel invites chefs to upgrade its handheld profile with flavor-boosting ingredients, like pickled vegetables and creamy drizzles.
On the Menu
Some are also giving falafel a New American treatment, layered in tacos or modern bowl builds. At Eureka! Burger, based in Hawthorne, Calif., the Falafel Taco features falafel with avocado, beets, kale, pickles, watermelon radish and tahini, served in lettuce wraps.
And at Sepia, a modern American restaurant in Chicago, the falafel snack incorporates baby zucchini, shishito peppers and yogurt.
What's Driving the Growth of Falafel?
"From a cultural perspective, there's nothing that's unfamiliar to Americans about a deep-fried snack," says Maeve Webster, president of Menu Matters consultancy. "You're essentially taking a popular ingredient, applying an incredibly popular technique, frying, and rethinking what that looks like—maybe going with a different shape or using it as a topping for a salad or bowl, or altering the fillings."
One of the biggest opportunities rolled into falafel is its vegetarian standing. The falafel celebrates it and beckons those non-vegetarian consumers into ordering it. "It's vegetarian in its own right, rather than being a mediocre substitute for something that usually stars meat," says Webster.
That's an important stake in the ground: Falafel may be plant-based so it's attractive to a small population that only eats plant-based foods, but it's also fried and intriguing, making it a great option for diners across the board.
"Chains need to think this way—you're not making it only for vegetarians. You want everyone to order these. The appeal lies in falafel's flavor, texture and uniqueness in the marketplace," she adds.
Starting With The Original Falafel
Although riffs and iterations are the oxygen that feeds a trend's reach, perfecting and showcasing an authentic build also promises menu success—and helps drive consumer interest.
James Beard award-winner Michael Solomonov has championed the falafel, demonstrating faith in its ability to capture the hearts of American diners, by opening Goldie in early 2017 in Philadelphia. A second one, housed in Whole Foods, opened in November, and a third is slated for spring of this year, both also in Philadelphia.
This quick-serve vegan falafel shop boasts a narrow focus—a falafel in a pita or salad, french fries and vegan shakes starring tehina (tahini) with flavors like Turkish coffee, coconut and chocolate.
"In 2008, Steve Cook [restaurant partner] and I went to Israel with the opening staff of Zahav and stopped at Devorah Falafel, a little shop that specializes in making fresh falafel balls and putting them into their handmade pita with tehina, harif [a Yemenite hot sauce], tomatoes, pickle and cabbage," says Solomonov, also the chef/restaurateur behind Zahav (a modern Israeli concept) and Federal Donuts (fried chicken and doughnuts). "We just looked at each other and said, 'One day, we are going to do a falafel shop.'"
His investment in the humble falafel speaks volumes about its inherent opportunity. "What makes falafel so craveable is that when you have that perfect falafel sandwich, you get all the textures and flavors you want," he says.
---
Read more:
Crisp And Creamy Falafel Accompaniments
Four Creative Twists On The Traditional
---
Modeled after the traditional Israeli falafel shop, the focus at Goldie is on authentic, well-executed builds. There's no point-and-order customization. The falafel pita consists of falafel, tehina, Israeli salad and cabbage. Diners can choose the finishing sauce—amba (tangy mango pickle), s'chug and harissa.
The falafel salad features baby kale, romaine, carrot, cucumber, tomato, tehina, za'atar, sumac, parsley, dill and mint. "We half-jokingly call it a 'no toppings bar' shop because the Goldie sandwich masters build the sandwich the way it's meant to be built," says Solomonov. "You trust the expert behind the line."
Dune, a fast-casual Mediterranean spot with three locations in Los Angeles, also goes traditional with its falafel recipe, then serves it in a housemade puffy flatbread with organic hummus, pickled turnips, carrots, beets and onion, cabbage, fresh greens and house-fermented pickles. Shoestring potatoes dusted in sumac and salt finish the handheld.
"We wanted to honor the cuisine of that region," says Scott Zwiezen, chef/owner. "We were keen on making our falafel traditional, with raw sprouted chickpeas, cilantro, parsley and Middle Eastern spices."
While the falafel is authentic, the toppings reflect the brand's creativity. "It's very satisfying on so many different levels. It's super versatile and lends itself to lots of different accents," he says. "It's also appealing to both vegans and non-vegans."
A Golden-fried Opportunity
Like most fritters, the falafel is practically begging for signaturization. "Familiar-with-a-twist is the time we live in," says Charlie Baggs, president/executive chef of Charlie Baggs Culinary Innovations.
"Some chefs are breaking away from executing traditional items perfectly to making a craft of preparing items in a new format. Fryable items are the most accessible in kitchens—they add great texture, taste good and complement many other flavors of dressings and garnishes."
Bareburger, an organic burger concept based in Long Island City, N.Y., twists the falafel to fit its brand with its Falafelwraptor, with feta, pico de gallo, alfalfa, cucumber, pickled red onion and lemon tahini, all served in a collard greens wrap.
Wheelhouse, a modern gastropub in Dallas, plays with the falafel filling in its Quinoa Falafel, served with yogurt, cucumber, tomato, herb salad and flatbread.
At Sarma, Ana Sortun's modern Mediterranean restaurant in Somerville, Mass., the Black-Eyed Pea Falafel appetizer comes with apple amba, tahini yogurt and lettuce.
And The Black Birch, an American gastropub in Kittery, Maine, serves a pea falafel on its spring menu, with rhubarb pickle and goat yogurt.
Falafel Builds
Falafel finds a home on eclectic menus, with builds that reflect the provenance of those brands.
At Montauk House Cafe in New London, Conn., the falafel wrap is offered alongside modern lunch offerings, like a fried chicken sandwich, muffuletta and street tacos. "The fried chicken sandwich is our top seller, but our falafel comes close," says Miguel Pagan, chef. "It's exotic and interesting enough for our customers."
As with most of his sandwich components, Pagan makes the falafel fresh, with chickpeas, coriander, cumin and onion. "The trick is to thoroughly blend it all together," he says. He serves it in a wrap with tomatoes, greens, feta, house-pickled red onions, quinoa tabbouleh and a tahini sauce. A Sriracha sauce is served alongside for an extra kick.
At Shuka, a restaurant that serves modern Eastern Mediterranean food in New York, the falafel is made with chickpeas, onion, cilantro, parsley, garlic, chiles, coriander and salt, giving it an appealing orange color.
Taïm, a fast casual with two locations in New York, offers three types of falafel: Traditional, with parsley, cilantro and mint; Mild Spicy, with Tunisian spices; and Olive Falafel, with Kalamata olives.
Falafel Shape
Chefs are also rethinking the shape of the falafel, molding it to fit their needs. A falafel cake is a brunch star at Shakewell, a modern bistro in Oakland, Calif. The "cake" is served with poached eggs, Spanish chorizo, romesco sauce and herbs.
DarSalam, an Iraqi restaurant in Portland, Ore., features an appetizer of falafel "donuts" that come with either tzatziki or hummus.
And of course, there are falafel burgers, like the one at Queen City Whip, a food truck in Cincinnati: a falafel patty on a toasted bun with tzatziki, red onion, lettuce and pickle.
Stuffed Falafel
Stuffed falafel is another creative way to distinguish offerings. Just Falafel, a Mediterranean street-food concept based in Dubai, with three locations stateside, menus stuffed falafel appetizers, with ingredients like caramelized onion, mozzarella, cheddar and jalapeño filling.
Falafel is a plant-based superstar, finding the spotlight because of its craveable texture, customizable flavor and endless versatility. "Falafel is affordable. To a foodservice operator, affordable is good," says Ron DeSantis, CMC, principal advisor of CulinaryNXT consultancy. "To a customer, cheap and delicious is food heaven. Falafel is a win-win for customers and operators. Chefs can create signature versions to keep customers interested and satisfied."