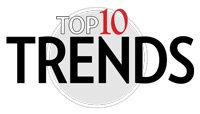 Flavor innovation often takes chefs into foreign lands, searching further afield for the next ingredient or dish that delivers menu excitement. Korea for gochujang. Argentina for chimichurri. Peru for quinoa.
The home field is certainly rich with possibility, from Vermont's maple syrup and Michigan's cherries to Virginia's peanuts. These are familiar to American diners and help chefs tell the story of American provenance.
When a homegrown ingredient is discovered outside of its regional influence, it spells menu opportunity. That's what's happening with sorghum, an ancient grain known for its mild, earthy flavor that can be milled into flour, cooked like rice, boiled down into a syrup or popped like popcorn.
Long embraced by Southern food traditions, sorghum is now making moves across the country. And the United States is the largest producer of sorghum, grown by farmers primarily in Kansas, Texas, Colorado and Oklahoma. It builds an emotional connection between diners and American farmers, reinforcing the value of real food, transparency and sustainability.
"Outside of Southern menus, that's where the potential is so interesting," says Maeve Webster, president of Menu Matters consultancy. "It's an ancient grain native to the United States. Suddenly, sorghum can put the whole ancient grains trend into a completely different perspective for consumers in this country. It's one that we can own, which is kind of exciting."
That Southern tradition has helped give sorghum lift today. For years, modern Southern cuisine has energized menus outside of its regional boundaries, with American consumers enthusiastically embracing its flavor ambassadors, such as fried chicken, grits, biscuits and beignets. Chefs such as Edward Lee and Sean Brock have helped shine a spotlight on sorghum.
On The Menu
At Husk, Brock's refined Southern restaurant with four locations in the South, the arugula salad with brown-butter pecan crumble, golden beets and apple is dressed with a West Virginia sorghum vinaigrette.
Lee's Southern-meets-Asian restaurant MilkWood, in Louisville, Ky., serves sorghum-glazed rabbit with dashi-poached daikon.
What's Driving the Adoption of Sorghum?
Another driver is sorghum's rich narrative around health and wellness. Nutrient-dense and gluten-free, it's a great source of plant protein and antioxidants.
"Sorghum is part of the whole 'health 3.0' that, as chefs, we're all paying attention to," says Matt Harding, director of culinary at The Piada Group. This trend in health and wellness refers to its evolution from avoiding things like fat or salt to an interest in functional foods: ingredients that help with digestion, energy, well-being and so on.
"Sorghum is full of nutrients; it's a drought-resistant grain so it has a sustainability story; it's under-used so it gives me a distinct product on my menu and it can help me answer the call for gluten-free options. I'm going to hitch my wagon to that," says Harding. With so much versatility, sorghum holds fantastic potential on modern menus.
Sorghum is Gluten-free and Whole-grain
Sorghum's flour answers the demand for both gluten-free and whole-grain. "There are so many possibilities here," says Brian Darr, managing director at Datassential. "It can be used in gluten-free doughs, breakfast starches like waffles and pancakes, or savory versions that go beyond breakfast. This is a leading-edge ingredient that's got a lot going for it."
Papa John's Pizza, headquartered in Louisville, Ky., recently introduced an Ancient Grains Gluten-Free Pizza Crust, made with sorghum, teff, amaranth and quinoa. Kye's, a health-focused restaurant in Santa Monica, Calif., makes a gluten-free vegan black-bean brownie with sorghum flour.
Thomas Horner, executive chef of The Westin Bellevue and W Bellevue hotel in Bellevue, Wash., looks to sorghum flour to help "ease our pain a little."
"We make things gluten-free when we can, and we use sorghum flour for that," he says. Although a bit more costly than regular flour, Horner says it's worth it because sorghum is seen as a premium ingredient, and answers a need for gluten-free options.
"It alleviates the challenge of making something gluten-free when it's traditionally not—there's no trade down. But you do have to experiment to get the formula right. It's not a cup-for-cup replacement with regular flour," he says. He uses it for pizza doughs, cookies, pancakes and protein crusts.
"It cakes nicely in a chicken piccata, for instance," says Horner. "We use sorghum flour for breading in a lot of different applications. It holds a lot of promise for menu development."
Piada's Harding agrees, saying that sorghum flour's low glycemic index and gluten-free standing make it appealing. "Finding a gluten-free solution that is manageable and consistent is the holy grail for us," he says. "We're actively looking at sorghum flour for breading some of our menu items."
Sorghum can be cooked like rice or quinoa and subs in nicely for both of those in bowl builds, adding its mild flavor and pleasingly chewy texture.
At Restauration in Long Beach, Calif., the Roasted Everything Carrots dish stars roasted carrots, sorghum grains, radish and watercress.
Le Pain Quotidien, a European bakery based in New York with locations across the country, served a Summer Grain Bowl on its limited-time offer menu, with sorghum, corn salsa, nectarine, cucumber and burrata over romaine.
Chef Mark Dommen serves what he calls "scratch grains" with roasted chicken at One Market Restaurant in San Francisco. He likens it to a grains risotto, featuring corn, bulgur wheat, sorghum and sunflower seeds. "The corn gets ground in the blender like grits and cooked out," he says. "Each of the other grains gets cooked separately and the sunflower seeds are toasted. It's really good." He sometimes serves it on its own, crowned with a slow-cooked egg.
With innovation in modern bowls continuing at a quick pace, finding a "new" ingredient as the hero of a grain-based bowl is appealing. "It's part of the heirloom grain boom," says Kara Nielsen, VP of trends & marketing at CCD Innovation. "This is a real opportunity for chefs to frame their stories around American heritage. It deepens the diners' interest and satisfies a marketplace need for wholesome options."
Sorghum Syrup
Sorghum syrup is perhaps getting the most play on modern menus, adding its mild, sweet flavor and distinctive narrative to everything from protein and vegetable glazes to flavored butters, dessert finishes and even cocktails.
Preux & Proper, a Los Angeles soul food restaurant, menus Cast Iron Cornbread with Kentucky sorghum and butter crumble.
Prima in Nashville, Tenn., sweetens its Banana Tartine with sorghum and Nutella.
And Hominy Grill in Charleston, S.C., serves Jalapeño Hushpuppies with a sorghum butter dip.
"Sorghum is versatile and delicious," says Brandon Frohne, director of culinary at Holler & Dash, a Southern-style fast casual based in Homewood, Ala. The "Chicken. Set. Go." biscuit sandwich features fried chicken, pimento cheese, pickled jalapeño and sorghum syrup. "We utilize the sweet and toasty sorghum syrup—it's the perfect complement to the smokiness of the cheese, heat from the peppers and the comfort of warm biscuits and fried chicken," he says.
Heat and Sweet
Heat and sweet is certainly trending, and using sorghum syrup as a counterpoint gives dishes a fresh angle.
Guy Fieri's Smokehouse, with locations in Louisville, Ky., and Norfolk, Va., features Bird is the Word, a crispy chicken sandwich with aged cheddar, Sriracha sorghum and citrus slaw.
"We're seeing a lot of alternative syrups being used—smoked, infused, spiced," says Menu Matters' Webster. "It's high time that sorghum syrup made its presence known."
Houston's Underbelly serves New American Creole cuisine, and Chris Shepherd, executive chef, uses sorghum syrup because it's not only a gentle sweetener, it also supports American industry. "It's not as assertive as maple syrup or molasses. Sorghum brings a delicate, light flavor," he says.
He uses it on a number of dishes, including Ember-Roasted Carrots with a spicy sorghum glaze and Ham Ribs with a sorghum-mustard glaze made with sorghum syrup, Dijon, rehydrated mustard seeds, black pepper and fish sauce.
"We also use it in the brine for our birds," says Shepherd. "Even for restaurants that aren't Southern-inspired, sorghum is a great ingredient with a nice, mild and sweet flavor."
Popped Sorghum for Added Texture
Popped sorghum carries a bit of drama with it—along with fun textural contrast. "It makes a perfect crunchy little topper," says Nielsen. "We're seeing it in snack mixes at retail, with opportunity in foodservice to create signature clusters for salads or dessert toppings."
Popped sorghum serves up whimsy, whether as a garnish to a soup, seasoned and served as a bar snack, or finishing a salad or dessert.
At Atlas in the St. Regis Hotel in Atlanta, the Roasted Beet and Arugula Salad includes sorghum and cocoa granola, along with popped sorghum.
Sorghum — in all of its glorious forms — showcases the best of modern American cuisine. It's finally going national, catching on because of its provenance, versatility and glowing health halo.