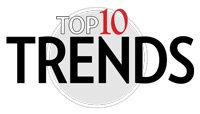 Thanks to sorghum's many different stripes—flour, syrup and popped—it makes for a great menu workhorse that also carries a solid narrative. From sorghum syrup over brunch chicken and waffles to popped sorghum on a caramel cheesecake, the opportunities to leverage the sorghum trend are endless.
Breakfast/Brunch
Blue and Raspberry Carolina Gold Rice Pancakes filled with coconut cream, topped with local farm berries, powdered sugar and Caudill's sorghum molasses
—Big Jones, Chicago
Hot Cakes: Griddle cakes, hot buttered sorghum
—Avo, Mountain Brook, Ala.
Avocado Toast: Smashed avocado, lime, cilantro, puffed sorghum
—Benjamin Bar & Lounge, Washington D.C.
Lunch/Dinner
Grilled Salmon Salad with local spinach, red onion, sorghum vinaigrette, pecans
—Avo, Mountain Brook, Ala.
Chicken and Waffles: Two-piece buttermilk fried chicken over a corn waffle, sorghum molasses and brown sugar syrup
—Fifth Street Eatery, Durango, Colo.
Bird is the Word: Crispy chicken sandwich, aged cheddar, Sriracha sorghum, citrus slaw, garlic toasted brioche bun, house pickles
—Guy Fieri Smokehouse, Louisville, Ky., and Norfolk, Va.
Bar Bites/Side Dishes
Beer Battered Onion Rings with sorghum ketchup
—Bacon Bros. Public House, Greenville, S.C.
Roast Beets, ricotta, hazelnut, walnut gremolata, sorghum
—City House, Nashville
Desserts
Bourbon Sorghum Pecan Pie
—The Rarebit, Charleston, S.C.
Miss Piggy Sundae: Pork belly ice cream, pork rind "cracker jacks", sorghum syrup, salted peanuts, crisp prosciutto, whipped chantilly cream
—Retro Creamery, Tysons Corner, Va.