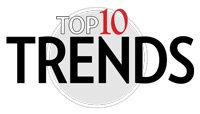 Sweeteners for cocktails run the gamut, with trending ingredients like honey and agave nectar adding both distinctive flavor and storyline. Sorghum, with its uniquely American narrative, is now moving into the bar, often as sorghum syrup or molasses, or even as a fermenting agent or distilled spirit.
Social Darwinism: Dewar's, Clear Creek Pear Brandy, vanilla clove sweetener, sorghum vinegar, and a rinse of Becherovka
—Henley, Nashville
The Proper Old Fashioned: Defiant North Carolina single malt whiskey, demerara syrup, sassafras, sorghum bitters and star anise
—Tupelo Honey Café, multiple locations
Sorghum Beer
—Renaissance Brewing Co, Tulsa, Okla.
Kungaloosh Spiced Excursion Ale, a sorghum-and-spice draft ale
—Nomad Lounge, Orlando, Fla.
Durra Cocktail: Whiskey, brandy, sorghum syrup, Scotch and bitters
—Canon, Seattle