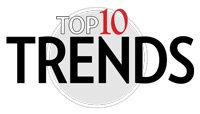 By Gail Cunningham
Take small plates, salads and center-of-plate entrées to new craveable flavor destinations layered in casual handheld tacos. The result? Portable, powerful flavor. Here are four trends that adapt well in taco format:
Modern Seafood Trend:
Nordic Fish Tacos: Batter-fried cold-water cod, pickled root vegetable slaw and dill sour cream in folded Norwegian potato flatbread tacos
Eastern Mediterranean Trend:
Baharat-Spiced-Chicken Soft Tacos: Baharat spiced-grilled chicken, arugula, crumbled feta cheese, red onion and tahini sauce in warm, folded pita-bread taco.
Plant-Based Trend:
Vegan-Chipotle Black-Bean Tacos: Vegan black bean burger crumbles in crisp-grilled corn tortillas with creamy avocado, shredded lettuce and chipotle-corn salsa
Indian Mash-Up Trend:
Turmeric Chicken Roti Tacos: Indian street-style tacos with turmeric-grilled chicken, shredded carrot and red cabbage slaw, yogurt-cucumber raita and cilantro, stuffed in crispy-hot puffed roti tacos