It's a wide, wide world out there, rich with flavors and forms that promise adventure. Which ones are ready for menu translation here? Answering that question has become ever-more important, with today's diners—especially younger ones—demonstrating an eagerness for global flavor discovery. But that eagerness is tempered by their comfort levels.
So, as global mash-ups continue their impressive influence on modern menus across all foodservice segments, the ones that are hitting the mark are launched with a soft landing of familiarity.
Creativity, consumer insight and global trendspotting form a critical trifecta in successful R&D here. Commodity boards are particularly gifted in harnessing that trifecta. We asked a handful of them to share creative menu ideas that feature trending global profiles.
Sorghum's Moment
"Food is one of the best ways to experience the flavors of cultures around the globe, and this Sorghum Middle Eastern Bowl is no exception," says Doug Bice, market development director for the United Sorghum Checkoff Program. "It takes ingredients and flavors of a traditional cuisine and combines them with the ever-so-popular grain bowl for an exciting way to eat globally." In this fresh twist on traditional Middle Eastern cuisine, whole-grain sorghum is paired with lemon-and-garlic-brushed chicken kabobs, fresh produce, lentils, garbanzo beans and authentic flavors like cumin, parsley, cinnamon and red pepper flakes, creating a nutrient-dense bowl build with a distinct global profile. And it's an easy menu idea for this on-trend grain. "Sorghum is a global grain and perfect fit for flavors from around the world," adds Bice. "It has a neutral, nutty flavor and unique mouthfeel, allowing it to absorb the flavors and spices of any cuisine."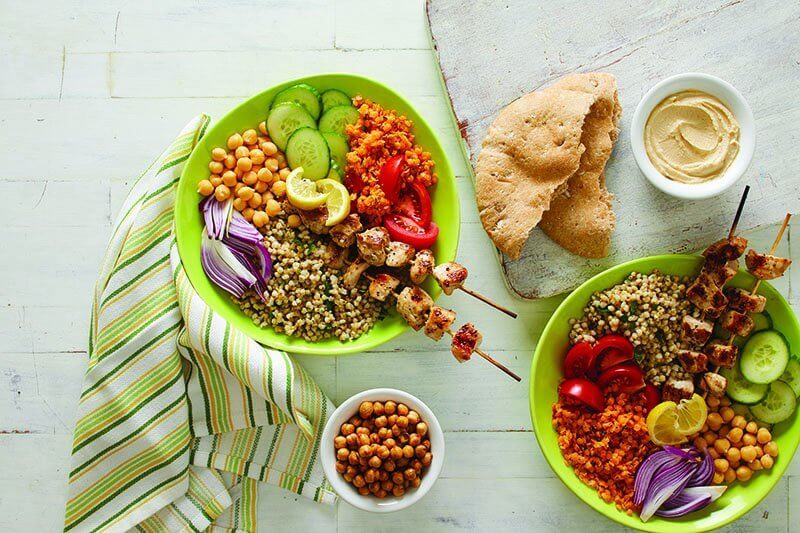 United Sorghum Checkoff Program
Sizzling Sisig
Sisig is an ideal bar snack or shareable dish and features a delicious balance of sour, savory, spicy and richness. This Filipino classic is traditionally prepared with a variety of pork cuts such as liver and head meats, but this Sizzling Pork Sisig features twice-cooked pork belly combined with aromatics, herbs and citrus, providing craveable layers of flavor and texture. "Diners are more familiar with global ingredients, and this is maturing into a desire to know more—breaking down generalized areas like Southeast Asia and pushing operators to explore more specific cuisines like Filipino," says Stephen Gerike, National Pork Board's assistant VP-channel marketing, "Consumers want to feel like they're having their own cultural experience, and it's great if the food tells a story. Anthony Bourdain has named Filipino food as the next big food trend, with sisig being the dish that will get consumers to fall in love with the cuisine."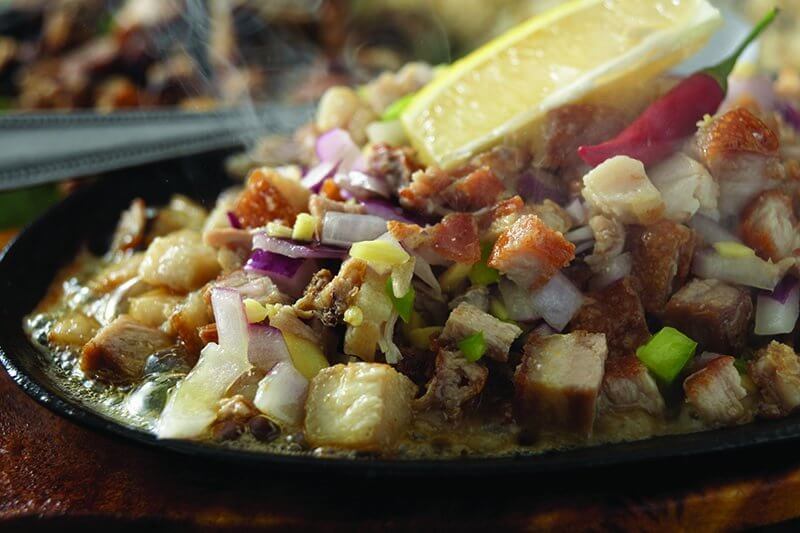 National Pork Board
Egg-cellent Opportunity
A new twist on the Vietnamese banh mi sandwich, Banh Mi Egg Salad Toast melds several cuisines into one flavor-forward experience. In this clever two-bite adaptation of the banh mi, egg salad is blended with Sriracha mayonnaise and layered atop pâté and salami slices on toasted French bread. A pickled veggie-and-herb salad and a garnish of fresh herbs add a tangy finish. "The banh mi sandwich appeals to Millennial food adventurers," says John Howeth, senior VP of market development for the American Egg Board. "This adaptation offers them an exotic taste of Asian cuisine grounded with familiar foods and flavors. Innovating within the larger global cuisine palette lets operators offer new flavor experiences."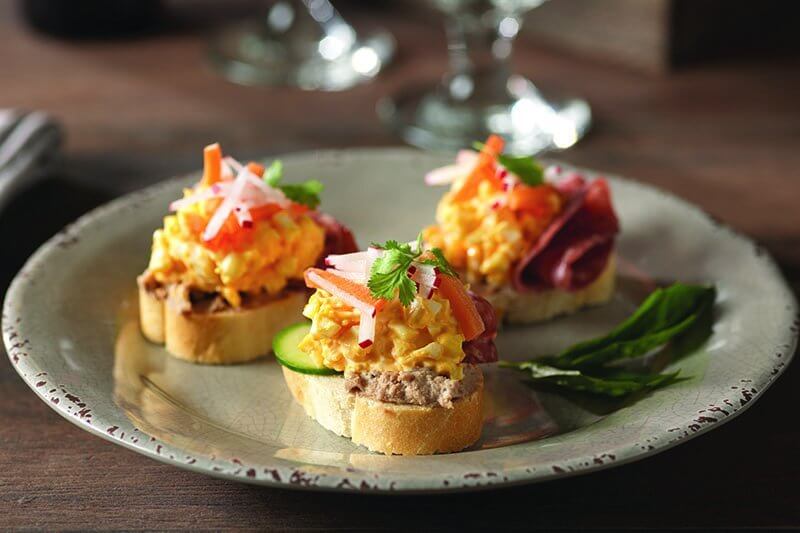 American Egg Board
Ready for Rendang
This Indonesian Braised Goat features a rempah (Malaysian spice paste) of galangal, ginger, garlic, chiles, coriander and cumin, which combines with lemongrass and the braising liquids of coconut milk and tamarind juice to create a tender and flavor-packed dish. "This dish from the culinary team at Stanford University Residential & Dining Enterprises is an adaptation of the classic Indonesian dish Goat Rendang, a traditional braise redolent with aromatic spices and coconut milk," says Catherine Golding, business development manager for True Aussie Beef & Lamb. "The mix of spices and lemongrass blooms in hot oil before searing and stewing mild, tender Aussie goat in coconut milk and tamarind juice for deep, rich, and, most importantly, authentic flavor. As the popularity of alternative proteins continues to rise, dishes like this one are a powerful lure for guests, served simply with rice or roti-style flatbreads."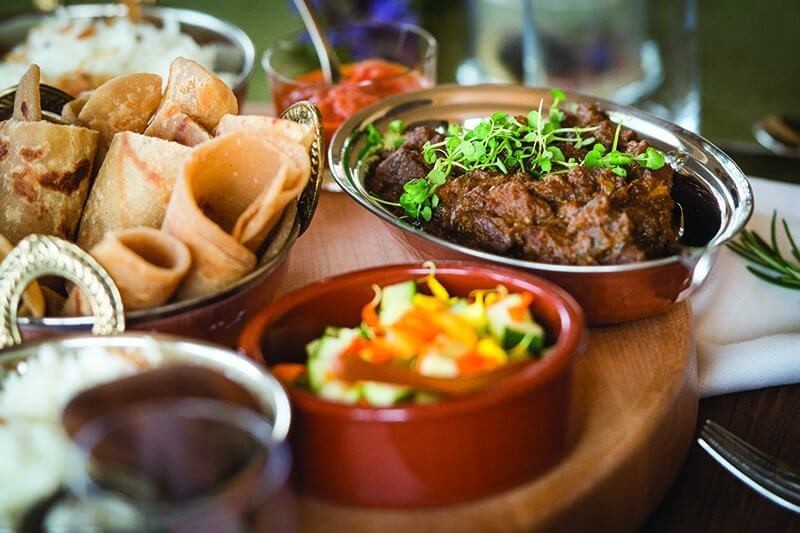 Meat & Livestock Australia
Further Afield
Potatoes can be the perfect canvas to experiment with global flavors. In this dish of Chinese-inspired Soy-Glazed Yukon Gold Potatoes, created by chef Shirley Chung on behalf of Potatoes USA, sweet, spicy and savory combine for big flavor. Soy sauce and molasses blend with Serrano chile and anchovy to create a balanced flavor profile rich with umami. Finished with toasted sesame seeds and chopped chives to add texture and herbal freshness, this dish is adventurous while both approachable and simply prepared. "This is a great example of how global flavors can be incorporated into familiar foods without complicated techniques or a lot of obscure ingredients," says Chung. "The potato absorbs all the bold flavors, and the crispy yet melt-in-your-mouth texture is a perfect combination."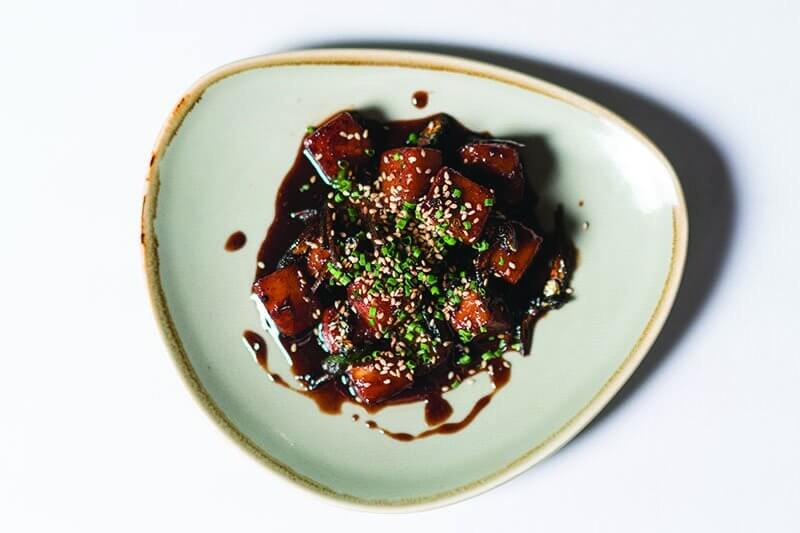 Potatoes USA
Sweet Discovery
Sambal-Honey Braised Collard Greens present an on-trend mash-up of Southeast Asian and popular Southern cuisine. Here, the greens are braised with sambal, vegetable broth and honey, with fresh chopped aromatics, for a unique Asian-Southern spin. A dukkah (chopped topping) of dark toasted peanuts, cilantro, lime zest and honey finishes the dish. "The global profiles add unique flavor and interest to a traditional Southern staple, expanding its appeal to today's adventurous flavor-seekers," says chef John Csukor of KOR Food Innovation, on behalf of the National Honey Board. "The sambal-honey-vegetable broth marries the familiar with the exotic to deliver a unique and craveable flavor experience."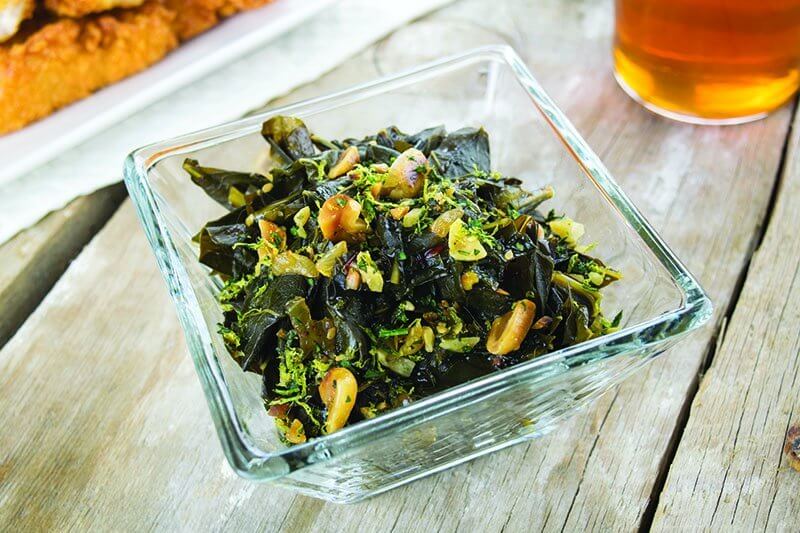 National Honey Board
Next-level Kabobs
These Lamb & Walnut Kofta Kebab Lettuce Wraps with smoked eggplant and walnut purée are a delicious expression of trending global profiles in a healthful application. This recipe also showcases the versatility of walnuts as a protein stand-in, adding both a unique texture and an elevated flavor profile. The kofta itself is a blend of lean lamb, California walnuts and herbs and spices such as cumin, sumac, coriander and mint, highlighting the appeal of Eastern Mediterranean flavors. Recipe creator Trent Page, chef de cuisine and general manager of Google's YouTube Cafes, emphasizes the importance of paying attention to the needs of upcoming influential Gen Z consumers. "They are a true multicultural generation, where 'ethnic' cuisine is just 'cuisine' to them, and recipe mash-ups and global flavors will become more prevalent across foodservice lines." Page notes the adaptability of the kofta recipe as another advantage for operators, perhaps as a burger or a meatball appetizer, or even in a taco.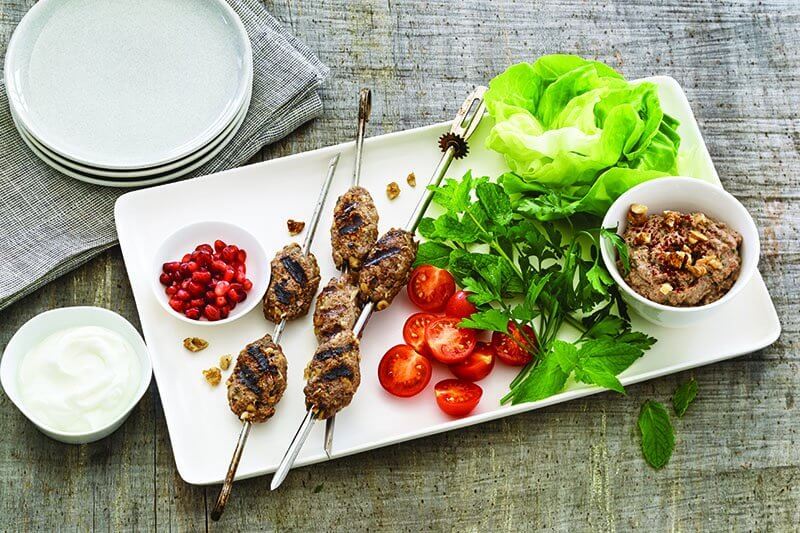 California Walnuts
Pho Surprise
This Pho with Avocado Dumplings presents a comforting, traditional dish with a unique and surprising addition. The smooth texture of the avocado dumplings are a pleasing complement to the hearty beef broth and vibrant garnishes of red and orange hot peppers, napa cabbage, bean sprouts, scallions, basil and cilantro. The dumplings are prepared from a base of whipped avocado, tapioca starch and rice flour, and seasoned with lime zest, garlic and cilantro. "The smooth, creamy consistency of avocados works really well in these dumplings and brings an intriguing element that is totally one of a kind," says Mark Garcia, director of foodservice marketing for Avocados from Mexico. "Taking basic ingredients that consumers love and incorporating a global twist works well as a way for operators to stand out. The avocado dumplings add the appeal of a beloved ingredient used in an innovative way."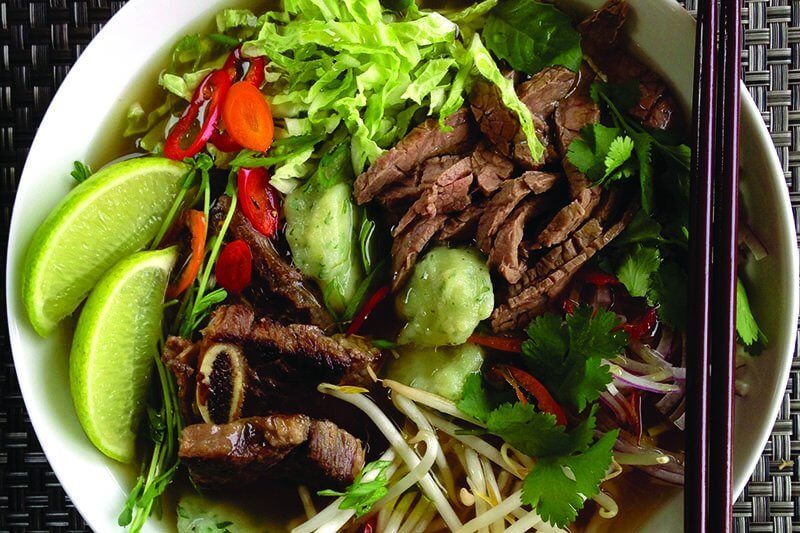 Avocados from Mexico
Doubling Down
Inspiration for trending global profiles can be found at every turn and this Samosa-Stuffed Idaho Potato is the perfect example. While the comforting baked potato provides the base, the filling is a reverse-engineered samosa, inspired by the popular potato-based Indian street food. Cumin, coriander, ginger and turmeric elevate the potato-and-vegetable filling while the bright cilantro chutney further emphasizes the Indian influence. "The stuffed potatoes can be hand-held, are easy to put together, and look great when filled with interesting ingredients" says Chuck Hatfield, director of culinary systems for Sodexo, based in Gaithersburg, Md. The recipe was developed as part of Mindful by Sodexo, a line of mostly vegetarian entrées that are foodservice friendly. "We played off the loaded baked potato, taking a well-known staple and making it healthier, as well as appealing to customer preferences for exciting global flavor trends."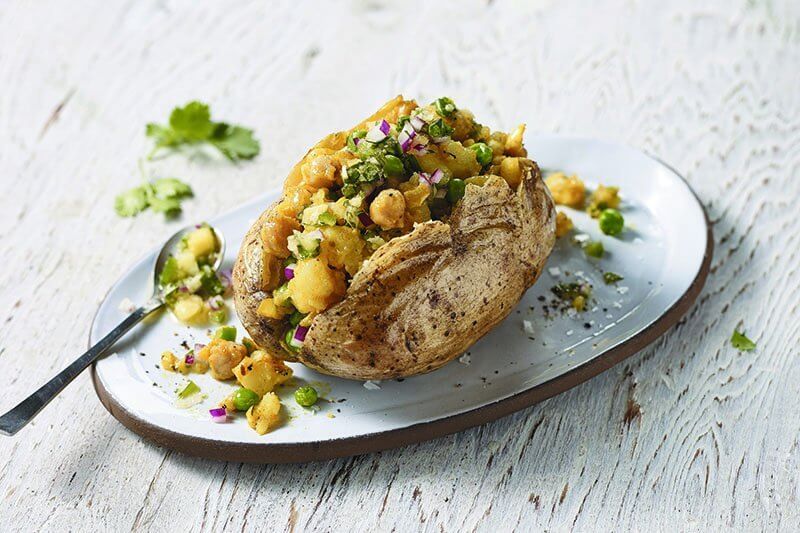 Idaho Potato Commission
Pisco 2.0
This fresh and creamy Virtue Cocktail features Peruvian pisco and cucumber syrup, with the unique addition of California Greek yogurt. The yogurt introduces a luxurious richness with less fat than cream, while the pisco, a fresh and grapey spirit now seeing a return to the spotlight, provides the body for the cocktail and a base for the aromatic and tangy notes from the cucumber syrup and lemon juice. "Yogurt has been a part of cocktail menus across the world for centuries and is becoming a huge trend in the U.S. as operators are incorporating this global inspiration into their own cocktail creations to add a unique tang and funky sweet flavor," says Executive Chef Pierre Tumlin of The Dorian in San Francisco, and creator of this cocktail recipe. "Blending a small amount of yogurt can lead to a lot of unique cocktail creations and can help round out the drink."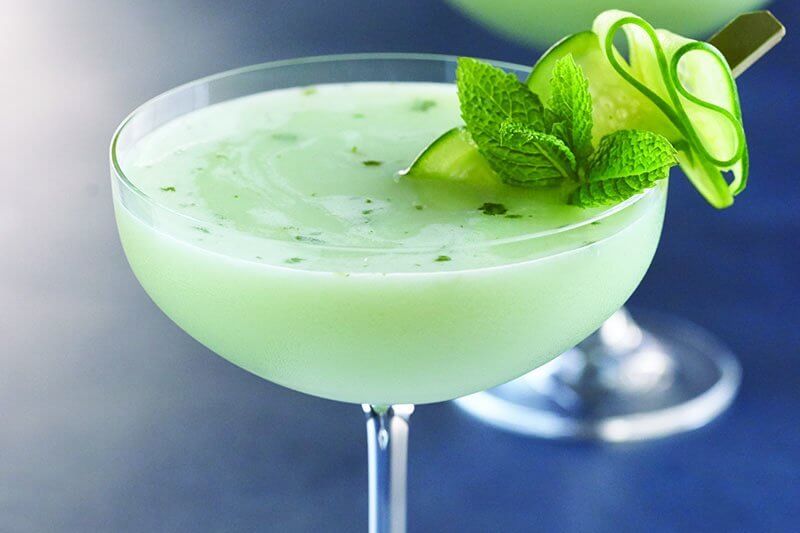 California Milk Advisory Board
Carrying Flavor
"This dish represents our style of cookery and cooking in Latin cuisines and cultures," says Almir da Fonseca, chef-instructor and culinary arts professor at The Culinary Institute of America, describing Goat Tinga Sopes, a dish he developed for the National Peanut Board. "It is a one-pot cooking style that delivers amazing textures, aromas and flavors, and produces versatile dishes that can be served over rice, on tortillas, tacos, etc. In this case we used sopes— corn cakes that are twice-cooked and topped with delicious toppings, making a fun and flavorful dish." The slow-cooked goat is seasoned with bay leaves, onion, garlic and chipotle chiles in adobo. The meat is shredded and further simmered with the chipotle sauce then placed atop sopes, topped with diced cabbage, queso, chopped roasted peanuts and radish slices, and drizzled with an aromatic cilantro-lime green peanut oil.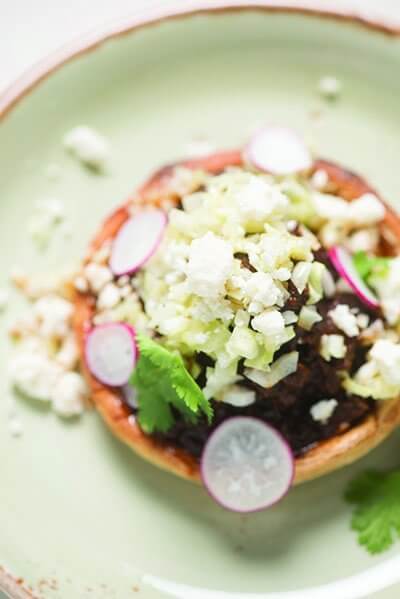 National Peanut Board
Torta Takeover
Gonzalo Guzman makes the true spirit, roots, and flavors of regional Mexican cooking come alive at San Francisco restaurant Nopalito, where he is head chef. His Torta Pambazo is a delectable sandwich filled with spicy chorizo and chunky potatoes, cooling crema, crunchy pickled vegetables and California avocado slices on freshly baked, guajillo salsa-smeared torta bread. For sandwich lovers, tortas are the solution for a satisfying handheld meal with bold global flavors, reflective of California's culinary culture. "Our current generation of chefs is comfortable merging global and local traditions and ingredients, therefore fresh California avocados have long played a role in the ethnic foods enjoyed by the state's diners," says Guzman.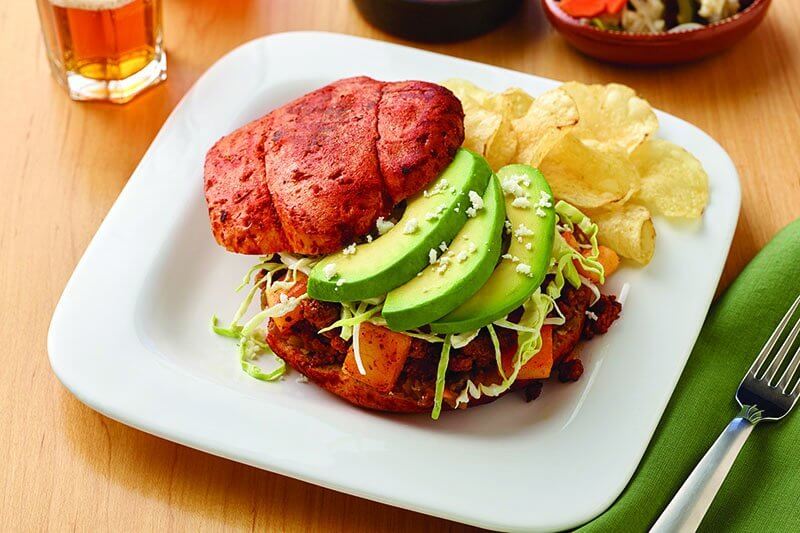 California Avocado Commission
Brat Beauty
With both fermented foods and Korean cuisine trending, one can see how global flavor profiles can transform even the simplest of dishes in this K-Town Brat. Here, bratwurst is taken to a new level with a sweet and sour mango kimchi and mango mustard. "Fermented foods, like pickles and sauerkraut, are classic to the roots of how we think of hot dogs and stadium brats," says CD Culinary Approach's Dave Woolley, chef consultant for the National Mango Board. "So the transition to Korean kimchi was a natural one, and the addition of tropical sweet and sour flavor notes from fresh mango in the kimchi is our take on a perfect complement to the hearty flavor of brats."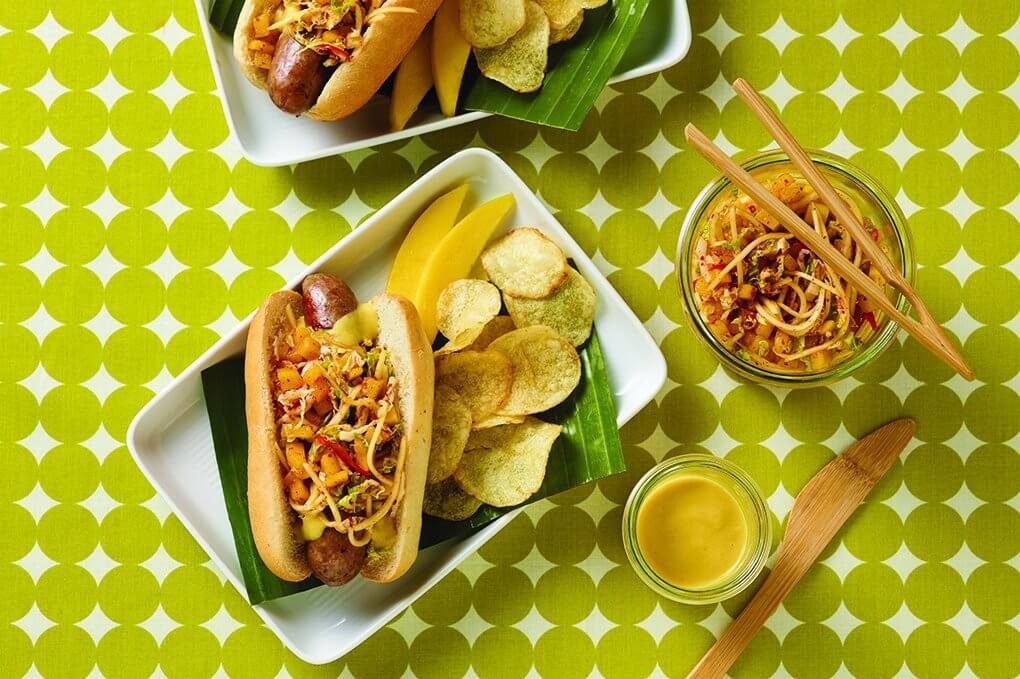 National Mango Board