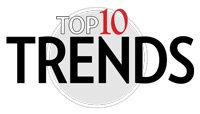 American consumers have exalted tacos for decades, happily celebrating this Latin import as part of their food life. Innovation within the taco universe exploded with the advent of food-truck culture almost a decade ago, when Roy Choi demonstrated so masterfully how tacos can offer effective platforms for global mash-ups underpinned by seriously craveable flavor play.
Back then, the idea of a Korean taco was cutting edge. Revolutionary. Ingenious. That was then and this is now. Korean tacos are still ingenious, but have been absorbed into taco culture. As a menu category, tacos have continued to stay relevant, creative and popular.
Today, something new is afoot. Next-level tacos take inspiration from all cuisines — Latin, Southeast Asian, Indian, Mediterranean. They are a perfect expression of modern American cuisine, where the global mash-up has morphed into New American.
This new wave of innovation leans against a solid backdrop that makes tacos a successful platform: they're the ideal bar bite for younger consumers, they boast an ease of global mash-up adaptation, and they carry a casual, social vibe that fits into today's more progressive menus.
On The Menu
Fox Bros. Bar-B-Q, a Southern restaurant in Atlanta, serves Smoked Pastrami Tacos, with smoked Russian dressing and Cheerwine-pickled mustard seeds on a flour tortilla.
At TLT Food, a New American restaurant with two California locations, diners can order the Mr. Potato Taco, with crispy pee wee potatoes, pico de gallo and chimichurri.
Velvet Taco, Front Burner Restaurants' globally inspired fast casual, menus a Fish n' Chips Taco, starring beer-battered cod, curry mayo, malted french fries, lettuce and pea tendrils, all tucked into a flour tortilla.
Turn Up Your Taco Creativity
It's worth noting that none of these concepts claim authenticity in the Latin American taco. They don't need to—the modern opportunity is built around the notion that tacos are proven carriers. Diners understand them, love them and seek them out.
With that foundation of bankability, chefs are turning up their taco creativity, responding to a marketplace that values shareability, fun, variety and just the right frisson of adventure.
"Tacos check off nearly all of the trend boxes today: small portions, variable portion sizes, variety on one plate, plant-forward, global cuisine, authentic, fusion, handheld, engaging, interactive," says Maeve Webster, president of Menu Matters consultancy.
"That's one of the key reasons tacos continue to be popular with both patrons and operators, and why operators and customers never tire of innovation with this format. Every aspect of the format—carriers, fillings, cheeses, sauces, other toppings, finishes—can be customized to fit an operator's focus. They can work as well for an Irish gastropub as for a Korean food truck."
The "Taco Tavern"
Of course, tacos have always carried with them a casual vibe. They even boast a bit of swagger, thanks to their street-food credibility and general awesomeness. Tacos are cool—always have been, always will be.
But a new "taco tavern" sensibility is marking the opportunity here. It's taking the idea of shareability and coupling it with a significant value of modern diners, particularly younger ones—clever, confident builds that almost thumb their noses at boundaries. It's the spirit that brought us the mash-up in the first place, and that now resides successfully in New American cuisine.
The advent of the taco tavern is an interesting phenomenon that is both driving innovation and setting consumer expectation. These modern versions of pub hangouts for younger consumers are one reason tacos are making such big moves.
Just as Japanese pubs, or izakayas, moved craveable, bar-friendly food like tonkatsu and tsukune into American adaptation, taco taverns are showcasing how tacos are now part of New American cuisine.
In this exciting new world, global mash-ups are welcome. Riffs on flavor systems, like Buffalo chicken or banh mi, are encouraged. And veg-centricity has found yet another happy place to play.
Velvet Taco touts itself as a place that serves "tacos without borders." The vibe is casual and fun, inviting experimentation through familiar flavor profiles.
At Bartaco, a "beach-culture inspired" restaurant brand based in Norwalk, Conn., with 15 locations mostly on the East Coast, guests can order trays of tacos to share, from a Yucatan Redfish Taco to a Falafel Taco.
Taco taverns like these are capturing the huge opportunity that modern tacos offer, and are making it their brand signature. Guests are responding voraciously, seeking out next-level tacos on bar-bite menus, shareable menus, lunch menus and more.
"The tortilla is our flavor delivery system," says Jonathan Rohland, culinary director for Bartaco. "It's all about the experience—you come in, you order a bunch of tacos for the table. And one taco tray can have six to eight distinct flavor profiles. You can go from the Latin vibe of our pastor or lamb barbacoa to the bright, vibrant flavors of Thailand with our shrimp banh mi taco."
That variety, along with thoughtful execution, helps make Bartaco's menu a standout. And it's the inherent nature of a taco-centric menu like theirs that makes a concept a destination—its vibe is thoroughly modern with a casual, convivial atmosphere. Mindful builds with craveable layers of both flavor and texture are key, of course, and are seen throughout the menu.
That mindfulness is front and center at Velvet Taco, too — as is an unabashed celebration of inauthentic taco builds.
"I look at tacos as a holder of anything we want to feature," says John Franke, corporate chef with Front Burner Restaurants, based in Dallas. "We want to keep it in the $5 range, several bites that are memorable and full of flavor. We don't restrict ourselves to Latin. We want to serve up global flavors, familiar flavors—all in the much-loved taco format."
The key, he says, is paying a lot of attention to each and every component. "We want our guests to be able to recognize each layer—the main part, the garnish, the crema, the slaw," he says. "If you don't spend time making those really flavorful and intentional, then you'll get a jumbled, 'muddy' taco experience."
The evidence — and the opportunity — stretches across foodservice. At Takito Kitchen, a modern cantina in Chicago, the Pork Belly Taco combines a sesame tortilla with crispy potato, house ricotta cheese, slaw and tomatillo-pineapple salsa.
Scott's Kitchen serves its authentic Kansas City barbecue in taco form for easy eating: a pulled pork with red chile salsa, jalapeño-apple slaw and ghost pepper Jack cheese is just one of its offerings.
Torchy's Tacos, a street-taco concept based in Austin, Texas, recently served a limited-time offer of a Turkey Mole Taco: fried turkey breast with Oaxacan mole sauce, avocado, Cotija and cilantro on a flour tortilla.
Authenticity of experience
Authenticity of experience is still important — even in this crazy mash-up world. "Because the elements come together in their purest form, in that they don't need to be blended to the point of being unrecognizable, each element maintains its individual authenticity despite how the overall item is pulled together," says Menu Matter's Webster.
Although elements need to be true to form, riffs and spin-offs are encouraged. Tacos have indeed reached a status in food culture that allows them to be proudly inauthentic.
"Korean kimchi paired with a blackened shrimp is as recognizable as if it were offered in an authentic Korean dish. But by combining these authentic elements in unique ways, an operator can create a completely unique experience," she adds.
This point can't be overstated — it's perfectly acceptable and encouraged, even, to serve up a tikka masala taco. But the tikka masala on the taco needs to carry the torch well for that distinct flavor profile.
Flavor Systems at Play
Innovation within flavor systems is a smart menu strategy, maximizing the inherent craveability of a proven build by delivering it in unexpected places. Nowhere is this an easier fit than in the modern taco.
"The taco format encourages flavor play," says Louis Maskin, senior strategist at The Culinary Edge. "Brands can adapt tacos to their identity and then explore countless flavor systems around that, like butter chicken or Korean barbecue."
At Cast Iron in Atlanta, Buffalo chicken is reimagined as Buffalo Cauliflower Tacos, with Buffalo verde, buttermilk dressing and street corn.
Digging into flavor systems and wrapping them up into a signature taco experience is a theme at Velvet Taco, with offerings like the Nashville Hot Tofu Taco (crispy tofu, lettuce, buttermilk ranch crema, house-brined pickle) and the Spicy Tikka Chicken (crisp tenders, spicy pepper sauce, buttered cilantro basmati rice, raita crema, Thai basil).
"Our goal is that profiles like these take our guests back to an experience they had," says Front Burner's Franke. Certainly, leveraging familiar flavor systems buys recognition and possibly nostalgia—big keys to craveability when executed well.
The goal of the Picnic Chicken Taco, he says, is to transport guests back to family picnics—bringing those happy food memories to life. That build includes fried chicken, warm honey-Dijon potato salad, avocado crema and crispy chicken skin—tapping into the flavor system while making it uniquely Velvet Taco's.
Veg-centric Tacos
It's no surprise, really, to see veg-centric making moves into modern taco builds. This long-lasting trend, which sees chefs paying loving attention to the cooking and flavoring of produce, is really finding its way across menus. Tacos offer a snug carrier for delicious, flavor-forward builds.
Vicia Restaurant in St. Louis, known for its vegetable cookery, serves a seasonal vegetable taco. A recent offering combined purple-top turnips, shiitake, charred vegetable mole, tomato hot sauce, black beans, pickled onion and fajita peppers.
Petty Cash Taqueria in Los Angeles plays with the classic pastor profile in its Carrot Pastor—ancho chile-rubbed farmers' market carrot, pineapple and avocado.
Puesto, a Mexico City-style taqueria with three locations in Southern California, serves a Mushroom Taco: garlic-braised seasonal mushrooms wrapped in crispy melted cheese, topped with stone fruit-jalapeño salsa, pickled onions and microgreens.
At Espita Mezcaleria in Washington, D.C., Robert Aikens, executive chef, menus a Roasted Brussels Sprouts Taco with smoked almond, hazelnut and sesame crema. "Why not put sprouts in a taco? Just make them delicious with carefully considered ingredients," says Aikens.
A Word On Mexican Tacos
Although today's taco opportunity is rooted in a free-spirited exploration of flavors and textures, all tucked into the mighty taco, there is still significant flavor discovery from the rich traditions of our neighbor to the south.
Puesto celebrates Mexico City's urban, authentic take on tacos, with offerings like Zucchini & Cactus Taco and Lamb Barbacoa.
With that celebration of authenticity comes a discovery of flavor and texture, combinations that are unfamiliar and exciting to American diners. Katy Smith, Puesto's executive creative chef, features an authentic technique that brings insane craveability to the taco: She puts queso Oaxaca on a plancha, cooking it until thin and crisp, adds the taco toppings to that cheese round, then lays the crispy cheese with its toppings onto the tortilla. "They do it in Mexico and it's so delicious, adding savoriness and great texture," she says.
From deeper exploration of Latin America's taco traditions to free-thinking flavor combinations, the taco offers grand opportunity for menu innovation. "The taco could really be thought of as the most perfect item any operator could consider, because they can make that Mexican format entirely their own without doing the format any injustice at all," says Webster.
American consumers have a deep affection for tacos. "As taco innovation has blown up, so has the consumer expectation for high quality, high flavor and high creativity," says Rob Corliss, chef/founder of the consulting firm ATE (All Things Epicurean).
"The consumer's love for casual food with vibrant regional and global nuances remains stronger than ever. Add to this the ability to feature seasonal ingredients or capture an occasion, and tacos deliver a strong menu category. Today's table stakes for tacos: memorable combinations, multiple flavors and textures, and quality ingredients—where every ingredient contributes heavily to the overall experience."