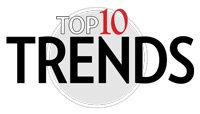 Condiments and sauces hold the keys to the kingdom. They open the gates, with a fast pass to craveability thanks to a magical combination of mouthfeel and flavor. Today, chefs are reaching for yogurt, using it as a creamy, tangy, neutral base for high-impact flavors.
Spicy yogurt may sound like an oxymoron — after all, yogurt is often used as a cooling element in fiery dishes. But combining the two as a signature condiment serves up a modern opportunity. It's a cooling yin to a heat-packed yang.
And it's got endless potential — from a bar-snack dip to a drizzle over a veg-centric dish to a dressing in a modern bowl or salad.
On The Menu
It's what makes the Toro Bowl stand out: a quinoa-based bowl build with hot chickpeas, kale, roasted sweet potatoes, local radishes, basil, feta, roasted corn, tomato, jalapeño, a squeeze of lemon and hot sauce, all tossed in a charred jalapeño yogurt dressing at Sweetgreen, a fast-casual salad concept based in Culver City, Calif.
It's the harissa yogurt, a craveable dipping sauce served with the Grilled Naan Flatbread appetizer at MB Post in Manhattan Beach, Calif.
And it's the flavor-forward drizzle of Sriracha Greek yogurt over the Falafel Grain Bowl at Cava, a fast-casual Mediterranean concept based in Washington, D.C.
What's Driving the Growth of Yogurt?
"Yogurt is getting the attention that mayonnaise got five years ago," says Louis Maskin, senior strategist at The Culinary Edge. "And spicy yogurt gives you that refreshing dairy base with big flavors, making it a really dynamic component of a dish. It raises the value perception and gives you an easy way to introduce your guests to bold flavors like harissa and gochujang and sambal."
A convergence of drivers is propelling spicy yogurt's huge menu potential. First, Greek yogurt was one of the early treasures discovered in the exploration of Eastern Mediterranean cuisine. That deepening love of ingredients from this part of the world has helped push innovation in yogurt.
Second, yogurt boasts a glowing health halo, bolstering its position as both a functional food and a feel-good ingredient, subbing in for mayonnaise, sour cream and cream-based dressings.
"Menuing spiced yogurts stealthily delivers the message of fresh, wholesome and clean label," says Pam Smith, RDN, culinary consultant. "It's a compelling ingredient substitution that adds flavor and wellness pops from the fermentation process."
A strong showing at retail is also driving this trend. Consumers are certainly familiar with Greek yogurt, which burst onto grocery shelves a number of years ago, mostly as a healthy-but-sweet breakfast or snack item.
More recently, savory and spicy yogurts are showing up in the case, dialing up consumers' awareness and eagerness to try. Combinations range from Sriracha Mango and Pineapple Jalapeño to Blackberry Serrano and Raspberry Habanero.
Lastly, spicy yogurt is finding a strong foothold because of the changing face of America's love affair with heat. What's "hot" has become more sophisticated in recent years, eschewing palate-numbing spice for nuance and complexity, with an eye toward the next big thrill — the next chile pepper or heat-laced experience.
Spicy yogurt gives that satisfying hit in a proven delivery system. "Yogurt is the blank canvas a chef can use to draw on for global flavor inspirations — from North Africa, Southeast Asia, Latin America, the Mediterranean — virtually around the globe," says Dennis Samala, chef/founder of Creative Culinary Concepts.
Yogurt Is The Perfect Modern Condiment
Tangy and fermented with clean dairy notes, yogurt offers a fantastic canvas for creative, craveable sauces, dips, drizzles and dressings.
"Greek yogurt gives you that wonderful mouthfeel of fat, adding roundness and richness to a dish," says Matt Harding, director of culinary at The Piada Group. "If you're building a grain-based bowl, maybe with pickled onion and roasted vegetables, the yogurt gives you that needed unctuousness," he says.
"I see spicy yogurt as only growing on menus, as it adds that richness while letting you notch up the flavors in a dish. It's the modern, hipper version of aïoli."
In today's foodservice landscape, unique flavor-building is key to menu differentiation and brand loyalty. Spicy yogurt helps tell a compelling flavor story that draws guests in with the guarantee of a creamy mouthfeel and the promise of adventure.
For example, at Souvla, a modern Greek sandwich fast casual in San Francisco, the Lamb Pita comes with harissa-spiked yogurt, cucumber, radish, pickled red onion and feta.
Sambal yogurt tops the Butter Chicken Tacos at PGH Taco Truck in Pittsburgh.
Cooling Heat With Yogurt
Greek yogurt's roundness of flavor makes it a great partner for assertive flavors that are so popular today — togarashi, guajillo, Serrano, sambal, Sriracha, s'chug and company. By pairing cooling, refreshing yogurt with bold ingredients, the result is a brightening of experience tempered by a more nuanced heat delivery. It's a win-win.
"Chefs are now using yogurt with the hottest of spices and peppers to temper the heat of a sauce and prevent it from overwhelming the dish," says Smith. "In fiery chicken wings with Sriracha-yogurt aïoli, the yogurt is the fire extinguisher to a peppery bite—its casein protein coats the hot capsaicin oils, preventing the tongue from experiencing the true punch of the ingredient."
Culinary technique and clever flavor combination help give this trend forward motion, showcasing a multi-dimensional experience through a spicy yogurt application.
Young Joni in Minneapolis serves Korean Beef Short Ribs with a kalbi marinade, chimichurri and charred Serrano yogurt.
At State Bird Provisions in San Francisco, the lamb merguez is served with a dollop of long-pepper yogurt.
Josef Centeno is the chef/owner at BäcoShop, an eclectic fast-casual sandwich place in Culver City, Calif. His Green Herb Chicken Bäco (a proprietary grilled flatbread sandwich) features thyme, Meyer lemon vinaigrette, yogurt, green cabbage and parsley. It's the spiced yogurt that is, arguably, what makes the sandwich craveable.
He adds sumac and honey, and sometimes a little pounded raw chile, like habanero. "That's the great thing about yogurt—because of its tartness, you can add either savory, hot, sweet or a combination," says Centeno, who also owns Bäco Mercat, Bar Amá, and a few other concepts in the Los Angeles area.
Spicy Yogurt Develops Flavor and Texture
In addition to acting as an ace condiment, spicy yogurt can help develop flavor and texture. "Yogurt also shines in spiced marinades, where it tenderizes meat, breaking down proteins to make the final result juicier and craveable," says Smith.
She suggests marinating a lamb loin in yogurt and harissa, then serving it with a dollop of mint yogurt. That kind of yogurt play delivers a kick of heat as well as fresh, herbal tones, offering a nuanced, multi-layered experience.
Similarly, charring or smoking chile peppers adds depth, as does building a hot-sweet profile with a combination like mango and habanero or hot honey swirled into the yogurt.
Texturally, it does wonders. "Yogurt can round out the edges of bitter greens in a salad while adding pleasing acidity," Smith says. "It's similar to buttermilk, but the extra thickness lets you coat your ingredients better. In addition, it's a perfect ingredient for a riff on aïolis and mayonnaises, as a sandwich spread, dip or highly flavored sauce."
Use Yogurt's Familiarity to Sell Bold Flavors
Although more exotic than sour cream or mayonnaise, Greek yogurt has become more familiar to consumers thanks to its success at retail. And with its wholesome posture and neutral profile, it's a fantastic ingredient upon which to build a little adventure.
"Yogurt is a great flavor carrier with a strong tie to functional foods," says Piada's Harding. "Most people are amenable to trying unique savory or hot flavors in a yogurt. How do you get your guests to try bold ingredients like s'chug or garam masala or Calabrian chile? A yogurt sauce, dip or dressing spiked with one of those is going to be an easier sell because they understand the yogurt part of the equation."
Familiarity and adventure make up the formula for success in this brave new world of global flavor discovery. Spicy yogurt offers an easy formula for striking that crucial balance.
"Using yogurt as the base is the way to help your guests understand these global flavors," says The Culinary Edge's Maskin. "Harissa is a strong flavor that can be intimidating, but mixing it into a swirl of yogurt makes it approachable." And it cleverly calms everything down while heightening the flavor experience.
"Spicy yogurt sauces are boldly tangy and milky," says Smith. "They beg to be riffed into classic condiments, and love to be used creatively across the menu."