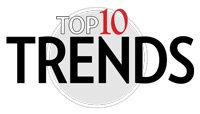 Texture has always been an important part of menu development and certainly few question that. For any holdouts, just point to Thanksgiving's green bean casserole as evidence. No other dish better represents the importance of a savory, crispy element that lifts an everyday side into a craveable, must-have dish.
Today, chefs are taking textural play to the next level. At Maple & Ash, an upscale steakhouse in Chicago, the Mac & Cheese is topped with a proprietary mixture of crispy shallots, garlic, brown butter and crunchy chicken skin.
Maypop, a Southern/Asian restaurant in New Orleans, features a Late Summer Watermelon & Crispy Chorizo Salad with pickled mushroom, oregano aïoli, black rice cracker and shaved pancetta.
And crisp, smoked peanuts top the Chinese broccoli with oyster gravy at Philadelphia's Cheu Fishtown restaurant.
This trend in creative textures comes from relentless consumer demand for an elevated flavor experience coupled with chefs' never-ending quest to make a memorable impact. Every detail needs mindful attention and serious flavor strategy to stand out and bring diners back.
A good burger isn't good enough now. The burger boom raised the stakes, introducing next-level texture with elements like battered jalapeños and fried onion straws.
"A demand for flavor complexity is driving this trend," says Louis Maskin, senior strategist at The Culinary Edge. "Consumers want more. They want to be delighted and surprised. They want to see popped quinoa instead of a crouton for crunch on their salad. Or an unexpected crunchy element where there normally isn't one, like spiced nuts over chicken wings. Chefs are putting a lot of time and effort into making their textural elements part of their signature builds."
Blossom, a vegan concept with two locations in New York, tops its Kale Salad with shiitake "bacon" bits.
The Dessert Peaches at Heritage Restaurant & Caviar Bar in Chicago are topped with blue cheese and candied puffed quinoa.
Chefs are upping their texture game to keep up with the incredible pace of innovation happening throughout menu development. Creative, delicious textural components are a result of this era of modern bowl and salad builds, veg-centric sides and snacks, premium burgers and sandwiches.
"Textural treatments are a way of working with familiar ingredients, adding a layer of complexity that drives consumer excitement and a sense of adventure," says Charlie Baggs, president/executive chef of Charlie Baggs Culinary Innovations. "Texture is a way to add culinary expertise to a dish, and bringing another layer of flavor with minimal cost and big visual impact."
Dial Texture up to "11"
Texture amplifies flavor, adds drama and dials up craveability. "The point of the trend is to go full throttle into the world of textures," says Chris Koetke, chef and VP, strategy and industry relations, Kendall College in Chicago.
"If you want a crunch, make it a hearty, memorable one. If you want silky, make it amazingly silky. If you are looking for the juxtaposition of textures, make it glaringly obvious and impactful. And don't be afraid to mix it up and combine strong textural components."
It's dialing things up to "11," really giving texture some thought and building it as an element rather than a quick garnish or finish. "Sweet, sour, salty and umami have always been seen as main flavor drivers, but finally texture is getting its due," says Dennis Samala, chef/founder of Creative Culinary Concepts.
Modern interpretations of this are seen across the foodservice landscape. Sapor Restaurant & Bar, a global bistro in Los Angeles, menus scallops topped with kataifi, a crunchy, shredded phyllo pastry, and a finish of brown-butter powder.
At Maypop, the Roasted Lamb Pastrami is topped with cocoa-pine nut granola.
ElCielo, a modern Colombian restaurant in Miami, serves a Chocolate Pineapple dessert with chocolate and pineapple ganache, ice cream, banana and dramatic shards of crunchy sweet yuca.
"The yuca is peeled raw and cut into thin strips, cooked with sugar, then dehydrated," says Juan Manuel "Juanma" Barrientos, ElCielo's founder. "The textural contrast of the perfectly crunchy yuca to the soft ice cream makes this a unique and exceptional dish."
Dessert is certainly a well-visited playground for texture, but now it's about next-level thinking.
At King + Duke, serving modern takes on old-school American food in Atlanta, the Dark Chocolate Tart is served with root-beer-float ice cream, Chantilly and malted milk/root-beer crumble.
Shake Shack, Danny Meyer's wildly successful burger concept, looks to texture for regional differentiation. When this East Coast chain opened in Los Angeles, it added local flair through its concretes, or frozen custards.
Textural add-ins came from regional bakeries, including doughnut crumbles from Cofax and salted caramel-chocolate brownie bits from Larder Baking Company. "The brand put a lot of effort into putting something special in their local markets, using textural components as a way to give a nod to the city," says The Culinary Edge's Maskin.
Add Texture To Bowls And Salads
Modern bowls and salads also stand out. A swipe of hummus or pesto adds an unexpected creamy contrast to a crisp salad. But it's the crunchy side of texture that is really moving the needle.
Ida Claire, the Southern concept from Dallas-based Front Burner Restaurants, menus a Grilled Chicken Salad with kale, stone fruit, goat cheese, peppers and sunflower brittle in a sorghum vinaigrette.
Doc B's Fresh Kitchen, with locations in three states, serves a Quinoa Kitchen Salad with Marcona almonds, mint, radish, feta and crispy leeks.
Junzi Kitchen, a Connecticut-based fast casual serving Northern Chinese-inspired bing sandwiches and noodle dishes, ups the texture game in its noodle bowls with garnish options like shrimp salt and chive ash.
Add Texture To Veg-centric dishes
Veg-centric dishes practically beg for textural play, whether it's a strategic dollop of soft cheese, an unexpected salty-sweet brittle or a savory bite of crispy char siu.
At MB Post in Manhattan Beach, Calif., the Roasted Weiser Family Farms Honeynut Squash is topped with housemade ricotta, sherry-bourbon gastrique and garnished with roasted sunflower seeds and crispy sage.
Roasted cauliflower tabbouleh gets a textural contrast of fried farro at upscale Frances in San Francisco.
Another leading-edge example hails from New Orleans' Turkey & the Wolf, an inventive sandwich shop that serves a cabbage salad with pig ear crackling.
"New and next treatments shine in plant-forward dishes—those where animal proteins become a part of the dish, not the star, and often become the textural element," says Pam Smith, RDN, culinary consultant.
Countering Softness With Crispness
Original takes on traditional strategies can build a signature, craveable dish. Bread crumbs over pasta dishes are a tried-and-true way to counter the softness of noodles with a crisp dimension. The trend today sees those bread crumbs as a chance for menu distinction.
Steve Redzikowski, chef/co-owner, Oak at Fourteenth, a New American restaurant in Boulder, Colo., amps up flavor in a number of crumb toppings that he features over pasta dishes. His Cherry Tomato & Squid Ink Spaghetti is finished with citrus crumbs—panko bread crumbs toasted in olive oil, finished with the zest of orange, lime and lemon.
"The citrus crumbs hit all of the high notes and give you that nice crunch," he says. "The key is adding the zest when the bread crumbs are hot so it perfumes them."
His Haystack Mountain Goat Cheese Ravioli is topped with pine nut crumbs—Redzikowski pulses toasted pine nuts, folds them into panko bread crumbs and adds thyme. "It's a great savory flavor with a crunch that gives you a nice contrast against the soft ravioli," he says.
Add Texture To Burgers
Burger builds are no stranger to texture; a simple crunch of iceberg lettuce or pickle has always been a welcome part of the picture. But innovation in this category has seen so much attention paid to every component.
At Rel'Lish Burger Lounge, opening in January at Seattle-Tacoma International Airport, the Over the Top Cheeseburger features cheddar-ale spread, pepper Jack cheese, hot Cheetos, lettuce, pickles, tomato and Rel'Lish Sauce.
"This is one of our signature burgers and has multiple levels of texture—from the hot Cheetos to shredded romaine and extra-crunchy pickles," says Kathy Casey, chef/owner of Kathy Casey Food Studios-Liquid Kitchen. "It's a festival of textures and bold flavors."
Texture is the new frontier in menu development. "Texture is the one thing that connects the sense of touch to the diner," says T.J. Delle Donne, assistant dean at Johnson & Wales University's College of Culinary Arts.