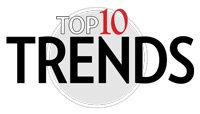 It is finally time. It's time to call out the tremendous menu opportunity served up by Indian cuisine. For those who have long embraced its aromatic, developed, craveable flavors, the question is: What took so long?
Indian food is certainly not new to this country, but it's only now catching fire beyond its traditional presentation. In fact, traditional restaurants' laser focus on ethnic origin has kept Indian cuisine at bay for many American diners. Through that ethnic lens, classic Indian dishes have perhaps been viewed by many as too spicy, too yellow, too soft—an impression deepened by the somewhat antiquated Indian buffet.
Today, chefs are exploring the Indian pantry, which swirls with enticing colors and flavors like turmeric, garam masala, tamarind and cardamom. They're also exploring the menu-development possibilities inherent in tandoori, vindaloo, keema pav and dosa, to name just a few.
The difference is that they're hitching these stars onto the familiar. The mash-up — now as American as apple pie — is providing the vehicle. Evidence of proliferation is everywhere, promising a smart, crowd-pleasing balance of adventure and familiarity.
At San Francisco's Dum, a restaurant that serves California-inspired Indian soul food, the Tandoori Fried Chicken is the most popular menu item.
Snackbar in Oxford, Miss., offers up Okra Chaat, bending a common Indian street food toward the South—spiked with chaat masala, local chiles, ginger and lime juice.
Choolaah Indian BBQ, a modern Indian fast casual with four units, based in Pittsburgh, serves a Roasted Cauliflower & Chickpea Wrap, making vegetarian fare craveable with chickpea masala, cabbage, cauliflower and pickled onions, all tucked into freshly baked naan.
Badmaash, an Indian gastropub in Los Angeles, reports that its Chicken Tikka Poutine—masala fries topped with cheese curds, doused in gravy and loaded with tandoori chicken tikka, cilantro and green onion—is its most Instagrammed dish.
Vermilion, with Chicago and New York locations, menus an eclectic fusion of Latin with Indian. It features a Dosa Bar on its brunch menu, where guests can choose the filling and the chutney for these snackable Indian crêpes—from tamarind shrimp to tandoori sour cream.
With many diners today game for the next flavor frontier, Indian mash-ups are poised to offer a differentiating thrill. "The market is open for this kind of exploration," says Nakul Mahendro, owner/founder of Badmaash. "Diners are being more thoughtful and adventurous. The challenge is: How do we take something intimidating and make it approachable?"
Approachability is indeed everything with this trend. "These sorts of mash-ups are the definition of safe experimentation, allowing diners to try something new in a format they are familiar with," says Brian Darr, managing director at Datassential.
Fast-casual Indian Mash-ups
Fast casuals are helping to drive interest with Indian mash-ups. Menu marketing has focused on "fresh," dispelling the notion of steam tables and repositioning Indian for a mainstream customer base. Fast casuals, with their open concepts and strategic visual cues, help diners rethink Indian food.
At Adya, a fast-casual Indian street-food concept with two locations in Southern California, the format encourages trial. "A lot of consumers have felt overwhelmed by Indian restaurants of the past," says Shachi Mehra, executive chef/owner.
"Our focus is on Indian street food served in an open environment that smells great. We have an open kitchen so they can see us preparing their food for them, and the price point is low enough that they're not worried about trying something and not liking it."
Menu language is important in making it approachable. Keema pav is referenced as an "Indian sloppy Joe," helping this Bombay snack of ground lamb on a local brioche bun, served with pickled onion and mint chutney, seem less foreign.
"It does well. People can relate to sandwiches," she says. Sandwiches—from the keema pav to kati rolls to wraps using paratha or naan as the carrier—all hold big potential.
"Sandwiches are one area of the menu where we are seeing a rising Indian influence," says Darr. "Naan is the fastest-growing carrier, and mentions on full-service menus alone have risen 287 percent in the past four years. Among condiments, the increasing popularity of savory jams like tomato may pave the way for greater acceptance of chutney."
Fast casual also gives diners more control, picking and choosing the flavor adventure. At Choolaah, the signature Choolaah Salad offers a base of power greens, crispy naan chips, pickled onion, tomatoes, roasted and spiced cauliflower, chickpeas and golden raisins.
"The best part is that the salad is served with a choice of authentic-flavored Choolaah barbecue—chicken, paneer, salmon, lamb, veggie croquettes, or tofu and tandoori vegetables," says Simran Sethi, director of culinary R&D and product management.
Guests also choose between Tamarind Ginger Dressing or Choolaah Ranch, demonstrating a clever mash-up between familiar and exotic, making this original salad more accessible.
Fast casuals are also showcasing the craveability of veg-centric dishes in the Indian mash-up universe. It's hard to think of a cuisine that celebrates vegetables more than Indian. Perhaps the biggest opportunity comes through chaat, a category of savory snacks that often features produce.
Adya serves a watermelon chaat as a side dish, flavoring it with chaat masala (a spice blend), fennel and red onion. Dum serves seasonal chaats, like a Brussels sprouts dish with spiced yogurt, olive oil, lime juice, tamarind chutney and pomegranate seeds.
And there's the Crispy Kale Chaat with yogurt, tamarind and Mumbai trail mix, a play on the street snack of spiced peanuts served in a paper cone. "I never saw a Brussels sprout in India, but they work so well in a chaat," says Rupam Bhagat, executive chef/owner.
Indian mash-ups differentiate snacks and shareables, from unique takes on samosas, pavs, tacos, loaded fries and chicken wings. Curry Up Now, a fast casual specializing in Indian street food snacks, serves craveable dishes like Dynamite Tangra Wings with an "insanely spicy" Indian-Chinese sauce and ghost chile dust. Also on the menu: Itsy Bitsy Naan Bits—mini naan with a tikka masala dipping sauce.
Some diners need hand-holding when it comes to Indian flavors. "While more than half of Americans have eaten Indian cuisine, only 43 percent have ordered it from a restaurant," says Amanda Topper, associate director of foodservice research at Mintel. "This is influencing operators to make the cuisine more approachable to encourage trial," she says.
Using Complex Spices
Indian cuisine seems particularly suited for successful mash-up development, thanks in part to its celebration of bold flavors. Nothing is more on-trend today than in-your-face flavor, used by chefs to wake up familiar dishes like bowl builds, sandwiches and salads.
"Indian spices have been hidden away in the back of the pantry for so long," says Badmaash's Mahendro. "The Western world is realizing that spices aren't meant to burn your palate. They're meant to add complexity."
Those complex spices are welcome everywhere on modern menus. At Navi Kitchen, an all-day restaurant in Emeryville, Calif., Preeti Mistry, executive chef/owner, serves thin-crust pizza starring Indian flavors. The Grateful Guju Pizza boasts bold flavors—fenugreek pesto, caramelized onion, chai-spiced bacon and ginger Brussels sprouts.
"I think we underestimate the American palate—people dig what we're doing," says Mistry, who wrote The Juhu Beach Club Cookbook: Indian Spice, Oakland Soul (Running Press, 2017), pulling from her original Oakland concept, Juhu Beach Club.
"It's exciting to see Indian mash-ups take hold because, as trend followers, we've been looking at Indian flavors for a while, and they never seem to break," says Kara Nielsen, VP of trends & marketing at CCD Innovation. "We're now seeing activity with chefs who have roots in Indian culture and are experts in wielding these complex flavor profiles."
That wielding, in the modern world of mash-ups, pairs Indian flavors with more than just classic American fare. It dips into Mexican, Chinese, French—the menu potential is so broad because Indian flavors work well with so many global profiles.
At Juhu Beach Club, for example, Mistry serves Manchurian Cauliflower, touting it as an Indian-Chinese favorite. This crispy, sweet-and-sour cauliflower relies on tamarind as its base flavor.
At Vermilion, Latin and Indian influences meet in dishes like the Tandoori Skirt Steak: seared churrasco, Indian marinade, garlic spinach, raita and plantain crisps.
"The cool thing about Indian food is that it borrows so much from other cultures," says Joanna Stachon, chef de cuisine at Pub Royale, an Indian-accented pub in Chicago. "There's Chinese influence, Mediterranean, British. It gives you a great range of dishes that are approachable."
The restaurant's Salt Cod Samosas reflect an English sensibility tucked into an Indian form—salt cod, malt vinegar chutney, whipped potatoes. "It's an Indian play on fish and chips," she says.
Pub Royale's India Hot Chicken Wings are a riff on Nashville Hot; they're tossed in chile chutney (árbol, ancho, Kashmiri masala spice) and served with housemade naan and spicy pickles.
Indian and Southern mash-ups
Indian and Southern mash-ups have helped shine a spotlight on menu opportunity. Maneet Chauhan, co-owner/executive chef of Chauhan Ale & Masala House in Nashville, Tenn., emphasizes the melding of Indian and Southern food in craveable ways.
Why does the mash-up succeed here? Spicy, "barbecue-esque" flavors resonate with diners, says Chauhan. "As a special, we offer baby back ribs made with black pepper, Coca-Cola and garam masala that works really well."
Other hits include: the brunch menu's Tandoori Shrimp & "Grits" over creamy semolina upma grits (an Indian porridge) and poblano corn relish; and the Vindaloo Chilaquiles—poached eggs, tortillas, kachumbar (Indian salad spiked with vinegar), Provel cheese and cilantro-lime crema.
Snackbar, in Oxford, Miss., combines French, Southern and Indian flavors, thanks to its executive chef, Vishwesh Bhatt, a native of Western India. He says the crossover is organic, as many of the same ingredients grow in both parts of the world. "I grew up with sweet potatoes, okra, chiles, tomatoes—it's easy to make dishes familiar by using recognizable ingredients," he says.
On his dessert menu, he serves a Rose Water & Pistachio Bread Pudding, frying the bread in ghee, cream, saffron, rose water and cardamom.
Fried chicken enhanced with Indian flavors presents big opportunity — in the South and across the country. Dum's Tandoori Fried Chicken consists of thighs marinated in tandoori spices, breaded in chickpea flour, then served in Bhagat's take on butter chicken sauce, paired with coconut chutney. "It's our most popular dish on the menu," he says.
"The consumer search for and appreciation of distinctive, bold, memorable flavors is a huge driver in the growth of Indian flavors," says Mintel's Topper. Indian mash-ups offer chefs opportunity to introduce untapped flavors onto their menus, thanks to the cuisine's hypnotic array of spices, ingredients and dishes.