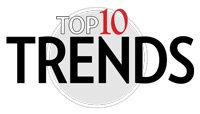 By Gail Cunningham
Invite spicy yogurt to bring a cool kick to the brunch menu. Here are four easy ways:
Carrot Pancakes with Za'atar Yogurt
Short stack of savory-sweet carrot and chickpea flour pancakes, griddled golden and puffed, topped with za'atar-spiced yogurt, toasted pistachios and golden raisins.
Cajun Hash Browns with Blue Cheese Yogurt
Crispy sweet potato and Yukon Gold potato hash browns topped with a drizzle of tangy-rich blue-cheese yogurt and cayenne-pepper sauce.
Heirloom Tomato and Avocado Yogurt Bowl
Greek yogurt topped with pan-roasted heirloom grape tomatoes, avocado, a swirl of extra-virgin olive oil, toasted pepitas, flat-leaf parsley and coarse-ground sea salt.
Chorizo Chilaquiles with Eggs and Roasted Poblano Yogurt
Smoky pinto beans, simmered with corn tortillas and spicy chorizo, topped with a fried egg, crumbled queso fresco and roasted poblano yogurt.