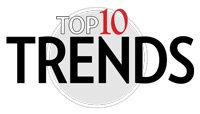 The Eastern Mediterranean is a playground for chefs today, who are happily exploring the complex, intriguing, bold, craveable flavors and dishes of countries like Turkey, Greece, Israel and Lebanon.
Harissa, ras el hanout, za'atar, s'chug, sumac —all were unfamiliar a few years ago and now are emerging on American menus.
Hummus, halloumi, shakshuka, pita, lavash, falafel—these are terms that don't sound as foreign as they used to.
With that backdrop of culinary exploration and consumer discovery, two rising meat-centric stars are catching fire now: the döner kebab and shawarma, two heavily seasoned meats cooked on a rotating spit.
The question that's easily posed is: What took them so long? Food truck aficionados and those who frequent Turkish, Israeli or Lebanese restaurants are familiar with the wonders of these Eastern Med meats—richly flavored, then licked by flame until savory and juicy.
What Are Döner Kebab and Shawarma?
Döner kebab originally hails from Turkey, and translates to "rotating grilled meat." It is the father of all Levantine meats grilled on a spit, including the gyro and the shawarma. In fact, gyro is the Greek word for "turn" and shawarma is Arabic for "turning."
Döner kebab is seasoned meat cooked on a vertical spit, then sliced thinly. It's hugely popular in Europe, thanks to Turkish immigrants who brought it with them to Berlin in the 1960s.
There, it was taken out of its traditional rice platter presentation and moved into a handheld, wrapped in grilled bread, topped with salat, or fresh vegetables, and slathered with a delicious garlicky sauce. And that's the version that's making waves here now—döner kebab by way of Berlin street-food tradition.
Shawarma has its roots in a few Eastern Med countries, including Israel and Lebanon. Similar to döner, it's a meat cone, often chicken or lamb, grilled on a spit, but it typically sees a longer marinade and a different range of spices, from turmeric and allspice to dried lime, bay leaf and cinnamon.
Traditional toppings are different than on the döner kebab, with tahini, tabbouleh, sumac onions and purple cabbage as the garnishes on shawarma, which is typically rolled or stuffed into a fluffy, warm pita.
Both present significant opportunity for menu translation today.
What's Driving This Trend?
What's driving the momentum? "I'm going to go out on a limb and say that this started in 2012 when Tony Stark says, in The Avengers: 'There's a shawarma joint about two blocks from here. I don't know what it is, but I want to try it,'" says Ron DeSantis, CMC, principal advisor of CulinaryNXT consultancy.
"If that's not believable, then Eastern Med meats like döner kebab and shawarma were inevitable with the rise of food trucks." Food trucks gave these two dishes street credibility and a hip factor.
The fast-casual segment then fast-tracked both shawarma and döner kebab into the spotlight, making them approachable by giving the consumer the option of a salad, wrap or bowl build and letting them customize toppings and sauces.
Berlins, with two locations in Los Angeles, demystifies the Berliner döner kebab with an easy-format menu that mixes familiar and more exotic flavors, featuring a choice of beef and lamb, chicken, or veggie (falafel and feta cheese).
Sauces include Original as well as Ranch Deluxe. Naf Naf Grill, a modern Middle Eastern fast casual with more than 10 units in the Chicago area, specializes in chicken shawarma, marinated in a dry rub overnight, then roasted. Guests can choose pita, hummus, salad or rice, then customize their toppings and sauces.
With more of these fast casuals popping up across the country, shawarma and döner kebab are entering consumers' daily routine, as a quick workweek lunch or anytime snack. They're becoming familiar, which, of course, helps build the opportunity for menu development.
While fast casual is a big driver in making döner and shawarma relatable, a number of independent chefs are also moving the needle here, serving modern versions in creative, appealing ways.
Sarma, Ana Sortun's contemporary Mediterranean restaurant in Somerville, Mass., features a Brisket Shawarma that combines apple hilbeh (Yemeni dip), barley and an everything bagel.
At Amplified Ale Works in San Diego, döner kebab is served over house-cut fries with vegetables, aïoli, California chile and avocado dressing. This kind of versatility and room for signaturization are big motivators for adoption.
"These are lower-cost proteins that can be flavored with a marinade or spice blend, roasted, then served in multiple ways, from a sandwich to salads, bowls and more," says Charlie Baggs, president/executive chef of Charlie Baggs Culinary Innovations. "Chefs have the ability to vary the protein and the flavor profile, creating custom versions."
Döner Kebab
Erkan Emre is a Berlin transplant who makes Brooklyn, N.Y., his home. Out of a craving for a sandwich he grew up with, he bought a meat spit and invited a few friends over to enjoy a döner kebab. "They were blown away, so I then rented out a restaurant, invited 500 people, served the kebab, and surveyed my guests on taste, freshness, the bread, how much they would pay, and would they consider this everyday food as opposed to just 'drunk food,'" says Emre.
The feedback was overwhelmingly positive, so after confirming his döner kebab's popularity at the 2016 Smorgasburg, the largest open-air food festival in New York, he opened Kotti Berliner Döner Kebab in the DeKalb Market Hall and Industry City Food Hall, both in Brooklyn. He generally sells 450 döner kebab orders during the week, with that number more than quadrupling on weekends.
Kotti Berliner's döner kebab meticulously pulls from the authentic Berlin experience. The free-range, halal chicken is marinated overnight in a 15-spice blend, including turmeric, cumin and curry powder. The bread is sourced from a bakery in New Jersey, made to Emre's specs for a Turkish pide-style bread.
"No one does it here. It helps us be authentic. Our bread has the perfect thickness. It's focaccia-like and coated in sesame seeds," says Emre.
Guests choose from two sauces: a spicy red harissa and a cooling garlic and dill yogurt. The shaved chicken goes on next, followed by vegetables, like iceberg, tomato and cucumber with dill and pickled red cabbage. Feta and a squeeze of lemon finish the build.
Although the Kotti Berliner Döner Kebab, served on the Turkish pide, is the most popular item, Emre has introduced a salad version and a burger served on a pretzel bun. Most recently, he added a Döner Cone—a thin wrap inside a cone, with all the kebab elements, as well as a Kotti Rice Pilaf Bowl.
"The cone really answers the need for on-the-go and is doing very well," says Emre. "The rice bowl and the salad give our guests a fork experience instead, but with the same toppings." Kotti's customer is the Millennial diner. "They want something fresh, quick and delicious. The döner kebab is perfect for their needs," he says.
Growing fast-casual restaurant Spitz also serves Turkish street food, but throws craft beer and housemade sangria into the mix. It started as a food truck in a California college town in 2006 and now has nine locations in California, Oregon, Utah and Minnesota.
Co-owner Bryce Rademan studied in Madrid and fell in love with döner kebab, which proliferated throughout Europe since its entry into Berlin decades ago. "He came back with this love of döner and couldn't find it anywhere here, so we partnered up and opened Spitz," says Robert Wicklund, co-owner.
"Our take is inspired by Berlin but combines it with California freshness and the flavors that inspire us in Los Angeles. So we amp up the spice element and add a lot more vegetables. We call ourselves a 'hipster kebab place,'" he says.
Spitz caters to college students, young professionals and young families. The most popular item is the Street Cart Döner: lavash wrapped around heavily seasoned lamb and beef or chicken, with housemade aïoli, tzatziki, cabbage/romaine mix, onion, tomato, green pepper and cucumber, with fried lavash chips for crunch.
Diners can also choose mixed meat, falafel or vegetarian filling. "The lavash is toasted so you get this cracker-y shell that's thin enough to let the flavors shine through without losing its integrity."
The Berlin Döner is a newer item, offering the same protein choices, with Berliner red sauce, feta, cabbage/carrot slaw, sumac, tomato, onion, cucumber and tzatziki sauce.
Street Cart Fries also do well, taking the flavor system of döner kebab and serving it over french fries.
Wicklund used to assemble the spits in-house, but as the concept grew, it became untenable. He now outsources that work to a California company that delivers a consistent product across all units.
Although döner kebab is thriving in its handheld presentation, it can move into other menu parts. "Döner could top pizza or composed salads, or it could slide into ramen bowls or bibimbap," says DeSantis. "It's a natural fit with tacos and burritos, and perhaps as a new Philly döner steak."
Shawarma's Momentum
Shawarma represents the other meaty opportunity coming out of the Eastern Mediterranean. And although shawarma has found a welcoming home in fast casual, it also has chops outside of that space.
At Oak at Fourteenth in Boulder, Colo., Steven Redzikowski, chef/co-owner, serves an Oak Lamb Shawarma Sandwich on his lunch menu, with house shawarma, pickled peppers, grilled onion, feta, raita and a citrus miso slaw on a ciabatta bun. "The flavors in shawarma are so good, and they work particularly well with lamb," he says. "As chefs, we're always looking for the next great sandwich. Shawarma's flavors make it a good bet, especially when you add your own touch to it."
At Shaya, a modern Israeli restaurant in New Orleans, it shows up on the menu as Roasted Chicken with shawarma spices, grilled squash and chickpea mujadara (stew).
Dune, a fast casual in Los Angeles, menus a Fried Chicken "Shawarma" with housemade flatbread: The fried chicken batter is spiked with shawarma seasoning; it comes with spicy toum (garlic sauce), chermoula, pickles, radishes and market greens.
DMen Tap, a German street-food spot in Chicago, serves the Döner Guys Bowl: shaved, vertical spit-roasted chicken over spiced basmati rice with cucumber goat yogurt tzatziki, spicy North African red pepper harissa, fresh greens, red cabbage, tomato, cucumber Shirazi, wild pickle and onion.
Shawafel, an Eastern Med fast casual in Washington, D.C., uses the flavor system of shawarma and applies it to falafel in its Shawafel Sandwich, a shawarma falafel with tomato, pickles, lettuce and parsley.
Shawarma and döner kebab's built-in craveability, coupled with an ease of translation into creative interpretations, make them a good bet for successful menu development.
"These Eastern Med meats offer a great way to use less meat in a really flavorful way," says Matt Harding, director of culinary at The Piada Group.
"You can borrow the aggressive spicing and use it to fit your brand. Americans are waking up to bolder flavors, with acid, heat, spice and crunch. They give you a chance at authenticity without being authentic, meaning you can put those spices on a ribeye and caramelize it with live flame like you do with the authentic spit versions. There's an incredible gut reaction to these savory, juicy, wonderful meats," he says. "Chefs are capitalizing on that and moving it to an everyday experience."