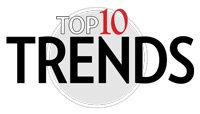 Shawarma and döner kebab are red-hot, thanks to their richly seasoned profiles and Eastern Mediterranean street cred. They offer huge menu opportunity—beyond the classic sandwich profile. Their growing popularity also signals a hankering from consumers for other richly seasoned proteins, maybe tucked into grilled naan or served over loaded fries.
"The cross utilization potential is huge, on sandwiches, platters, bowls and salads," says Charlie Baggs, executive chef/founder of Charlie Baggs Culinary Innovations in Chicago. "This trend also serves up the opportunity for chefs to vary protein and flavor profile."
Borrowing from the rotating spit concept, his menu ideas include Chinese-style marinated chicken with soy, sesame, ginger, garlic and scallion, shaved off the rotating kebab and served in gua bao; Cuban mojo-marinated pork sliced over arroz con gris or onto a medianoche; and marinated bulgogi sliced fresh into lettuce wraps with rice and radish kimchi.