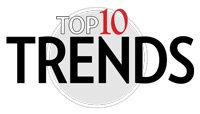 It wasn't so long ago that hummus was only found at Middle Eastern restaurants and in grocery stores. But thanks to a number of drivers, this unassuming spread of chickpeas, tahini, garlic and lemon juice is seen on menus across the country.
In fact, hummus is familiar enough to the average consumer now that chefs are spinning it into signature iterations—playing with both the build and the application.
For example, the classic American eatery King & Duke in Atlanta serves a White Bean and Rosemary Hummus with toasted pita chips.
E+O Food and Drink, a global-focused restaurant in Mount Prospect, Ill., menus a Smoked Pea "Hummous" with fried cauliflower and toasted almonds.
And at Cava, a Mediterranean fast casual based in Washington, D.C., hummus is offered as a component of its salads, grain bowls and wraps.
The drivers that have propelled all this hummus play include an enthusiastic embrace of Eastern Mediterranean cuisine, the red-hot veg-centric movement, a culinary exploration in smooth textural contrasts, and a continuing love of shareable, snackable foods.
With so much momentum behind hummus innovation, a new opportunity has taken shape, where chefs are looking beyond traditional hummus and exploring the menu potential of other plant-based purées.
At Young Joni, a modern wood-fired pizzeria in Minneapolis, an appetizer of cauliflower, shishito peppers, saffron chermoula, pickled Fresno, golden raisins and almond picada sits on a purée of creamy cauliflower.
At El Five in Denver, a Mediterranean small-plates concept in the Edible Beats restaurant group, the Chicken Kofta is served with a golden beet yogurt—beet purée folded into housemade yogurt.
The Evolution of Plant-based Purées
"Hummus has opened the door for any creamy dips and sandwich spreads, and everything in between," says Maeve Webster, president of Menu Matters consultancy.
"It's a natural evolution to expand upon the chickpea base and include other vegetables, with so many directions to go in. Plant-based purées can act as a base for bowls or salads, or be used as dressings with more body and a great splash of color. Texturally, they have a lot to offer, too."
In modern menu development, where intriguing flavor is king, it makes sense that plant-based purées carry huge potential—from hummus transformed into a dressing or drizzle to mashed potatoes thinned into a purée with butternut squash and seasoned with harissa, spooned as a base for wood-grilled sirloin.
"The trend in plant-based purées was inevitable, as a natural continuation of the hummus boom," says Brian Darr, managing director at Datassential. "With the growing popularity of vegetables like kohlrabi, beets, sweet potatoes, cauliflower and carrots, finding another way to feature them in a flavorful, veg-forward, colorful application is a smart strategy."
The wide world of produce informs this trend, with avocado as one of its standout stars. It brings its buttery flavor, creamy texture and healthful attributes to items like green goddess dressing, aïoli and hummus itself.
At Village Burger Bar, with multiple locations in Dallas, the Southwest Turkey Burger features jalapeño Jack cheese, baby spinach, tomato and avocado aïoli.
In Los Angeles, Elf Cafe's starter of Tahini Avocado Purée is topped with chopped Castelvetrano olives, garlic confit and pita strips for dipping.
"This trend is a celebration of the health halo around veg-centric purées—whether it's an avocado tzatziki or a beet hummus," says Kara Nielsen, VP of trends & marketing at CCD Innovation. "I think consumers have been ready for some time now to see this wider variety that carries on from the familiar hummus we all know and love."
Create Flavorful Plant-based Purées
Carrying a solid narrative around nutrient density and wholesomeness certainly has helped give plant-based purées the edge they need to elbow their way into a mainstream menu opportunity. But if flavor falls flat, any chance of long-term success is pretty slim. Flavor intensity and complexity are giving today's plant-based purées wings, letting them soar with serious potential.
Jeremy Kittelson is culinary director of Denver-based Edible Beats restaurant group, which he describes as a "vegetable-focused company." Now overseeing six restaurants, including fast-casual Vital Root, and Root Down, serving modern American small plates, he's been perfecting the development of vibrant vegetable flavors for almost a decade. "We often run hummus in some format across all of our restaurants. We start with a baseline of traditional hummus, then enhance it."
El Five's Charred Carrot Hummus showcases roasted carrots and seasonings, like caraway and paprika. "If you boil the carrots, you'd get a watery purée," he says. "Using sous vide or roasting them concentrates the flavors." He says vegetable powders and reductions can also help boost flavor.
"We make a lot of powders where we take the scraps of beets or carrots, for instance, dehydrate them, then run them through a spice grinder. Or we'll reduce carrot juice, again, concentrating the flavor, so when you add it to a hummus or yogurt or use it as straight purée, it's got vibrancy, freshness, and delivers that vegetable flavor in a clean, delicious way."
Another method for concentrating flavor, says Kittleson, is to spread the purée onto a Silpat, then roast in a 250˚F-oven for about an hour. "It gets rid of excess liquid and makes the purée richer and deeper in flavor," he says.
For El Five's Peanut Hummus, he boils peanuts down in a liquid flavored with garlic, cooking them in a pressure cooker to soften, then purées them with the hummus, adding extra-virgin olive oil and paprika to finish.
Michael Slavin, VP of culinary & menu innovation for Houlihan's Restaurants, is also leveraging plant-based purées, looking to them for flavor-forward textural interest. "They work really well in modern pastas and salads, where you swipe them on the bottom of the dish, bringing the eye in and also giving a nice flavor surprise whenever the fork finds it," he says.
"I like combining produce for different depths of flavor, like a sweet potato and parsnip purée at the bottom of a pasta build or gnocchi, maybe with a toasted marshmallow butter tossed throughout. You get two different sauces, two different dimensions. The beautiful thing about purées is that they're concentrated, so you get a big flavor impact."
Another flavor combination Slavin likes is cauliflower and apple. "Use it as a schmear on the plate—it gives you thoughtful flavor intent under a protein," he says.
To intensify flavor, Slavin will salt carrots or beets, then freeze them. "Once you purée, you get this beautiful, raw flavor. It's almost like you're curing them," he says.
For salads, he says the purées act as a great flavor pop. "Dress your salad with a vinaigrette, then drizzle a little bit of the purée on top. You don't want to weigh the salad down, but it'll give you great pockets of flavor."
---
Plant-based purée inspiration
Inspiration for plating with plant-based and flavorful purées
---
There's an operational upside, too: Puréeing vegetables means you can make use of the untidy bits. "For the chef, these plant purées offer various colors, textures and flavors. They also tend to be more cost effective, as the product being used is often a scrap or byproduct," says Chris Casson, chef and director of produce & specialty foods with foodservice distributor Shamrock Foods.
"Examples include utilizing the cauliflower or broccoli stems, as they're typically flavor-packed and still provide the color pop that chefs desire. Kitchens can take the scrap as they prep the vegetables and go virtually 'no waste.'"
Casson suggests blanching the vegetables in salted water or highly seasoned stock, then puréeing and chilling them for use in multiple applications.
There's More to Hummus
One thing that's clear with this trend: There's still a lot to explore within the hummus universe. Whether it's enhancing with other ingredients or flavors, or adding signature toppings, chefs are dialing up the delivery.
"Offering a familiar dish such as hummus made with peas or beets is a great way to expand diners' palates," says Amanda Topper, associate director of foodservice research at Mintel. According to Mintel Menu Insights, hummus menu mentions grew 11 percent over the last two years. "That shows that there's still opportunity to expand the dish as an appetizer, spread or side dish with various ingredients or flavor profiles," she says.
Hummus can help ratchet up seasonal efforts, switching out toppings or add-ins depending on what's in season. "In the spring, for example, operators can include green peas, fava beans or carrots as ingredients in hummus, and pair it with spring ingredients such as jicama and radishes," says Topper.
A good example is seen on the menu at Twenty Five Lusk in San Francisco, with its Pea and Mint Hummus, black pepper cracker, endive and cucumber.
Sweet Pea Hummus, highlighted by mint oil and lemon sabayon and served with lavash, is a top-seller at Sur Lie in Portland, Maine. "The sweet pea hummus has been a Sur Lie staple and fan favorite from day one," says Emil Rivera, executive chef. "It is also a reflection of our cuisine: simple, elegant and approachable. The beauty lies in its vibrant explosion of flavor and smooth texture."
Creative Dining Services, a hospitality and dining services provider based in Zeeland, Mich. — whose clients include colleges and universities, business and industry, conference centers, senior living, K-12 schools and camps — sees huge opportunity in hummus.
Ian Ramirez, director of culinary innovation & operations, recently launched the Za'atar Hummus Bar in a pilot program at Jackson National, a life insurance firm in Lansing, Mich.
It's a bowl concept, where guests start by choosing from a selection of hummus varieties: charred carrot and ras el hanout; spring pea and spinach; and beet. It gets swiped across the bowl's base, then choices of protein (chicken shawarma, falafel, pakora, tandoori chicken, za'atar tuna or garlic-preserved lemon shrimp) are added, followed by toppings like turmeric-roasted cauliflower, baba ghanouj, pickled beets and quinoa, along with sauces like yogurt-cucumber and garlic tahini. The bowl is accompanied by a warm pita.
"It's doing so well, we're going to try it next in a college setting," says Ramirez. "Hummus carries with it a lot of positives—it's familiar to diners and can take on so many different flavors. It also adds this great color and texture to a bowl build. We're finding that guests really respond to that."
Plant-based purées serve up a golden opportunity for modern menu development. "There are endless possibilities to use various legumes, produce, oils, dairy, vinegars, juices, spices, etc., to create that signature flavor profile beyond traditional hummus," says Dennis Samala, chef/founder of Creative Culinary Concepts.
"A Moroccan-style roasted ginger-carrot-harissa purée can be turned into a dip for housemade flatbread, or into a dressing or sauce for seafood or grilled meat. With consumers' fascination around veg-centric, we will definitely see more creativity and innovation with plant-based purées."