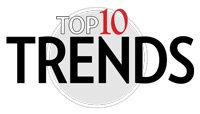 Two major drivers—each with impressive momentum and depth—have created a new wave of opportunity leading to the growth of seacuterie.
The first, with enough churning under the surface to make things happen, is modern seafood menu development, which sees chefs using fish and shellfish in casual, flavor-forward ways. From the fish taco boom to the poke phenomenon, innovation in this category has installed a new, hip positioning for seafood. In fact, poke has, in some ways, given the green light for further menu exploration—if diners embrace cold, seasoned fish with such fervor, what else will they love?
The second factor is the overwhelming consumer embrace of shareable plates. Social, snackable food is not new, and it's certainly not going away. But it requires constant attention, giving diners the next thrill, the next fun thing to order for the table.
Enter seacuterie, or seafood charcuterie: fish and shellfish preserved in some way, often mimicking techniques seen with meats, like pastrami, mortadella and even 'nduja.
The proliferation of snackable dishes like these signals an important shift in dining preferences. Five years ago, the notion of vegetables starring in cool, fun snacks was a little far-fetched. Now, blistered shishitos and turmeric-roasted cauliflower on the shareables menu are almost as common as chicken wings and spiced nuts.
Today, fish spreads, smoked mussels and their ilk are becoming the new hip and cool bar bites. Seafood has become shareable, thanks to intriguing culinary technique and appealing presentation.
On The Menu
David Burke, executive chef of Tavern62 in New York, is credited with first menuing salmon pastrami, back in the early '90s at Park Avenue Cafe in Brooklyn, putting his New York spin on Nordic gravlax.
PB Catch, a modern seafood restaurant in Palm Beach, Fla., put "seacuterie" on the map, menuing shareable plates of preserved seafood, like Scallop Mortadella with pistachio and peach mostarda, and Cured White Tuna: red miso escolar with crispy shiitake, preserved sake aïoli and wakame (seaweed).
Craft Los Angeles, Tom Colicchio's farm-to-table restaurant, takes pickled shrimp out of the South, leveraging its shareability with his Pickled Shrimp with black pepper crackers.
Lauro Romero, executive chef at the New American restaurant Three Degrees in Portland, Ore., serves a snack of Smoked Salmon Rillettes in a glass jar topped with aguachile, accompanied by grilled bread.
And at Pokeatery, with two locations in California, the popular toast trend combines with seacuterie in Toastess with the Mostess: salmon, onion, cucumber, edamame, wasabi-citrus sauce and furikake.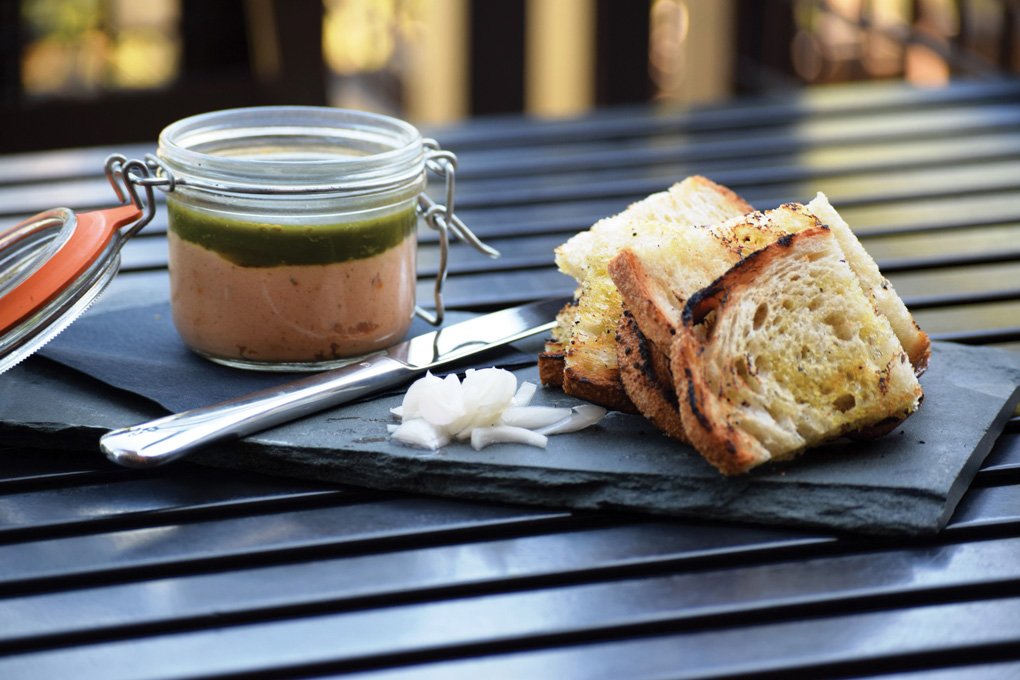 THREE DEGREESThree Degrees in Portland, Ore., has fun with its shareable Smoked Salmon Rillettes. The seafood spread arrives in a Mason jar topped with aguachile, ready for snacking with grilled bread.
Sharable seacuterie
Seacuterie answers the insatiable demand for shareable, just-a-few-bites food. It presents chefs the chance to offer highly prized seafood in a cost-effective way. "This provides an opportunity for chefs to look to other ways of preparation and serve smaller amounts of quality seafood," says Rick Perez, chef/founder of R&D Culinary Consulting.
"While this trend is in its infancy, the opportunity to create better margins is real. The intensity of flavor in this category is great. A scallop slice packs a lot of flavor, whether pickled or smoked. No matter the venue, there is opportunity."
Seacuterie presents more prospects than raw bars or seafood towers—with better profit margins. Michael Slavin, VP of culinary & menu innovation for Houlihan's Restaurants, is working on 23 new menu items for its modern seafood concept, Bristol Seafood Grill. "I gravitated toward this trend for a number of reasons—creative presentations of seafood, for sure, but also because you can utilize value sections of different species, and, by preserving them, they hold up longer."
He's playing with trout tails, for instance, using them like potato chips with a seafood platter. And his Smoked Salmon Carpaccio & Shrimp Ceviche presents the classic smoked salmon in a modern, fresh way: razor-thin smoked salmon, topped with ceviche, mango, red pepper pico, jalapeño, scallions, ginger vinaigrette, served with wonton crisps.
Heritage and sustainability
Another opportunity offers itself through narrative, heritage and sustainability—three values that are important to many modern diners. Although "seacuterie" is new and exciting, it actually harkens back to this country's great tradition of preservation—and its even greater tradition of American fisheries.
"I look at seacuterie as the seafood equivalent of heirloom vegetables or heritage breeds," says Barton Seaver, author of American Seafood: Heritage, Culture & Cookery From Sea to Shining Sea (Sterling Epicure, 2017).
"It offers us a means to understand and celebrate how our forebearers consumed seafood. It's not just an interesting trend—it's the marine equivalent of the farm-to-table movement."
---
Find ideas to help you develop a sustainable and 100-percent utilization approach to seacuterie when building your menu.
---
Seacuterie builds an emotional connection between fishermen and consumers, in the same way that we've fostered the relationship between farmers and consumers. "We don't have the mythology of seafood, like we do with farming," he says. "If we are going to sustain fisheries, we need people to understand their connection."
Preservation techniques, like pickling, smoking and curing, help deepen the narrative here, giving chefs a rich story to tell through their menus. Seacuterie extends the sustainability messaging, tying it to a rich American story.
Seacuterie Boards
The popularity of charcuterie boards makes a lot of sense, ticking a number of boxes in modern menu success—fun, eye-catching dinner theater that shows off an artisanal variety of offerings. Up until recently, the seafood equivalent has been a seafood tower, starring a premium catalog of shellfish, generally. But the opportunity there was limited to high-end seafood restaurants or steakhouses.
Now, seacuterie boards are carrying the opportunity forward, hooking into the built-in success from charcuterie, while turning the focus toward the bounty of the sea.
Bluegold in Huntington Beach, Calif., menus globally inspired seafood and serves a seafood platter of smoked salmon, smoked mackerel, pickled octopus and mussels, along with pickles, spreads, crackers and vegetable crudités.
L & E Oyster Bar in Los Angeles features its Fish Charcuterie Plate: beet-cured salmon, tuna conserva, smoked fish dip, pepperoncini, olives, twice-baked saltines and toast.
PB Catch introduced its seacuterie menu a few years back, and the response has been fantastic. "We were initially overwhelmed by how much we sold," says Aaron Black, executive chef. "It was such a novelty for our guests. Now, it's something we're known for and we still sell a huge amount."
PB Catch started menuing seacuterie to extend the seafood program. "We wanted to get the intensity of flavor in small portions so our guests could try a variety of seafood dishes," he says. "It's profitable because of those small portions—it's rich and intense so it's enough, and the value is there because it's seafood."
The Tuna 'Nduja is a play on the classic spreadable Italian sausage. "We can't ferment the fish, so we ferment the chiles that go with the yellowfin tuna," says Black. "We grind it, put it into a sausage casing, then cure it. It's spicy and rich."
His Octopus Torchon consists of poached octopus rolled into a torchon, frozen, then sliced and topped with pickled sweet corn and chorizo.
---
Inspiration for pulling in both seacuterie and classic dishes for a crowd-pleasing range of seafood options.
---
At Halifax at the W, a modern American restaurant in Hoboken, N.J., 80 percent of the tables order from the Cured & Smoked Fish menu, often combining it onto a board with selections from the Cured Meats & Pâté and the Artisan Cheese sections.
Offerings include maple-smoked wild salmon, smoked mussels and smoked pollock rillettes. "It fits our concept and performs great for us," says Seadon Shouse, executive chef. "Platters like these could easily live in any style of restaurant, on a bar menu or as a shareable."
Seafood charcuterie is also a draw at The Salt Line, a New England seafood house in Washington, D.C. Chef Kyle Bailey combines swordfish mortadella, shrimp linguiça, cold-smoked arctic char, potted lobster and smoked trout salad. "We had done so much with charcuterie, we wanted to bring those techniques to our seafood," he says.
For the mortadella, he makes a swordfish mousse, adding scallops, shrimp, lemon zest and pistachios. The shrimp linguiça is flavored with garlic, red wine and paprika, rolled, poached and seared. "The idea is to mimic the techniques of charcuterie while bringing out the flavors of the seafood," says Bailey.
The "New" Smoked Salmon
From gravlax and pastrami to modern ways of serving the classic, smoked salmon offers a promising pathway for seacuterie trial. Hillstone Restaurants menus a House-Smoked Salmon starter across a few of its brands, serving a generous wedge of salmon with toasts and chef's dressing.
At Houlihan's restaurants, Michael Slavin serves up a hot-smoked salmon appetizer with a lemon-dill chef's sauce and toast points. "We're going old-school with this one, serving it with capers, hard-boiled egg, red onion, scallion and Maldon sea salt," he says.
"I've also seen a huge comeback of gravlax." His version uses a cure of salt, brown sugar, aquavit and dill. "It's so easy to make in-house—it's of course about the tolerance from your core guests on what they're willing to try, along with the level of talent in each of your kitchens."
Salmon Pastrami is the most popular item on PB Catch's seacuterie menu. Aaron Black cures salmon with orange vodka, salt, sugar, cilantro, orange zest, then cold-smokes it and paints it with molasses, finishing with a peppercorn crust. For service, he plays up the Reuben profile by serving it with rye croutons and a Thousand Island aïoli.
Rillettes and Brandade
Rillettes and brandade are not new, nor is the Jewish deli treasure of smoked fish dip. But their emergence today on bar snack menus and shareables is definitely new, and they represent opportunity.
State Bird Provisions, a modern American small-plates concept in San Francisco, serves Smoked Trout-Avocado "Chip & Dip." "Developing smooth fish dips and coarser rillettes takes advantage of less-utilized species like herring, Spanish mackerel, sardines, sea trout and anchovies, or underutilized trim like salmon belly and inside collar," says Slavin.
In addition to the benefit of extending shelf life and cross-utilizing ingredients, fish dips, spreads and mousses tap into the flavor-forward, casual, hip vibe of modern seafood. "We serve a Smoked Kingfish Dip," says PB Catch's Aaron Black. "It's Florida's answer to the brandade—we roll with that."
The seacuterie trend represents a thrilling new chapter in the seafood category. Reeling back into the past with its preservation methods while casting forward to the future with its social standing, it's striking a perfect balance for today's diners.