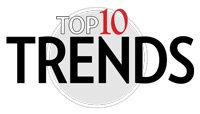 By Dave Woolley
Chefs' increasing interest in choosing more sustainable seafood is one of the factors driving this trend forward. So is the push to use more underutilized products of the ocean. That passion and commitment, in turn, drives encouragement and engagement from guests.
Whole animal usage contributes here as well, as chefs are looking to use less waste—"100-percent utilization" is becoming a chef's mantra.
Finally, getting to use the on-trend techniques of smoking, curing, fermentation and preserving also fuels the seacuterie movement.
Four ways to take action on this trend
Help your brand identify a story to tell by observing sustainable practices.
Start adopting more techniques like smoking, curing, fermenting, pickling and preserving to better showcase the ocean at your establishment.
Recognize that these practices can also slightly extend shelf life, and they may offer a way to get really close to 100-percent utilization.
Help educate your purchasing department on the importance of partnering with sustainable-practicing seafood companies to better tell the story for your brand.
---
Shareable seafood is one of our top 10 trends for 2018. Read more.
---