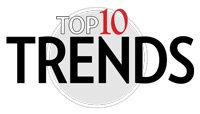 Consider adding any of these offerings to your menu, or craft a shareable seafood platter with a combination of hot and cold signature selections. Pull in both seacuterie and classic dishes for a crowd-pleasing range of seafood options.
CHILLED
Cold-smoked oysters topped with green-apple mignonette
Chilled lobster and crabmeat "salad" topping a signature gazpacho
Salmon tartar on housemade potato chips
Bloody Mary shrimp ceviche
Mini poke tacos
HOT
Garlicky-cheesy crab dip spread over thick-sliced ciabatta toast and broiled (or baked) to golden and bubbly
Grilled seafood sausage banh mi-style on a toasted bun spread
Grilled oysters topped with Dijonaisse and chives
Crispy fillet mini sliders with rémoulade and onion straws
Pan-seared ahi tuna tacos
---
Shareable seafood is one of our top 10 trends for 2018. Read more.
---