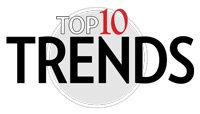 by Katie Ayoub
Seactuerie lends a first-to-market opportunity for exciting and appealing seafood offerings. It's a broad category, covering all sorts of seafood dishes—as long as they're preserved in some fashion. Here are 10 ways to key into the trend. You can go narrow, perhaps adding a dip or spread to your bar bites menu. Or you can go broader, using the charcuterie board as inspiration, mixing and matching different menu items into one memorable sharing plate.
Spreads, dips, rillettes
House-Smoked Mackerel Dip with housemade saltines
—Connie & Ted's, West Hollywood, Calif.
Smoked Salmon Rillettes with creme fraîche, chive, pickled shallot, grilled batard
—Lord George, San Francisco
Smoked
Smoked Fish Collar with yuzu, salt and lemon
—Kemuri Tatsu-ya, Austin, Texas
Smoked Mussels
—Halifax, Hoboken, N.J.
Sausage
Shrimp Linguiça
—The Salt Line, Washington, D.C.
Scallop Mortadella with pistachios and black peppercorns
—Cape Seafood & Provisions, Los Angeles
Deli flavors
Pastrami-spiced Trout on a bagel with heirloom tomatoes, red onion, marinated cucumbers, capers, house-whipped cream cheese
—Steingold's of Chicago
Smoked Salmon Reuben on dark rye with Swiss cheese and kraut
—Bonhomie, Austin, Texas
Conserva/Confit
Marinated Calabrian Tuna Conserva, mirepoix
—Jon & Vinny's, Los Angeles
Pickled
Camerones Encurtido: Pickled shrimp, cucumber
—Ultreia, Denver
House-pickled Salmon, lemon, onion
—The Saltry, Halibut Cove, Alaska
Toast
Pokecado Toast: poke, smashed avocado
—Pokeatery, Austin, Texas
Smoked Salmon Toast with Greek yogurt and truffle wildflower honey, cured yolk and potato bread
—Saltie Girl, Boston
Caviar/Roe
Smoked Steelhead Roe, maple cream, pumpernickel
—Son of a Gun, Los Angeles
Poppy's Caviar: Tennessee Paddlefish Caviar with sour cream, spring onion, vinaigrette and crackers
—Henrietta Red, Nashville
Tinned
Tinned Sardines with radish, butter, lemon, herbs, bread
—Huertas, New York
Tinned Squid in Squid Ink, served with artisanal bread and house churned sea salt butter
—Saltie Girl, Boston
Accoutrements
Pickled vegetables
Creamy dips or drizzles
Mustards
Hot or smoky sauces
Crackers, toasts, crispy breads