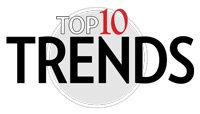 By Pam Smith
Plating with a plant-based and flavorful purée is not only trend-forward, it's an artful way to add more produce to the plate without mounding up grains and vegetables, and it's a way to add interesting texture, vibrant color and layers upon layers of flavor—accents that can lift a menu item from basic to memorable.
Depending on your taste and the plate, purées can be ultra smooth or rustically textured. Purées can shine as backdrops for simple grilled meats (a pumpkin-seed-cilantro purée, for example), fish or chicken (think a carrot-ginger swoosh) or scallops and shrimp (set them atop a schmear of vibrant corn-and-basil purée).
There's no end to menu applications here. How about freezing avocado, coconut milk and lime into a popsicle that can melt into a velvety sauce on the plate? Even hummus is breaking out of its bounds. Although the word hummus literally translates to chickpeas, expanded ingredient combinations—edamame and cumin, peas and mint, beets and walnuts—are showing up as bases for bowls, salads and proteins.
Purée Inspiration
By Rob Corliss
Utilize plant-based purées—smooth or textured—to give depth of flavor and color to pasta dishes.
Add intrigue to your sides menu by featuring thicker (mashed-potato consistency) plant-based purées.
Finish tacos with plant-based purées.
Plus-up vegetable offerings (sautéed, steamed, grilled, roasted) by tossing with plant-based purées.
Replace mayonnaise with plant-based purées in modern salad dressings and creamy salad recipes.