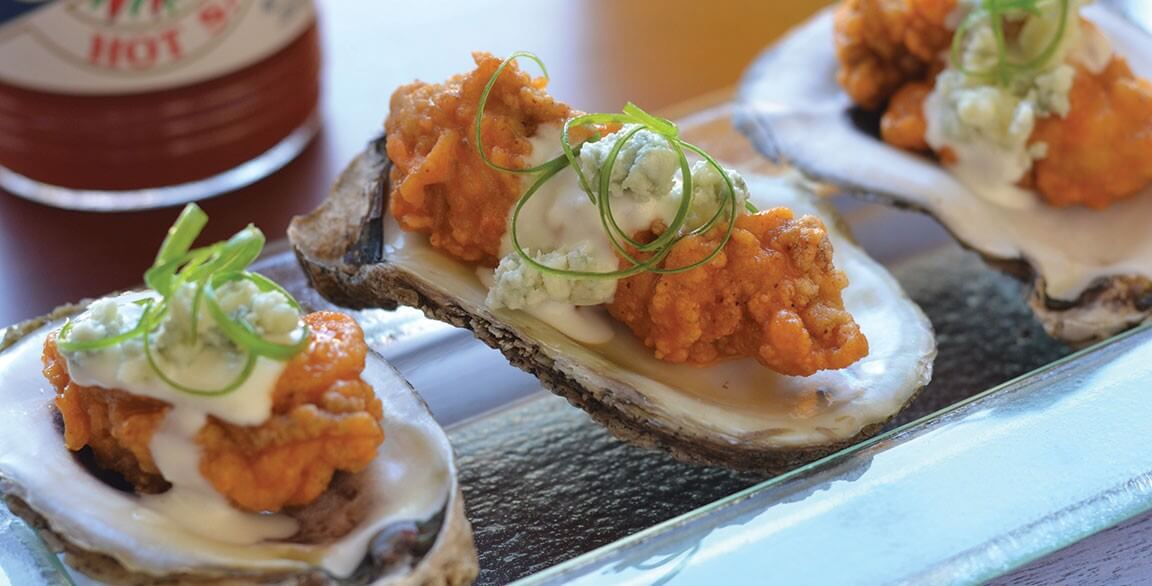 By Flavor & The Menu
July 31, 2019
Menu development around seafood today is exciting, with chefs casting their nets wider to bring innovative, delicious takes on both fish and shellfish. Global hotspots like Spain, China, Peru and Japan are helping to drive creativity here, as are areas closer to home that boast the rich seafood narratives of places like the Bayou, the Pacific Northwest and New England.
The BBQ Oysters at Red Fish Grill, a casual seafood restaurant in New Orleans, combine a casual vibe with a flair for modern flavor play. In fact, the oyster category is showing serious game today, with interesting garnishes on raw presentations and fun takes on successful flavor systems.
Red Fish Grill's version sees fried oysters with a signature sauce that features clarified butter, clover honey, tangy blue cheese and Crystal hot sauce. "We've also played with chile-pepper-crusted oysters on Bibb lettuce wraps with Parmesan cheese and buttermilk dressing," says Haley Bittermann, corporate executive chef of Ralph Brennan Restaurant Group, parent company of Red Fish Grill.
Egg's New Best Friend
Is there anywhere on the menu that doesn't benefit from the addition of an egg? Looks like modern seafood dishes are no exception. At One Market Restaurant, an upscale New American restaurant in San Francisco, the Lightly Smoked Tasmanian Ocean Trout "Mi-Cuit" is served with potato rösti, pancetta vinaigrette and a gorgeous soft-poached egg.
"When I created this, I wanted an egg dish that people would eat any time of the day," says Mark Dommen, chef/partner. "I had heard about Tasmanian ocean trout and thought I would give it a try. It turned out to be perfect—super clean-tasting and just what I was looking for. The smoke gives another layer of complexity to the dish, and the egg adds richness without a lot of extra fat."
Celebrity chef Bobby Flay turns to the fried egg for his Cured Salmon & Egg Tostada, served at Shark, his Las Vegas seafood concept housed in the Palms Casino Resort. Here, the tostada is elevated with 36-hour tequila-cured salmon, rocoto chile hot sauce and black bean "butter," then crowned with a fried egg.
What a Spread
Smoked fish dip has been a seaside staple for generations. Now, as part of the burgeoning category of seafood snacks, chefs are leveraging the shareability of dips and spreads and making the fish dip their own. At Stoic & Genuine, a Denver seafood restaurant, the Tonnato is a savory seafood spread made with trim from albacore tuna, Icelandic cod and Alaska halibut, flavored with capers, garlic and white anchovy. "As a seafood restaurant in a land-locked state, we work with sustainable fish and believe in zero waste whenever possible," says Patrick McCready, chef de cuisine. "This dish is delicious and helps us achieve our vision of zero waste."
Creative examples abound. At Momofuku CCDC, a modern American restaurant with Korean influences in Washington, D.C., the Smoked Carolina Trout Dip is garnished with Momofuku roe, pickled red onion and furikake. It's served with the restaurant's signature bing bread. Grand Isle Restaurant in New Orleans pushes past trout and menus a Sardine Dip, served with Steen's cane vinaigrette and hot-sauce crisps.
The Bounty of the Sea
We've seen the huge success of charcuterie boards, next-level crudités platters, seafood boils, even seacuterie plates. Chefs are rolling with this sensibility and building decadent, for-the-table seafood platters. With so many ways in here—from species to flavor combinations—these dishes present great opportunity for menu differentiation.
At The Henry, a neighborhood restaurant concept from Phoenix-based Fox Restaurant Concepts, the Surf & Surf is one of the most popular appetizers, "especially in the warmer months when everyone is craving fresh seafood with their cocktails out on the patio," says Josh Hill, executive chef. It stars warm, butter-poached crab, grilled and chilled Mexican shrimp, and fresh toasted ciabatta. "I love this combination of warm and chilled, savory and refreshing in a seafood dish," he says. "It combines the best of both worlds and delivers a thoughtful mix of flavors that our guests enjoy ordering again and again."
Feroce Ristorante, an Italian restaurant in New York, uses its shareable dish of Fritto di Paranza to deepen a sense of place, transporting guests to Italy's picturesque fishing villages. Served in a wooden crate, the platter is made with an assortment of market seafood and vegetables, including prawns, calamari, eggplant and zucchini, fried with rice flour and served with saffron mayonnaise. Both The Henry and Feroce are bringing forward seafood's casual side, showcasing how well it answers modern dining habits.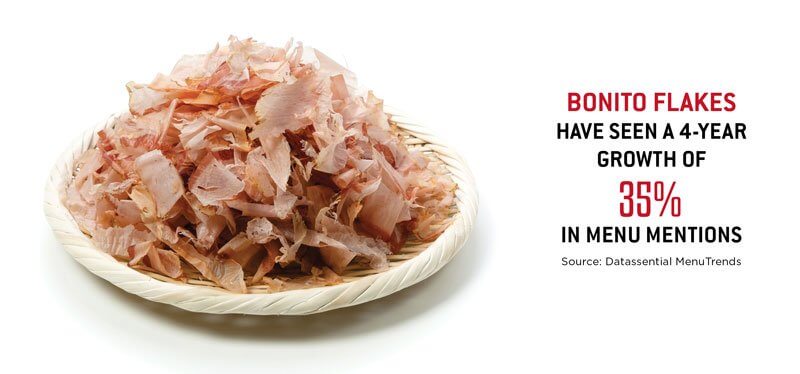 The Bonito Boost
With umami continuing its reign as the king of the flavor punch, chefs are exploring all kinds of ways to bring it into recipe development. Bonito flakes, also known as katsuobushi, are shavings of dried, smoked bonito fish. Long used to enrich dashi and dial up Japanese dishes like okonomiyaki, chefs here are now leveraging its savory, funky, salty, smoky flavor as a high-impact ingredient.
Umami Mushroom Flatbread with fresh charred mushrooms, Brussels sprouts, fresh mozzarella and Parmesan, a white miso-glazed crust and sprinkled with dancing bonito flakes
—Kona Grill, based in Scottsdale, Ariz.
Shishito Peppers with Japanese chile sautéed with soy-ginger sauce, topped with bonito flakes
—Ototo Sushi Co., San Diego
Okonomiyaki: Savory pancake with cabbage and pork, topped with bonito flakes
—Hachi, New York
Sexy Sauce
Italian cioppino, French bouillabaisse or Portuguese caldeirada—they all imply a flavorful seafood stew. Bobby Hodge, executive chef at Oak Steakhouse in Nashville, Tenn., cleverly takes that stew and turns it into a delicious sauce. His Grouper Market Catch is served over a cioppino-style sauce made from fish stock, onion, garlic, white wine and tomatoes.
"We leave the fennel out so we can add that in a marmalade later," he says. "The marmalade is made with shallot, brandy, white wine, shaved fennel, sugar and butter, all reduced to au sec and seasoned. It adds the anise flavor, but it's not too strong, and it introduces some sweetness to the dish."