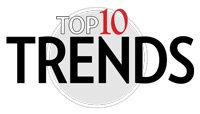 By Ron DeSantis and Gail Cunningham
Preparation is key to falafel. The mixture should be as soft as possible and it should be fried in hot fat so that the crust forms immediately. When prepared this way, the finished falafel is light and tender on the inside and crispy on the outside. Falafel can also be prepared like a tostone: fried, smashed, then fried crisp to use as a base that can be topped with shawarma or relishes.
As more diners look to plant-based protein as alternatives, traditional falafel dishes are evolving on the menu, from ethnic appetizers to on-trend small plates, salads, tacos and burgers. Here are four new formats to consider:
Moroccan Falafel: Add harissa paste and cumin-roasted butternut squash to the mix, and serve golden and crispy, paired with a tangy lemon-artichoke dip.
Spinach Falafel Salad: Blend spinach into a falafel mixture, pan fry and serve threaded on bamboo skewers over fresh baby spinach greens with cucumber, tomato and tahini dressing.
Falafel Bar: Menu falafel with an assortment of bold toppings, such as avocado salsa, roasted eggplant dip, tahini, Peppadews, pickled vegetables, labneh, hot sauce and tzatziki.
Buffalo Falafel: Toss crispy falafel in buttery, hot-and-spicy Buffalo sauce and serve with cucumber-yogurt dipping sauce for a plant protein-based appetizer with mainstream menu appeal.