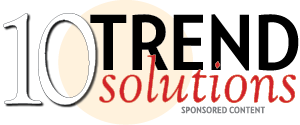 A number of drivers are pushing falafel into the spotlight: the fascination with Eastern Mediterranean flavors, the rise in plant-forward cuisine and the chickpea boom.
Chefs are upgrading this humble, yet craveable fritter, tucking it into tacos, serving it over salad, adding it to modern bowl builds and overhauling the classic pita handheld.
"The savory seasonings and signature crispy texture of falafel beg for a counterpoint of acidity and dimension," says Chef Travis Jenkins for Chef's Pass, a new line of speed-scratch products by Kerry Foodservice.
"Chef's Pass Quick Pickling Brine is the perfect option for these applications—pickle your favorite produce item in as little as five minutes and add acidity and dimension into a falafel build."
Picked red onions, radishes, cucumbers or kohlrabi are just a few items that will lend vibrant flavor enhancements to a classic falafel preparation. Chef's Pass helps chefs bolster their menu with simple, housemade ingredients.
"It has never been easier to pack a punch of bright unique flavor using a product that fits into any back-of-house operation," adds Jenkins.