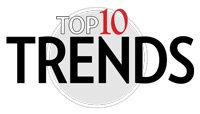 By Charlie Baggs

Perfectly at home tucked into a fluffy pita or served atop rice, the falafel is poised to move into other formats, bringing its craveable texture and flavor into familiar and fun presentations. Here are 4 ideas on how to leverage the falafel trend:
Serve falafel patties as "burgers," with classic accompaniments for traditional flavor in a familiar delivery system.
Consider stuffed falafel appetizers: braised meat centers; vegetable centers; seasoned potato centers; ovo-friendly "Scotch egg."
Explore shape variety, such as falafel fries.
Incorporate bold and unexpected flavors: Toss in Buffalo sauce, sweet and spicy, or Asian flavors.