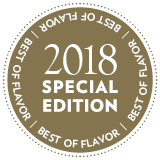 Meyer lemons are sweet and complex, and when preserved, they offer even more flavor dimension. The Golden Fleece cocktail at The Whistler cocktail lounge/music venue/art gallery makes good use of the Meyer lemon in a riff on a Japanese highball, created by Bar Manager Julieta Campos.
"I combine Kikusui Funaguchi sake, honey, preserved Meyer lemon and lemon juice in a shaker tin, give it a short shake and top it with Topo Chico soda," says Campos. She says the lemon is preserved in a light vinegar brine, which plays well with the rich fattiness of the sake.
"I pour this over five to six cubes in a Collins glass. There are only a few flavors here, but the preserved lemon lends a smooth complexity. The cocktail is akin to a shrub, however a touch lighter and brinier."
Campos says the drink has been well received by guests. "It's one of those tantalizing drinks that I find myself incessantly sipping without worry, as it holds a low ABV," she says.
"I think this drink is successful because it awakens all of your taste buds, but doesn't overwhelm the palate."