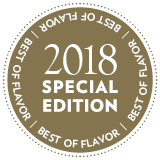 Refreshing, spring-like and versatile—three great qualities for a cold soup presentation. The Asparagus and Avocado Soup, garnished with roasted pumpkin seeds and lemon whipped cream, performs well on the catering and convention menu at The Venetian and The Palazzo hotels, as a plated item and as a break option on the go.
"Both the avocado and asparagus are allowed to shine in this recipe," says Olivier Dubreuil, Executive Chef. "The creamy consistency brings the flavors to the forefront. Although individually strong, the two make a smooth combination."
Background notes add vegetal tones, thanks to tarragon and celery, while garlic and extra-virgin olive oil give it backbone."The simplicity is what makes it fresh and easy," he says. and its versatility makes it an all-star.
"It can be added to or tweaked with different spices and fresh herbs," says Dubreuil. "The profile can change by adding a kick with chiles or adding proteins like ceviche, shrimp, and so on. It's bright and perfect for spring."