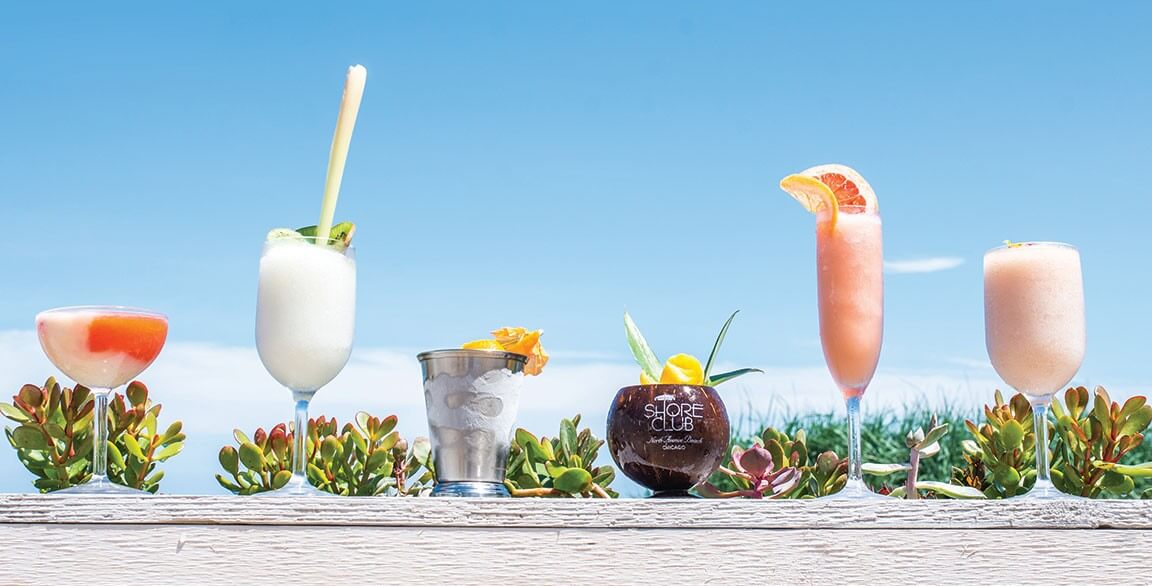 In all of its forms, fruit delivers a stunning selection of varieties, textures, colors and applications. Tap into fresh, frozen, dried, juice, purées, syrups, powders, sliced or chopped, pickled, grilled and more. Any time of year, consider highlighting regional, seasonal and trending global fruit flavors to strengthen your beverage menu.
Consumers of all generations are actively looking for adventure with their food and beverage experiences. This yearning to discover new experiences—and to share socially with their circle of friends—provides operators an opportunity to connect creatively and reach an extended audience.
Fruit provides a way to push boundaries with beverages and entice consumers with unique flavor combinations. It can act as a bridge to incorporate global profiles, fun techniques or the truly unexpected. Here are 10 fruit-friendly categories that elevate both nonalcoholic and alcohol-based beverages, positioning your operation for the future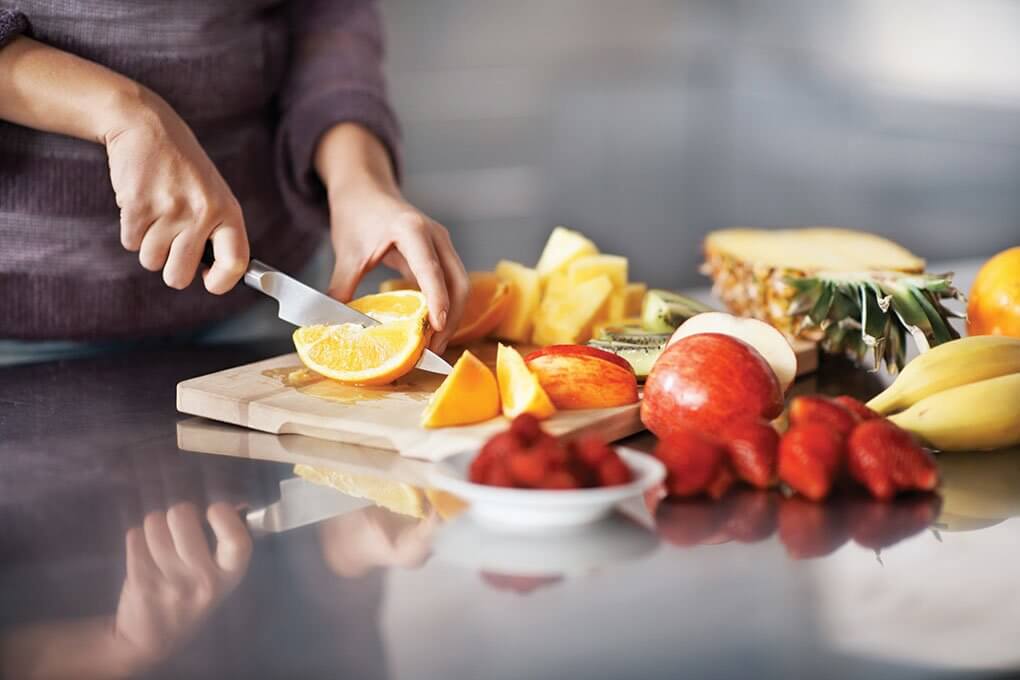 1

Iced Teas/Coffees

Adventurous consumers are craving new experiences, and iced tea and iced coffee provide safe points of entry for menu experimentation. This is a prime opportunity to creatively feature fruit alongside engaging applications—bringing new news to core menu beverages.

Mango Blitz: Sweet mango-green tea with blueberry juice bubbles
—Balance Pan-Asian Grille, four locations in Ohio

Iris: Citrus vodka, peach, butterfly pea tea, lemon
—Brennan's, New Orleans
Try This
Oregon Cold Brew: Cold-brew coffee + oat milk + whipped Rainier cherry/creamed cheese topping
Minted Melon Iced Tea: Peppermint tea + Athena melon "juice" + bullet ice + candied orange peel
2

SpiCed "Ades"

The quintessential mass appeal of lemonade-esque beverages affords operators the opportunity to stretch the boundaries with flavorful fruit additions. Spice the fruit up further, with an overlay of intriguing heat or
pops of the unexpected.

Sunset: Lemon water, lime, spiced cranberry syrup, orange bitters
—Parlor, Atlanta

Pomegranate Pink Peppercorn Lemonade: Lemonade, Burly pomegranate pink peppercorn shrub syrup
—Highwater, Sacramento, Calif.
Try This
Red Dragon Fresca: Watermelon agua fresca + white-fleshed dragon fruit chunks + hydrated basil seeds + key lime slices
Prickly Limeade: Limeade + prickly pear purée + Chardonnay oak-smoked salt rim + fresh pineapple
3

Global Lassi

Introduce savory notes to complement the fruit in the beautifully classic Indian lassi beverage, and go beyond mango into something new, yet still recognizable and grounded in tradition. Connect further by touting local fruit or trending tropical fruit.

Turmeric Banana Lassi: Spice-driven organic Indian yogurt drink, live cultures, probiotics
—Dosa, three locations in California

Blueberry Cardamom Lassi: Locally sourced yogurt, milk, blueberries, raw sugar, cardamom, saffron
—Lassi & Spice, Seattle
Try This
Papaya Passion Lassi: Papaya + passionfruit juice + piimä yogurt + honey + sumac
Ruby Rose Lassi: Raspberries + beet powder + rose syrup + yogurt + chile flakes
4

Premium Floats/Shakes

Flip the script and introduce memorable and sophisticated fruit combinations to modernize a classic float or shake. Increase both the purchase intent and the menu price via the premium intrigue.

Ube Monster Shake: Ube blended with crushed Oreos and milk, with whipped cream topper
—Café 86, based in Chino, Calif.

Chocolate-Covered Cherry Shake: Organic soy ice cream, organic soy milk, Morello cherry purée, cocoa powder
—Hip City Veg, based in Philadelphia
Try This
Peach Cobbler Float: Grilled white peach slivers + vanilla frozen custard + sparkling peach soda + streusel crumble topping
Kentucky Float: Ginger beer + bourbon ice cream + apple cider syrup + dehydrated apple chip garnish
5

Amplified Smoothies

Double down on fruit-forward flavor combined with trending beverage applications. Showcase modernized smoothie blends, adding bold pops of complementary color, character and texture. Positioning as a standard beverage, snack or meal replacement provides flexibility with daily lifestyle choices for guests.

Turmeric Sunrise (with kombucha): Pineapple, mango, coconut butter, coconut water, lime, turmeric, added kombucha
—Nékter Juice Bar, based in Santa Ana, Calif.

Banana Nut Crunch Smoothie: Banana, almonds, walnuts, frozen yogurt
—Freshii, based in Toronto
Try This
Berry Chai Horchata Smoothie: Blackberries + blueberries + creamy chai horchata + jumbo Medjool dates
Green Giant Smoothie: Kiwi + pear + avocado + spinach + hemp seed milk + dried and salted papaya seeds topping
6

Super Slushies

Slushies should resonate fun, but not necessarily live in the mono-flavored, overly sweetened nostalgic past. Apply a strategy that focuses on going big with fruit character, introducing clean flavors appealing to refined consumer palates that appreciate premium selections.

Vegas Vice: 23 layers of elderflower frosé and spicy piña slushies served in an oversized brandy snifter (serves two)
—Black Tap Craft Burgers & Beer, based in New York

Frozignon Blanc: Nobilo Sauvignon Blanc, lemongrass-infused Effen vodka, fresh citrus, dehydrated kiwi
—Shore Club, Chicago
Try This
Empress Slush: Lychee syrup + orange blossom water + vanilla pulp + shaved ice
Spiked Hula Cream Slushie: Fresh golden pineapple + jalapeño + Thai coconut milk + rum + ice
7

Sangria Evolution

What's nostalgic to older generations can be new to younger generations, so don't be afraid to appeal to both. Revitalize this age-old beverage; feature menu diversity with the beauty of fruit year round.

Sangria Cosmo: Orange vodka added to blood orange sangria, splash of club soda
—Sangria, Mahwah, N.J.

Raspberry "Lemoncello": Spanish champagne, brandy, triple sec, crème de cassis, lemon, berries
—Sangria 46, New York
Try This
Sangria Punch: White wine + apple brandy + cinnamon + clove + apple cider + pomegranate seeds + apricots
Sangria Spritz: Prosecco + aperol + roasted strawberry coulis + sliced citrus + sparkling water + edible flower garnish
8

Mimosa-esque

Mimosas and bellinis are simple, elegant and refreshing brunch stars. The modern brunch phenomenon opens the door for first-class beverage innovation and new interpretations. High-quality ingredients can be a differentiator.

Pimp Your Prosecco: Selection of bubbly brunch cocktails mixed with fresh fruits, fluffy juices, oils, herbs
—Sweet Liberty, Miami Beach, Fla.

Pineapple Beerllini: Rivertowne pineapple ale, caramelized pineapple purée, Champagne, diced pineapple
—Torre, Center Valley, Pa.
Try This
Creamsicle Mimosa: Sparkling wine + housemade black raspberry sherbet + cara cara orange juice
Tropical Mimosa: Champagne + guava juice + sliced strawberries + Champagne grapes + frothed coconut milk topper
9

Cocktails

Cocktail collaborations between chefs and bartenders have struck a chord with today's consumer. Keep the momentum going. Craft signature drinks, leveraging whimsy and the experiential with fruit or savory fruit notes to pull everything together.

Pancake Shots: Jack honey, butterscotch, orange juice chaser
—Bacon & Butter, Sacramento, Calif.

Mi Corazon Es En Fuego: Tequila, pomegranate, ancho chile, lime, Corazón bitters
—Merriment Social, Milwaukee
Try This
Summer's Best: Grapefruit radler + chile liqueur + golden agave nectar
Spiced Holiday Mule: Cranberry syrup + ginger beer + vodka + splash of lime + fresh sage leaf + candied kumquat slices
10

Shrubs

Fruit-forward shrubs provide operators an avenue to fully utilize lower cost fruit seconds and maximize food dollars, creating an on-trend ingredient to highlight in both alcoholic and nonalcoholic beverages. Communicate housemade expertise and the rich heritage of shrubs.

Tennessee Shrub: Jack Daniel's Tennessee Whiskey, blueberry and pomegranate shrub, lemon, house grenadine, Peychaud's Aperitivo
—Goodkind, Milwaukee

Paradise Lost: Bluecoat Barrel Finished Gin, apple shrub, baharat, silan
—Zahav, Philadelphia
Try This
Dark Berry-Hibiscus Shrub: White balsamic vinegar + blackberries + cherries + hibiscus + peppercorn + sugar
Gingered Plum Shrub: Red wine vinegar/apple cider vinegar + plums + ginger + vanilla + turbinado sugar