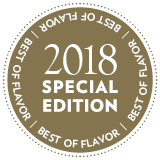 Up until recently, mole was really only found at traditional Mexican restaurants. Today, chefs are discovering its potential, leveraging its earthy, rich blend of nuts, warm spices, chiles and more. Propelled by both the modern Mexican and the global mash-up trends, mole serves up big opportunity for menu adaptation.
In our recent "Best of Flavor" issue, where we crowd-source 125 stand-out menu items from our readers, two chefs submitted their renditions of mole as success stories for their restaurant brands.
Rabbit Mole
At Old Vine Café, a cozy, casual restaurant in Costa Mesa, Calif., that serves mostly Italian fare, the Rabbit Mole (pictured above) presents diners with braised rabbit in a cashew and pasilla chile-based mole sauce, served with queso fresco and cornbread.
"Surprisingly, it has become one of our best sellers for both brunch and dinner," says Chef/Owner Mark McDonald.
The earthy mole sauce is made from pasilla chiles, cashews, sesame seeds, cocoa, garlic and the white-wine braising liquid used to prepare the rabbit. Smoky and nutty, it pairs well with the tender meat. Queso fresco and scallions top the rabbit, while a side of custard-infused cornbread finishes the look.
At brunch, Old Vine serves the Rabbit Mole with two eggs sunny-side-up for an easy way to bridge the gap between breakfast and lunch.
Fiesta de Moles
Chip Barnes, Executive Chef at Alto Bajo, located in the Hi-Lo Hotel downtown Portland, Ore., shows off a number of ways to signaturize mole. His menu sees modern Mexican fare grounded in traditional Oaxacan cuisine, like Duck al Pastor and Sikil Pak, a Mayan pumpkin-seed dip with habanero, garlic and grapefruit juice.
One of his most popular dishes can be found in the "Fiesta de Moles" section of the menu, where Barnes offers three distinct moles: Mole Tamarindo (tamarind, dried ancho chile, sesame seeds and chocolate), Mole Amarillo (dry chiles and tomatillo) and Mole Rojo (pasilla and ancho chile, ground nuts and sesame seeds, and chocolate).
Barnes describes his Mole Rojo as "spicy, tangy, sweet, briny, earthy and nutty." Featuring it with the hangar steak was a natural fit, he says. The Mole Tamarindo is paired with seared scallops, and the Mole Amarillo is offered with crab cakes, langoustines or seasonal vegetables.