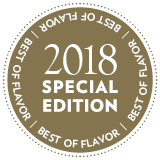 Located in the Hi-Lo Hotel downtown Portland, Alto Bajo serves up modern Mexican fare grounded in traditional Oaxacan cuisine, like Duck al Pastor and Sikil Pak, a Mayan pumpkin-seed dip with habanero, garlic and grapefruit juice.
One of the most popular dishes can be found in the "Fiesta de Moles" section of the menu, where Executive Chef Chip Barnes offers three distinct moles: Mole Tamarindo (tamarind, dried ancho chile, sesame seeds and chocolate), Mole Amarillo (dry chiles and tomatillo) and Mole Rojo (pasilla and ancho chile, ground nuts and sesame seeds, and chocolate).
"The Hangar Steak with mole rojo is easily approachable and aesthetically pleasing," he says.
Barnes describes his Mole Rojo as "spicy, tangy, sweet, briny, earthy and nutty." Featuring it with the hangar steak was a natural fit, he says. "People love steak, and I try to pair mole with things that are enhanced by its flavor profile."
Guests at Alto Bajo can also choose grilled lamb loin with the Mole Rojo. The Mole Tamarindo is paired with seared scallops, and the Mole Amarillo is offered with crab cakes, langoustines or seasonal vegetables.