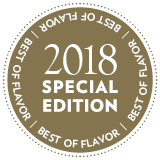 Portsmith is known for its elevated seafood menu, as well as its acclaimed weekend brunch. One of the stars of its brunch menu is the Fried Fish & Waffle, a clever rendition of the popular chicken-and-waffles pairing, switching out the protein to fit its seafood theme while still delivering on that flavor system's promise of comfort and craveability.
"This recipe combines sweet and savory notes for a unique flavor you can't find anywhere else," says Executive Chef Nate Hennsler, a New Hampshire native whose dishes reflect the influence of the state's coastal fishing heritage.
The pairing of lightly fried fish atop tidy waffles presents a creative take on the craveable classic. The dish is further enhanced with a side of housemade tartar sauce, as well as Dark Matter malt maple syrup—a product of Portsmith's relationship with Chicago's Dark Matter Coffee.
Other seafood-centric brunch dishes include Uni Toast with uni butter, shiitake mushroom, Asian pear and steelhead caviar, as well as King Crab and Eggs with hollandaise and an English muffin.