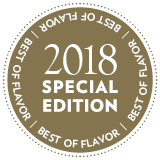 Overlooking the Narragansett Bay, the Coast Guard House is beloved by locals and tourists alike for flavor-forward seafood dishes. A favorite seasonal specialty features pan-roasted Rhode Island striped bass with fresh summer succotash, smoked romesco broth and sweet-corn custard.
Here, Chef Ray Montaquila reimagines the classic romesco. "Our romesco is different than what one would expect to find in Spain alongside a plate of calçots, for example," he says. "Traditionally, romesco is a thick sauce, almost paste-like. I wanted something smoother, but still rich in mouthfeel." He perfected his version by using a base of smoked peppers and then thinning it out with a savory stock.
The local summer succotash features fresh corn, fresh fava beans and chickpeas, pearl onion, grape tomato, Brussels sprouts and fresh basil. The dish is completed with a silky sweet-corn custard.
"The meaty texture and sweet flesh of striped bass is a perfect pairing for the heat and smokiness of the romesco broth, the earthiness of the succotash and the creaminess of the corn custard," he says.
Montaquila is currently using the smoked romesco broth for the Coast Guard House's bouillabaisse with shellfish and monkfish as the stars.