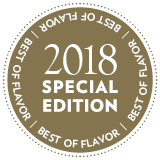 Mole breaks out of its Mexican box to give a rabbit dish unique appeal at Old Vine Café. At this cozy, casual restaurant, which serves mostly Italian fare, the Rabbit Mole presents diners with braised rabbit in a cashew and pasilla chile-based mole sauce, served with queso fresco and cornbread.
"When the dish was first created, we were unsure of how it would be received," says Chef/Owner Mark McDonald. Indeed, Old Vine took a gamble on an under-used protein combined with an unexpected sauce.
"Surprisingly, it has become one of our best sellers for both brunch and dinner."The earthy mole sauce is made from pasilla chiles, cashews, sesame seeds, cocoa, garlic and the white-wine braising liquid used to prepare the rabbit. Smoky and nutty, it pairs well with the tender meat.
Queso fresco and scallions top the rabbit, while a side of custard-infused cornbread finishes the look.
"The balance of the slight sweetness of the cornbread coupled with the smoky, savory mole and salty cheese makes for a layered, balanced dish," says McDonald. At brunch, Old Vine serves the Rabbit Mole with two eggs sunny-side-up for an easy way to bridge the gap between breakfast and lunch.