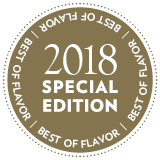 When chefs are able to breathe new life into a familiar flavor system, it's something to behold. Success here is particularly satisfying as there's no reinventing the wheel. Instead, a popular, craveable flavor system gets re-tooled in a way that captures interest and delivers the promise of its original build. In our recent "Best of Flavor" issue, where 125 readers submitted menu success stories, a number of those entries stood out with creative play around road-tested flavor systems. Here are three great examples.
Buffalo Chicken
At The Ruin Daily, a self-described "all-day boozy deli," Executive Chef Mario Manzini leverages the popularity of Buffalo chicken wings and moves it into the Buffalo Chicken Melt (pictured above). The sandwich sees a Parmesan-crusted sourdough, slathered with mayonnaise, then filled with a cheddar-Swiss-fontina cheese blend and roasted chicken covered in buttery Buffalo sauce. Continuing the Buffalo theme, it's garnished with celery barigoule (a Provençal vegetable braise) and served with ranch sauce for dipping.
"The Buffalo chicken is a familiar flavor combination, smashed in between grilled cheese, which makes it impossible to resist," says Manzini. "We sell so many of them at lunchtime, and prep for a ton every day."
Nashville Hot
Chef Trevor Faris taps into a flavor system that's gained serious national attention recently— Nashville hot. His Sixth Street Tavern offers a Vegan Nashville Fried Chicken Sandwich, starring seitan, Nashville hot spice, Sixth Street spice and a cider-vinegar slaw, all on a vegan brioche. It's one of the few restaurants offering a vegan version of this trending sandwich, alongside a regular version—keeping up with the modern palate yet meeting increasing demands for plant-based cuisine. "It hits all the good textures and flavors: spicy and crispy seitan, a tangy vinegar slaw and a creamy sauce," says Faris.
KFC
At 100 Sails Restaurant & Bar, located inside Honolulu's Prince Waikiki Hotel, Executive Chef Joseph Almoguera is building on the momentum created by Korean fried chicken, which is still emerging onto the scene in this country. He takes that crispy, savory, hot flavor profile and applies it to cauliflower in his Korean Fried Cauliflower.
"Guests trying it for the first time are surprised that our cauliflower tastes delicious," he says. To make these flavorful bites, cauliflower florets are dipped in tempura batter, then deep fried until crispy. The florets are tossed in a spicy soy-based Korean sauce and topped with Kewpie mayonnaise, chile threads, sesame seeds and microgreens.