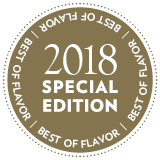 Tea-infused cocktails are resonating with adventurous, health-conscious consumers who crave new flavors and wholesome infusions in their beverages. Taste Bar, a cocktail and small-plates concept from James Beard winner Gerard Craft, menus a matcha-based cocktail that capitalizes on the powdered green tea's all-star status in the world of tea and its rise behind the bar.
The Matcha Picchu is a hit with patrons. "Our guests love it, and they joke that they get to drink and feel healthy, too," says Bar Manager Drew Lucido.
Inspired by a bartender who loves matcha in her healthy smoothies—no doubt for the green tea's health benefits and bitter taste—Lucido wanted to experiment with the popular, earthy flavor.
The star of the Matcha Picchu is matcha-infused pisco. Allspice dram and Wray & Nephew Overproof Rum up the alcoholic ante, while lemon juice and coconut simple syrup add sweet and sour notes. The cocktail is served over crushed ice in an absinthe-coated double-rocks glass and speckled with matcha powder for a mountainous presentation that earns the drink its name.
While it would be easy to add matcha to a cocktail menu just for the sake of its popularity, Lucido considers its use thoughtfully. "Although it's a trendy ingredient, we use it in a way that isn't just for show," he says.
"It's the star of creating a delicious, balanced cocktail that just happens to be good for you."