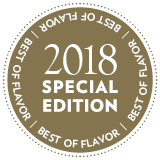 Pasta can change your life. That is, if it's the Silk Handkerchief Pasta at Better Half, a contemporary American concept. This was the dish that Zach Meloy cooked for his wife Cristina on their first date. "My entire life was determined by this one plate of food," says Meloy, Executive Chef.
The unique pasta dish, starring Mexican flavors and eclectic ingredients, is the only dish that will never be taken off the menu, he says. Three large sheets of hand-rolled pasta are tossed in garlic-porcini cream with roasted wild mushrooms. This base is topped with tomato marmalade, Cotija cheese and snow pea shoots.
"The silky pasta enrobed in earthy porcini cream with a mix of hon shimeji, cremini and oyster mushrooms pairs perfectly with the bright agrodolce of the tomato marmalade, salty Cotija and fresh pea shoots," says Meloy.
The modern mix of ingredients takes pasta squarely out of the Italian box and moves it into a modern American category. By swapping classic tomato sauce for tomato marmalade, it answers the call for unique textures and flavors, while its use of Mexican ingredients like Cotija reflects the modern diner's enthusiasm for global mash-ups.
"This is one of those never-fail dishes," says Meloy. "It almost always is received with oohs and aahs."