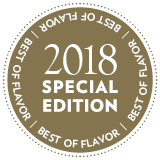 Waterfront seafood restaurant and artisanal market Burlock Coast, located inside The Ritz-Carlton, is inspired by "the creativity of Prohibition-era rum-runners." Chef de Cuisine Paula DaSilva taps into that spirit with a unique brunch item that captures today's modern brunch vibe: the Challah Brioche French Toast Sandwich.
For starters, two thick slices of challah are soaked in milk spiked with rum. Next, each piece of bread is toasted and caramelized, then slathered with rum cream and stacked together like a sandwich. More rum butter and seasonal fruit jam are spread on top and then sprinkled with crunchy pecans, all working to build a full, flavor-forward profile.
"It's the perfect sweet treat to start your day or the perfect boozy breakfast with all the layers of rum," says DaSilva. She says the playful and indulgent dish is a hit with her guests, answering their demand for memorable brunch dishes and revamped classics.