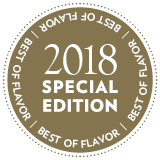 It might look like a burnt pizza crust initially, but that black color is actually a sign of delicious differentiation. A flavorful activated- charcoal crust distinguishes the popular pizzas at The Regency Bar & Grill, in New York's Loews Regency hotel.
Why charcoal? Executive Chef Catherine Medrano explains that she discovered the work of New York pizza creator and Naples, Italy, native Salvatore Olivella, and began using his dough to make pizzas in The Regency's state-of-the-art pizza oven.
Olivella shared his idea for an activated-charcoal crust—not a traditional method, but one that Medrano found appealing. The activated charcoal is made from heated coconut shells. "It gives the dough a very mild, earthy taste and a black color," she says. "The black dough provides a unique twist on a traditional New York item."
She says that in spite of the distinctive look, the crust does not have a noticeably different taste or consistency.
She features two pizzas using the charcoal crust: the Diavolo Pizza with spicy pepperoni and 'nduja, and the Truffle Pizza with homemade mozzarella, porcini mushrooms and truffle oil. The pizzas are The Regency's most popular dishes, and a version with a thinner crust is now on the weekend brunch and weekday lunch menus.
"Activated charcoal has definitely increased in popularity over the past few years," says Medrano. "I've seen it in ice cream, cocktails and even in beauty products, but never in pizza."