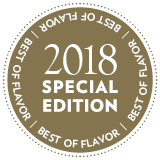 Unique white and red pies dazzle the senses at Nicky's Coal Fired, including the Roasted Mushroom Sofrito, Egg Yolk & Ricotta Pizza.
"Mushroom pizza is always a great seller on most pizza menus, and our customers can't get enough of this one," says Tony Galzin, Executive Chef/Partner.
This unique pizza features dollops of white sauce made from house-whipped ricotta and whole milk. Ground mushrooms, onion, olive oil, garlic and rosemary are cooked until caramelized and then added onto the pizza, followed by sous-vide-prepared egg yolk, sea salt and cayenne pepper.
Once the pizza is out of the oven, extra egg yolk is drizzled on top, adding a layer of richness and a unique presentation that catches the eye.
Says Galzin, "It's an approachable dish, yet is presented a bit more creatively, incorporating more chef-driven techniques."