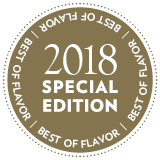 Simple and healthy are at the center of what Snap Kitchen is about. Specializing in "healthy handmade meals for busy people," each element on the plate has to forward that theme.
The new Naked Salmon dish keeps things minimalist—but with special touches that keep it interesting. A fillet of grilled salmon is topped with a housemade citrus-dill butter, over a base of baby spinach and kale with a mix of roasted broccolini, red peppers and shallots.
"When the butter melts, it coats the salmon and roasted vegetables, and brings everything together," says Concept Executive Chef Matt Reinhart. and here's a twist: The butter is grass-fed ghee. "Classic compound butters have been around forever, but we wanted to figure out a way to do the same technique using ghee instead of butter," says Reinhart. "Modern nutrition science has taught us a lot about how healthy the right kind of fat can be."
He is hoping to expand on this idea with compound ghee applied to other seafood, beef or chicken dishes, presenting the opportunity to introduce global flavors, from za'atar to vadouvan. "This dish is a great seasonal option that is veg-forward, protein-packed, and made crave-worthy with a hint of indulgence from the compound ghee," says Reinhart.
"It's the perfect example of how beautiful, delicious and balanced simplicity can be."